10 Balloon Arches From Target That'll Take Your Party to New Heights
As POPSUGAR editors, we independently select and write about stuff we love and think you'll like too. If you buy a product we have recommended, we may receive affiliate commission, which in turn supports our work.
No matter the occasion — be it birthdays, bachelorettes, or baby showers — a balloon arch is the perfect piece of party decor that never fails to impress. Not only do they create a fun DIY photo booth, but they're surprisingly easy to assemble (that is, if you choose the right one). And when it comes to finding the perfect balloon arch, Target emerges as one of our top recommendations for its wide range of online and in-store options, many of which come with straightforward assembly instructions that make putting them together a breeze.
Target's balloon-arch selection caters to every party style and vibe imaginable, from glamorous gold arches to playful rainbow designs and even cactus-themed creations. Depending on your crafting comfort level, you'll find kits that provide everything you need, including garlands, glue dots, and springs, while others give you creative freedom by solely supplying just the balloons. To help you make the best choice, we've chosen the 10 best balloon arches available at Target. Keep scrolling to meet your perfect match and find out what makes each one unique.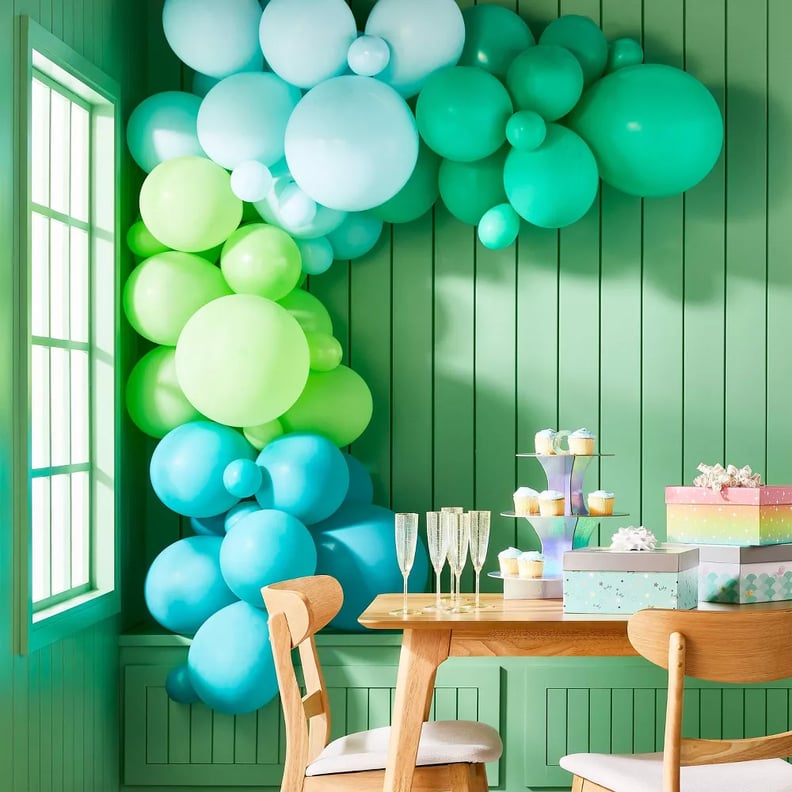 A Green and Blue Balloon Arch
Spritz Large Balloon Garland/Arch Green/Blue ($12)
Several shoppers say that despite how professional this balloon arch looks, it's surprisingly easy to put together. Along with the eye-catching green-and-blue balloons, the set includes a roll of fishing line, convenient glue dots, a balloon strip, and detailed instructions for seamless assembly.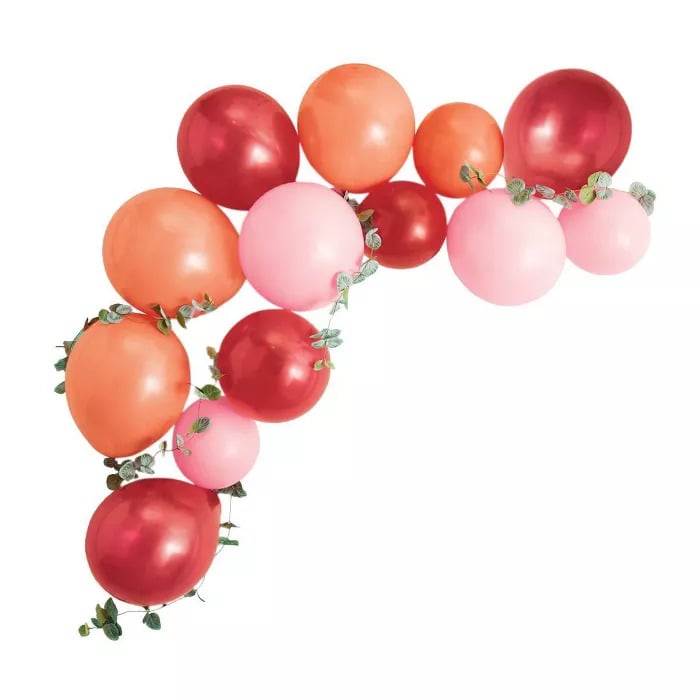 A Red and Orange Balloon Arch
Spritz Balloon Arch With Greenery ($7)
Brighten your space with this arch-decorating kit featuring burgundy, blush pink, and coral balloons. This one stands out from the rest because it comes with faux greenery to weave over the twine for a touch of nature-inspired elegance.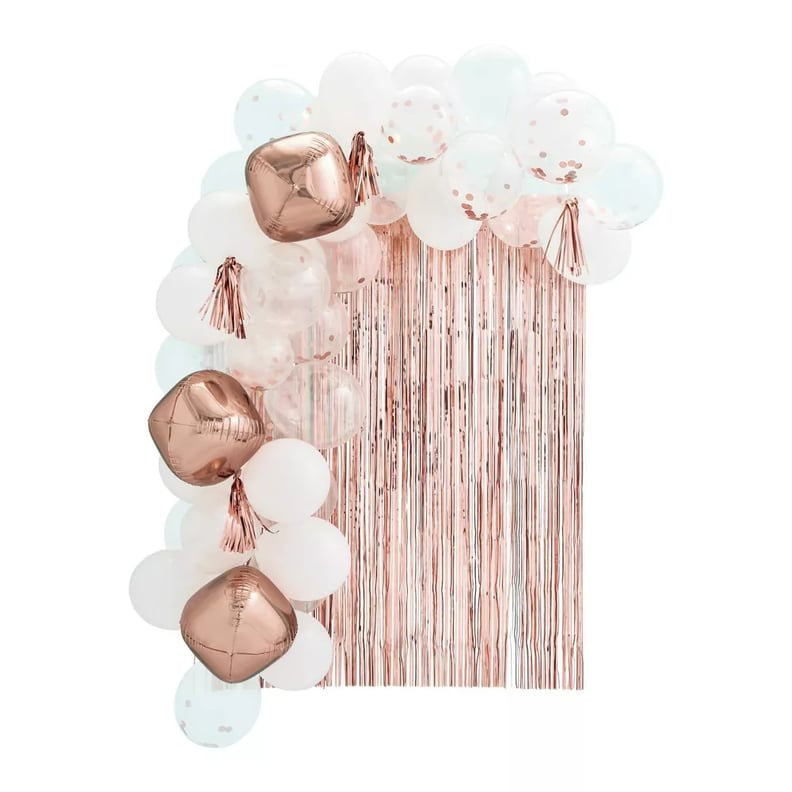 Best Balloon Arch With a Backdrop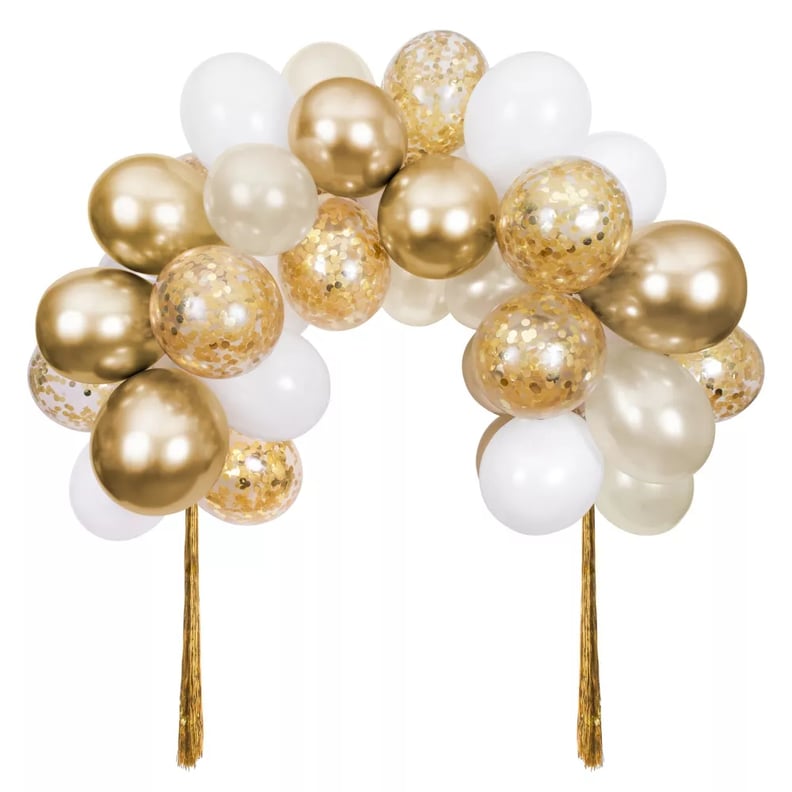 A Gold Balloon Arch
Meri Meri Gold Balloon Arch Kit ($32)
This gold balloon-arch kit is more expensive because it comes with 40 balloons (10 of which are prefilled with gold confetti) and two tassels for extra glamour.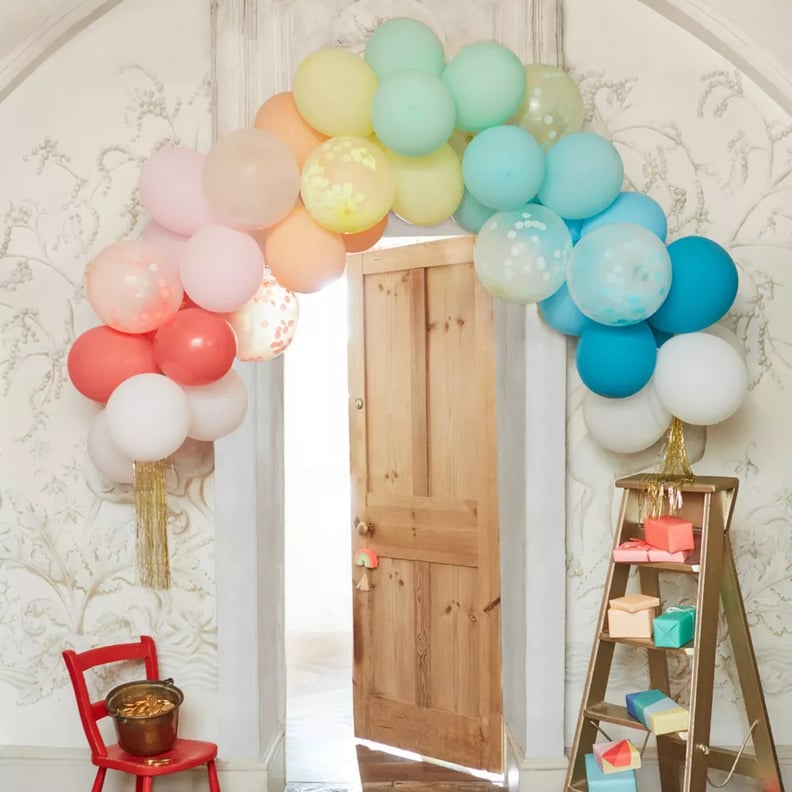 A Rainbow Balloon Arch
Meri Meri Rainbow-Balloon-Arch Kit ($32)
This balloon arch is as grand as the last, featuring 40 balloons and two streamers. The six-foot design will certainly be a focal point of the party.
A Confetti-Filled Balloon Arch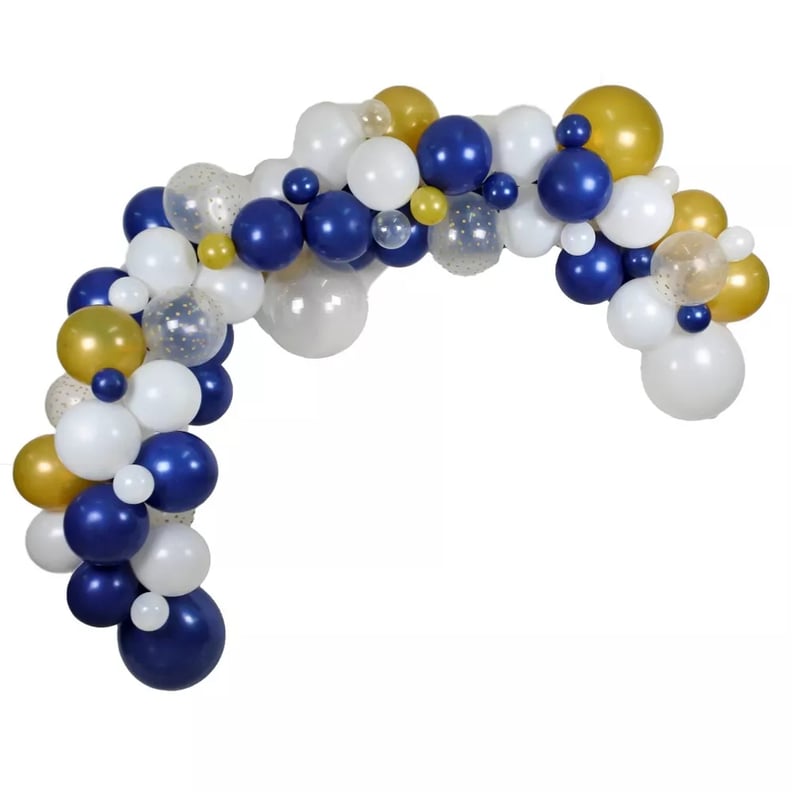 A Navy and Gold Balloon Arch
Spritz Large Balloon Garland/Arch Navy/Gold ($12)

Don't let the online photos confuse you; this blue-, white-, and gold-colored-balloon arch is several feet wide. "I ordered 2 thinking for the price it had to be much smaller," writes a shopper who gave it a five-star rating. (Yes, you probably only need one.)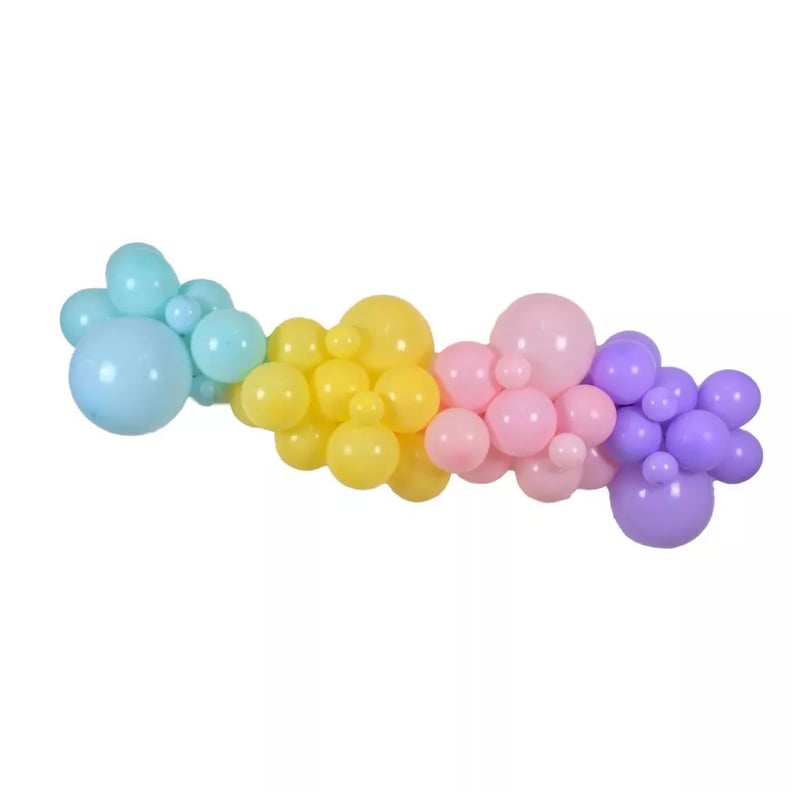 A Pastel Balloon Arch
Spritz Large Balloon Garland/Arch Pastels ($12)

With nearly a perfect five-star rating, it's clear you can't go wrong with this rainbow balloon arch. They're popular among parents as decoration for children's birthday parties.
A Bright Balloon Arch
Spritz Large Balloon Garland/Arch Bright Colors ($12)

Prefer bold brights to pastels? Maybe this arch is more your vibe, starring a mix of solid-colored and polka-dot balloons. Shoppers say it's easy to assemble but can take time to put together (though two people noted it took them under an hour).
A Cactus-Themed Balloon Arch
Spritz Cactus Balloons Arch ($7)

Whether you decorate with this cactus-themed balloon arch for a birthday party or St. Patrick's Day, it's bound to be a hit. It comes with 18 balloons that you can either tie together or let float around separately.