10 Organizers For a Tidy Shower, All From Amazon
As POPSUGAR editors, we independently select and write about stuff we love and think you'll like too. If you buy a product we have recommended, we may receive affiliate commission, which in turn supports our work.
Our time spent in the shower is meant to offer a brief respite for relaxation and self-care. Yet, this sentiment can often feel unattainable amid shampoos, conditioners, body washes, scrubs, and razors. All of these shower items can transform this peaceful moment into a battle against bathroom clutter. Instead of taking deep breaths or shaving your legs, you find yourself meticulously maneuvering to avoid toppling the precarious arrangement of items, akin to a delicate house of cards.
If this scenario strikes a chord, it's high time to establish order. The good news is that achieving a well-organized shower space has arguably never been easier courtesy of online retailers like Amazon, which showcase so many ingenious organizers that streamline the tidying process. Whether you want conventional shelves, a design that hangs from your showerhead, or a wall-mounted alternative for that elevated shower experience, there are plenty of options tailored to your preferences. Keep scrolling to acquaint yourself with our top 10 favorite shower organizers available on Amazon.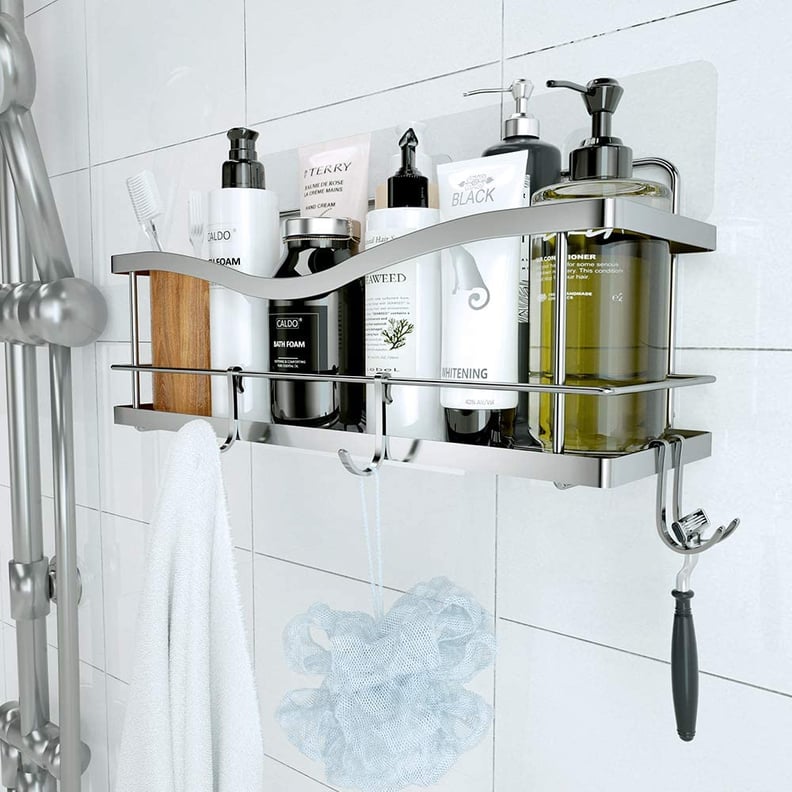 Best Shower Shelf
Zenna Home Shower Tension Pole Cadd ($22, originally $30)
This rustproof stainless steel shower shelf is an Amazon bestseller with thousands of rave reviews. It has hooks for hanging razors, washcloths, and more. It's a minimalistic and simple design, perfect for those who just need the essentials on hand. It comes in silver and matte black.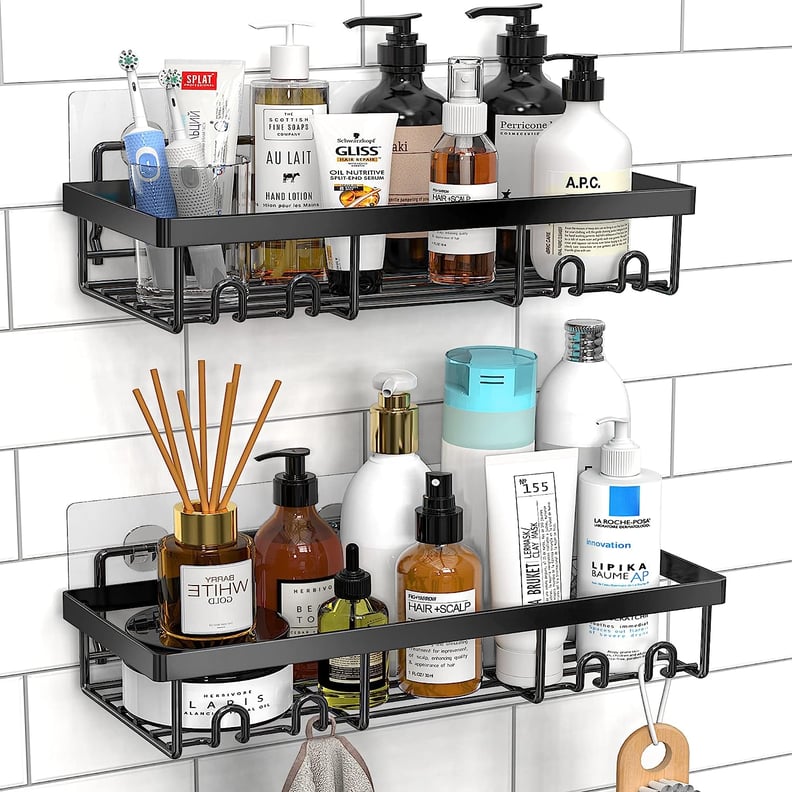 Best Shower Shelves for Tile Walls
Moforoco Shower Caddy Shelf Organizer Rack ($20, originally $35)
Looking for a pack of two? Check out these stainless steel shower shelves that easily stick to tile with the provided adhesive. It's the number one bestseller of Amazon's shower caddies for its sturdy support and spacious design.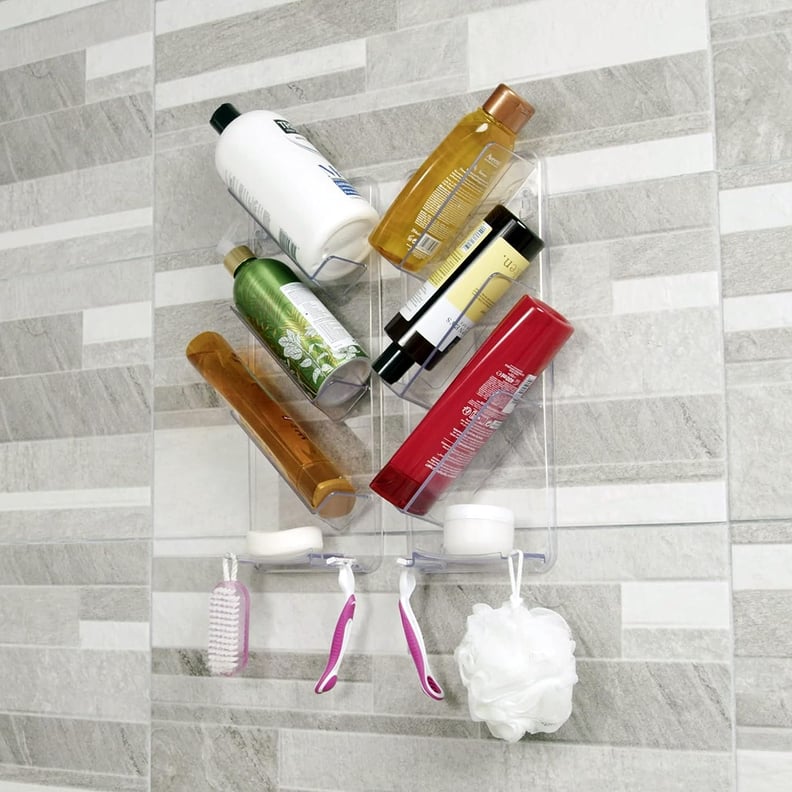 Best Angled Shelves
ShowerGem Bathroom Organizer Shower Caddy ($33, originally $53)
This shower caddy is so easy to install. You don't have to deal with drilling and stubborn suction cups; it comes with damage-free glue that takes just minutes to put up. It has six leaning shelves, making it easy to flip your bottles upside down to get all the product out. Plus, it has two shelves for smaller jars and soap bars and hooks for loofahs, razors, and other necessities.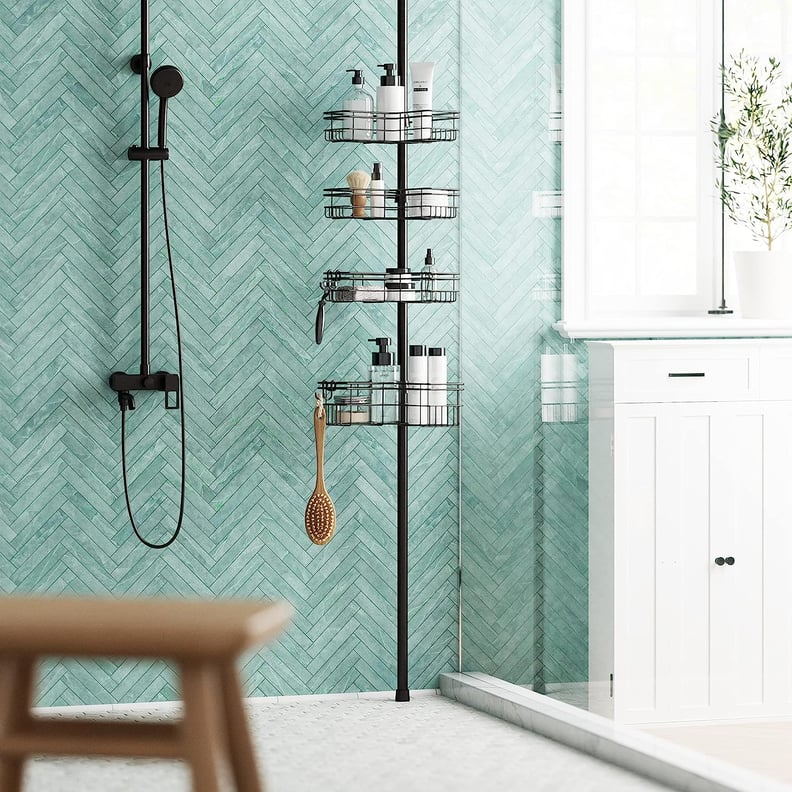 Best Corner Shelves
Zenna Home Shower Tension Pole Caddy ($27, originally $36)
This shower caddy is perfect for corners. It's a tension pole with four corner-hugging baskets, which is a great option for those with limited space in the shower. The metal organizer is rustproof and durable as well.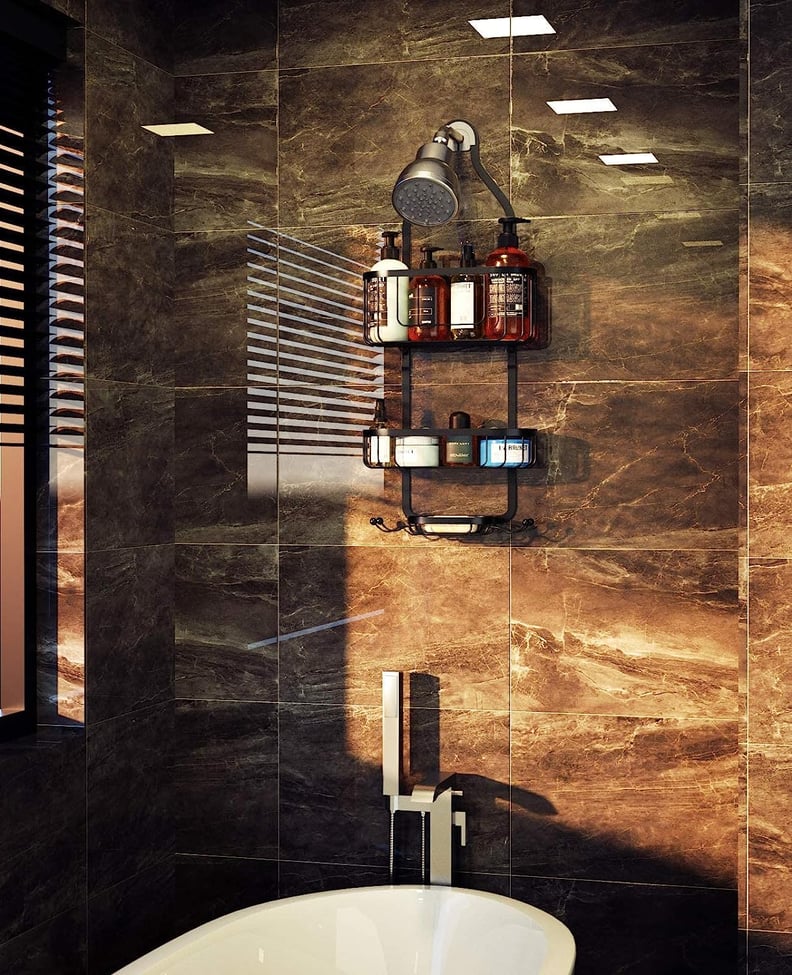 Best Hanging Shower Organizer
Zenna Home Shower Tension Pole Caddy ($28, originally $40)
This hanging shower organizer is a sleek and durable option to hang over your showerhead. It has two baskets, one deep and one shallow, to fit a variety of products. It has four hooks for razors, loofahs, and more. Plus, it has a separate section for bar soap.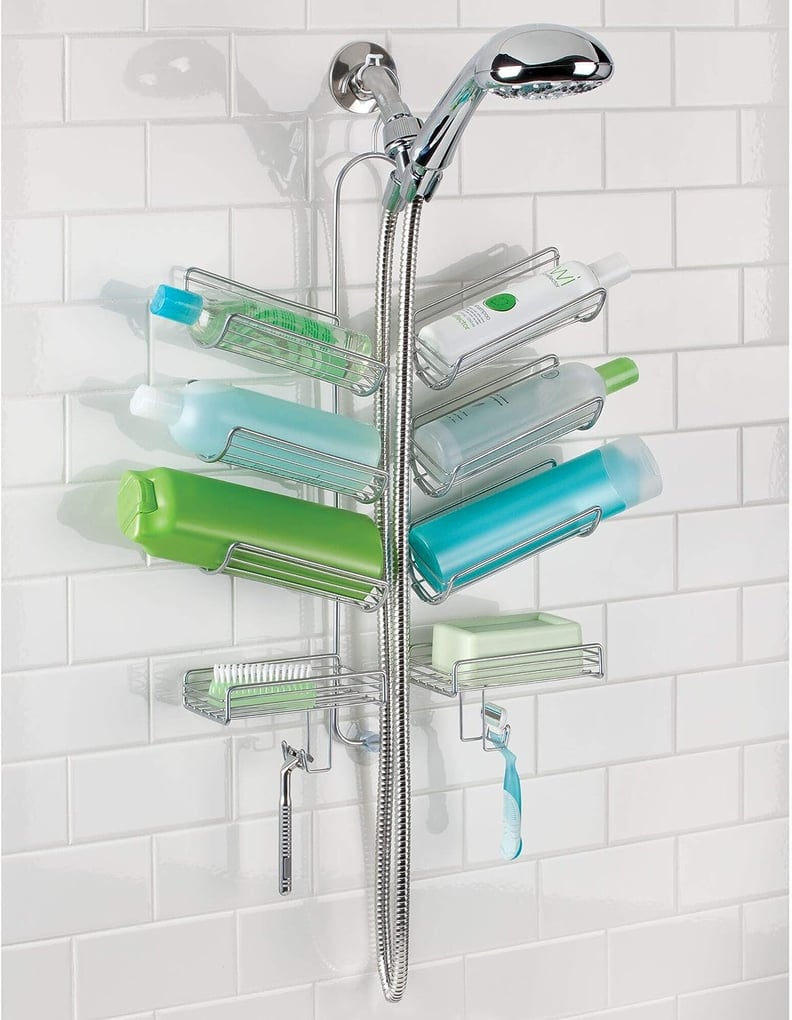 Best Shower Head Organizer
iDesign Steel Hanging Shower Caddy ($46)
This shower caddy hangs onto your showerhead while giving you access to your handheld hose showerhead as well. It has six angled bottle shelves, two storage shelves, and four hanging hooks. It also comes in a number of different metal finishes.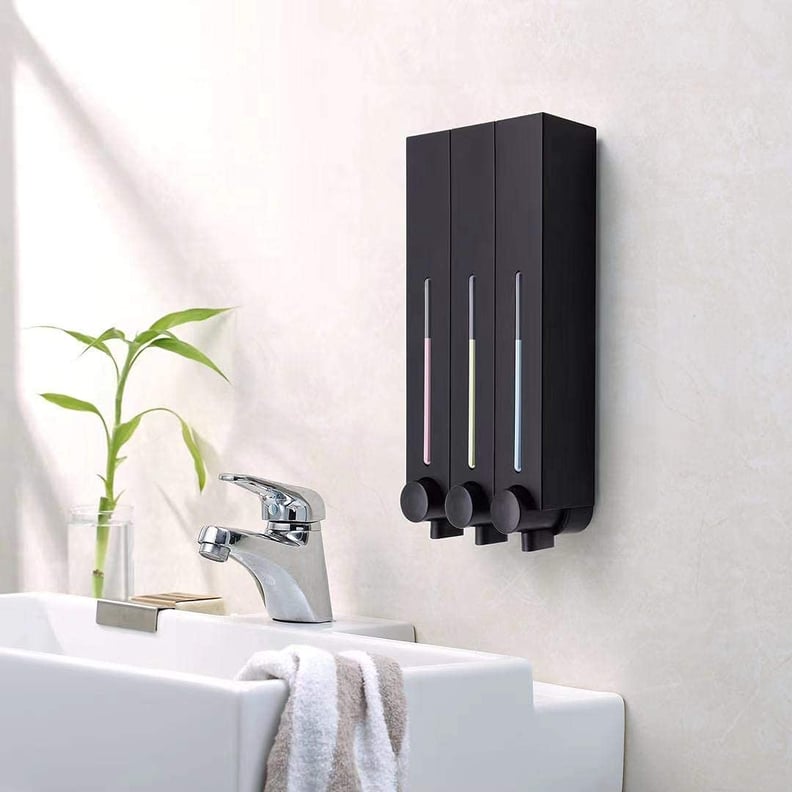 Best Wall-Mounted Product Dispenser
Balmyspace Refillable Wall-Mount Shower-Dispenser ($76)
If you don't have space for bottles in your shower, this wall-mounted shower dispenser lets you consolidate it all for a sleek, hotel-like look. You can choose between a single product dispenser or a set of three. It's perfect for apartments and smaller bathrooms.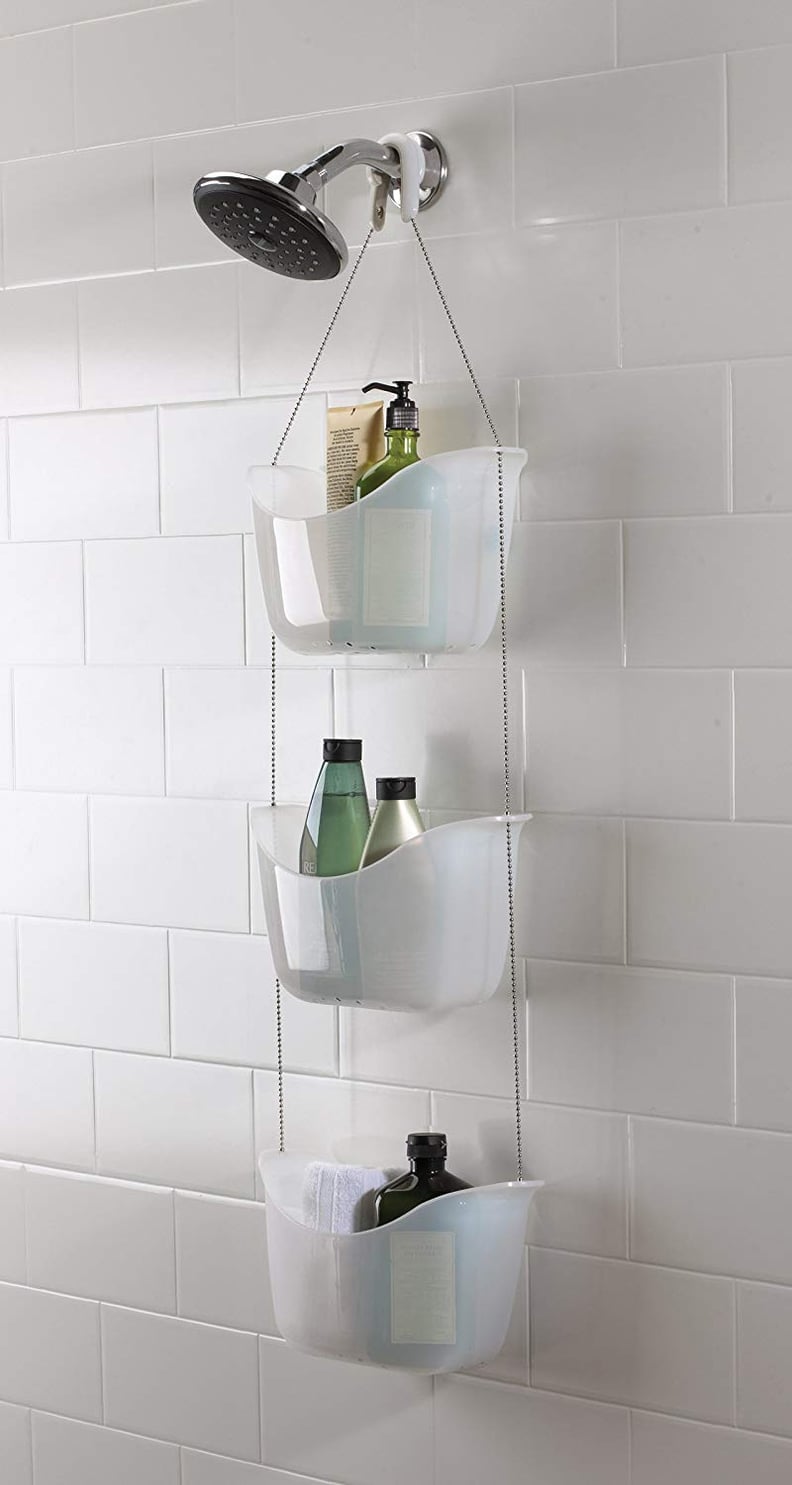 Best Organizer for Big Bottles
Balmyspace Refillable Wall-Mount Shower-Dispenser ($20, originally $22)
This shower caddy will store all your bigger bottles and value-sized products. It has three large self-draining baskets that can fit everything from shampoo bottles, body washes, and your entire shave routine. You can hang this from your showerhead or shower curtain rod as well. It comes in white, black, and gray.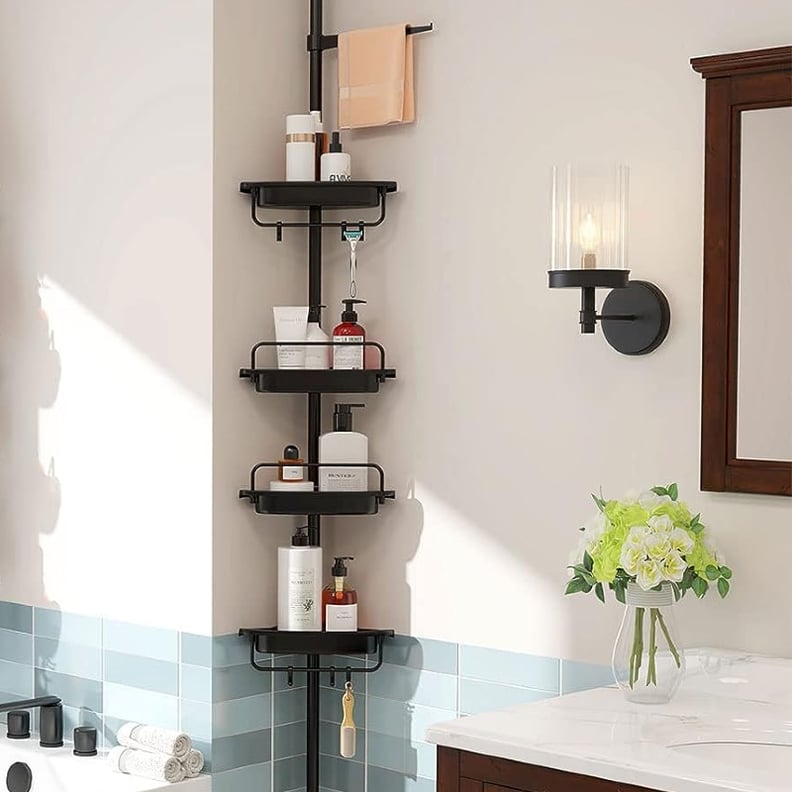 Best Tension-Rod Organizer
HomeHelper Rustproof Shower Caddy Corner Organizer ($38, originally $48)
This corner shower caddy is rustproof and perfect for those with a lot of products. It's a tension rod that fits in your shower corner for a clean, streamlined look. It has four large shelves with a variety of removable and adjustable hooks.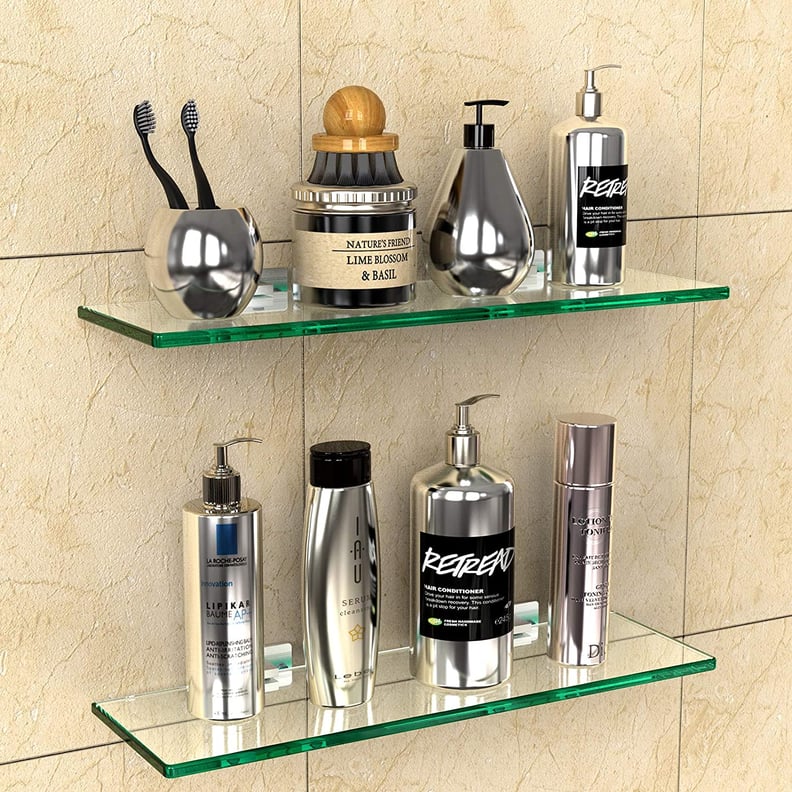 Best Floating Shelves
GeekDigg 2 Sets Glass Shelves for Bathroom ($30)
Create extra storage in the sleekest way possible with this set of two tempered glass shelves. The wall-mounted shelf requires no drilling at all. It will give your shower that elegant, minimal floating-shelf look. It also comes in a rounded-edge look that's perfect for corners.