12 of the Most Colorful Places in London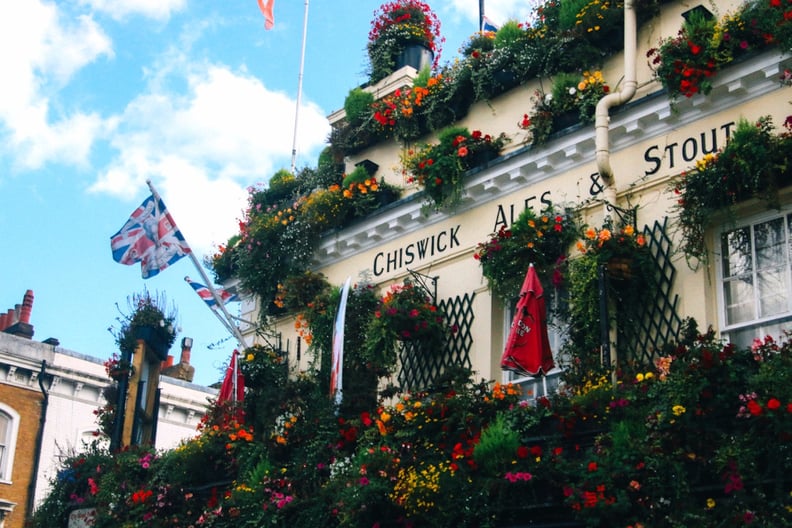 Samantha O'Brochta
Samantha O'Brochta
Despite popular belief, London is not just a gray city. In fact, it could be considered one of the most colorful cities in the world if you know the right places to look. While the weather may not always hold up or stay sunny and bright, at least you have all the colors of the rainbow to make up for it. They're not always in the most obvious spots, and some may take a trek to locate, but if you're looking for the perfect hue to lighten up your Instagram feed, it's possible to find exactly what you're looking for when exploring the Big Smoke.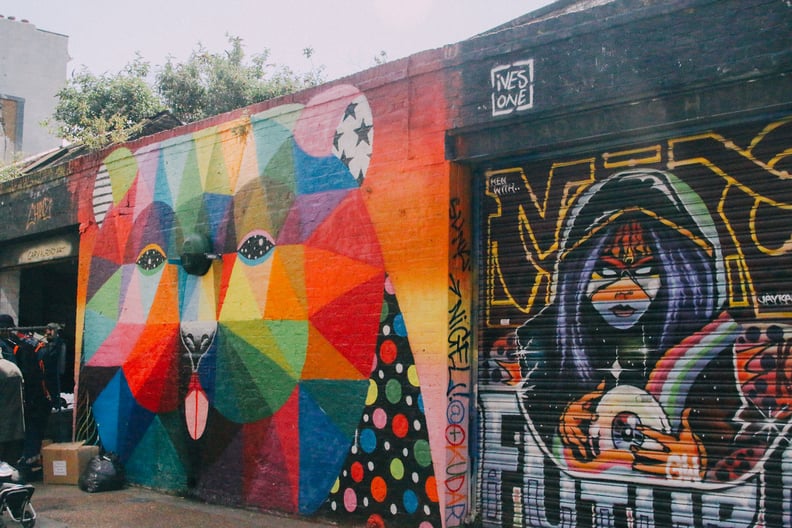 Brick Lane Street Art
Walking down Brick Lane and its surrounding areas of East London are where you'll find some of the best street art in the city. The wonderful thing is, it's all vibrant and colorful artwork that covers the walls. It changes all the time, so you could come back a week later to find an entirely new design in place of something you'd passed before, even more creative and unique than the last.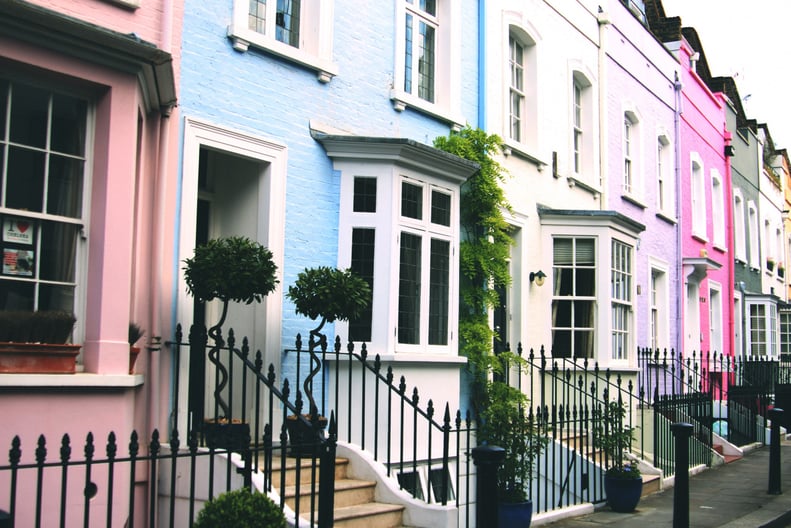 Bywater Street
In Chelsea, you'll find this pastel street right off the main drag. The preferred backdrop to many a fashion blogger's photo shoot, this row of houses is one of the most popular and colorful in London. But it's easy to miss if you're walking past, so be sure to peek down the road to spot the gradient of hues that line the street.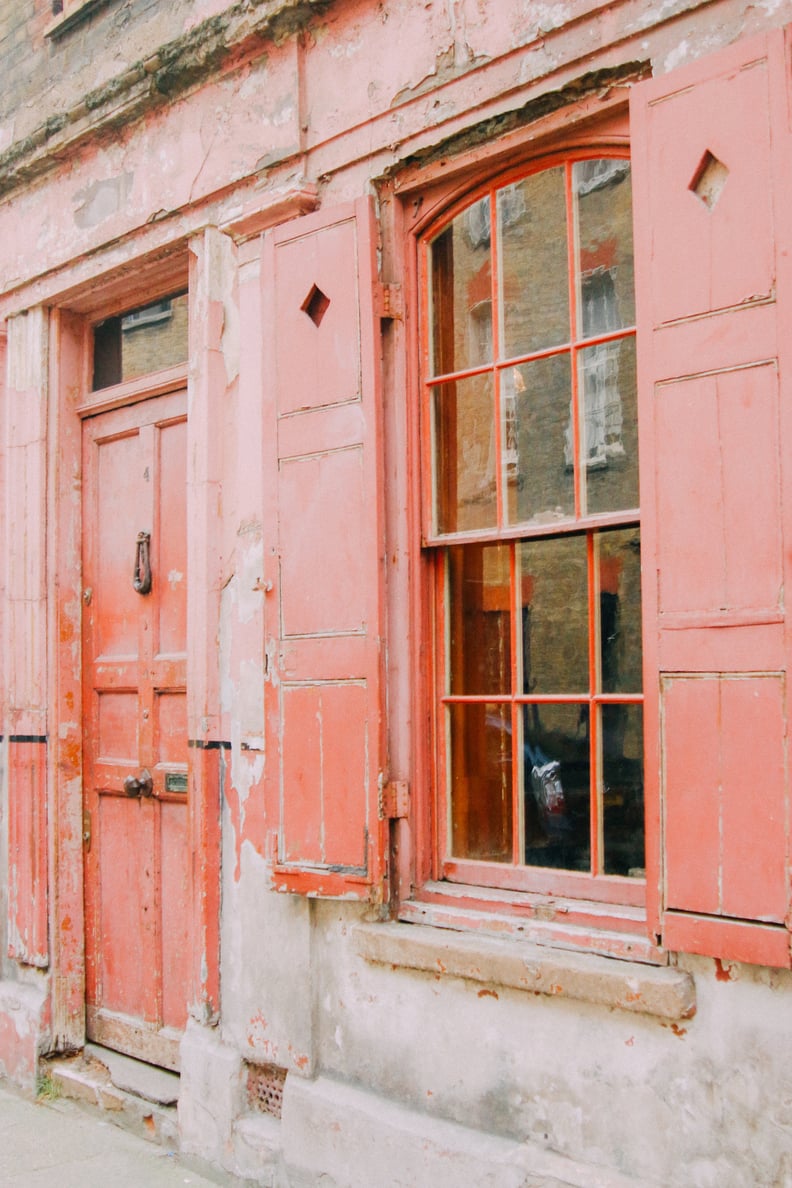 4 Princelet Street
This pink door is fairly iconic and one of the great "secrets" of the Spitalfields area in London. With its vintage, untouched facade, it's something that feels magical to stumble upon when wandering around the residential streets of this Shoreditch neighborhood. It definitely stands out as compared to the gray and brown buildings that surround it on each side.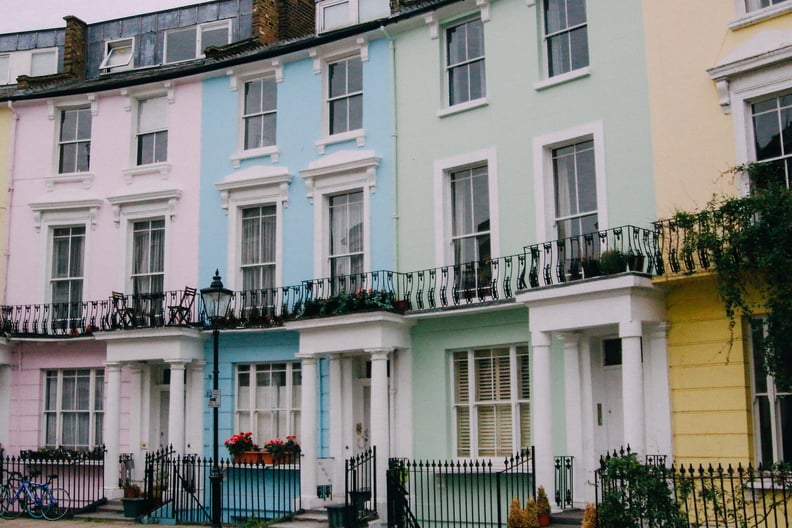 Chalcot Crescent
If you saw the film Paddington, then you've seen this row of houses. It was used as the exterior for the bear's new home as he arrived to London. Location scouts for the film must have been so excited to stumble upon a gem like this hidden nearby Regent's Park. This area of Primrose Hill is quite posh with many colorful homes to peruse.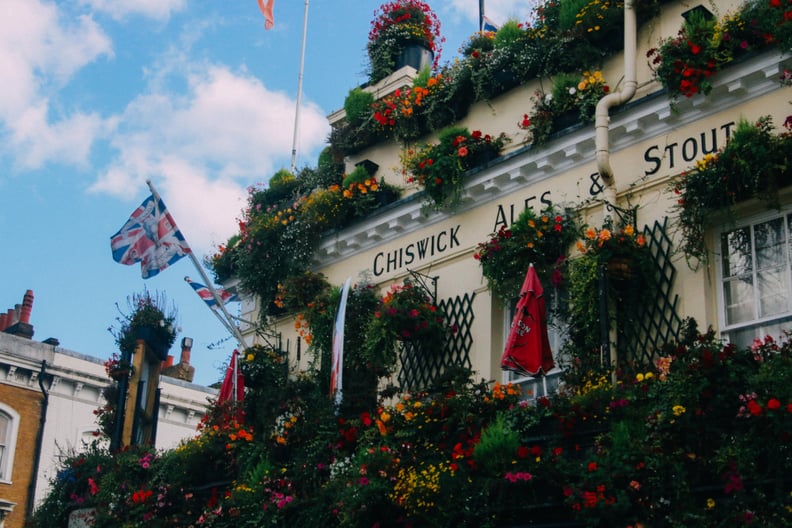 The Churchill Arms
This is considered to be one of the prettiest pubs in London. It's often covered head to toe with an exuberant amount of flowers and shrubbery, both of which often change with the seasons. It's a sight to behold as it's so covered with foliage like Christmas trees during the Winter holidays that you wonder how one might get inside for a pint.
Conduit Mews
Of all the mews in London (and there are a lot), this has to be the one with the most rainbow-like array of houses. Near Paddington Station, this lovely little street has most of your pastel fantasies covered with millennial pink, powder blue, sherbet orange, and more, all down the same alley.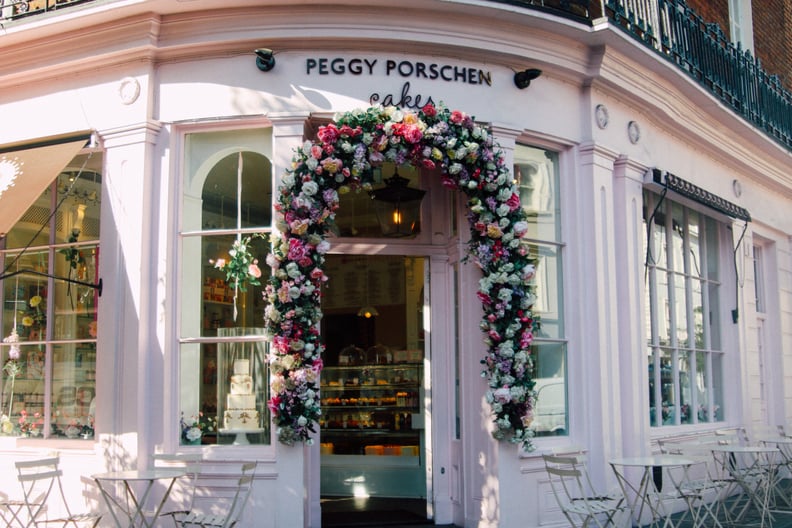 Peggy Porschen Cakes
This cake shop is the definition of pretty in pink. Not only are the treats to die for, but this shopfront is Instagram goals. The owners swap floral arrangements out every few months, so there's a new entryway adorned with an arch of the latest bloom in a perfect shade of pink.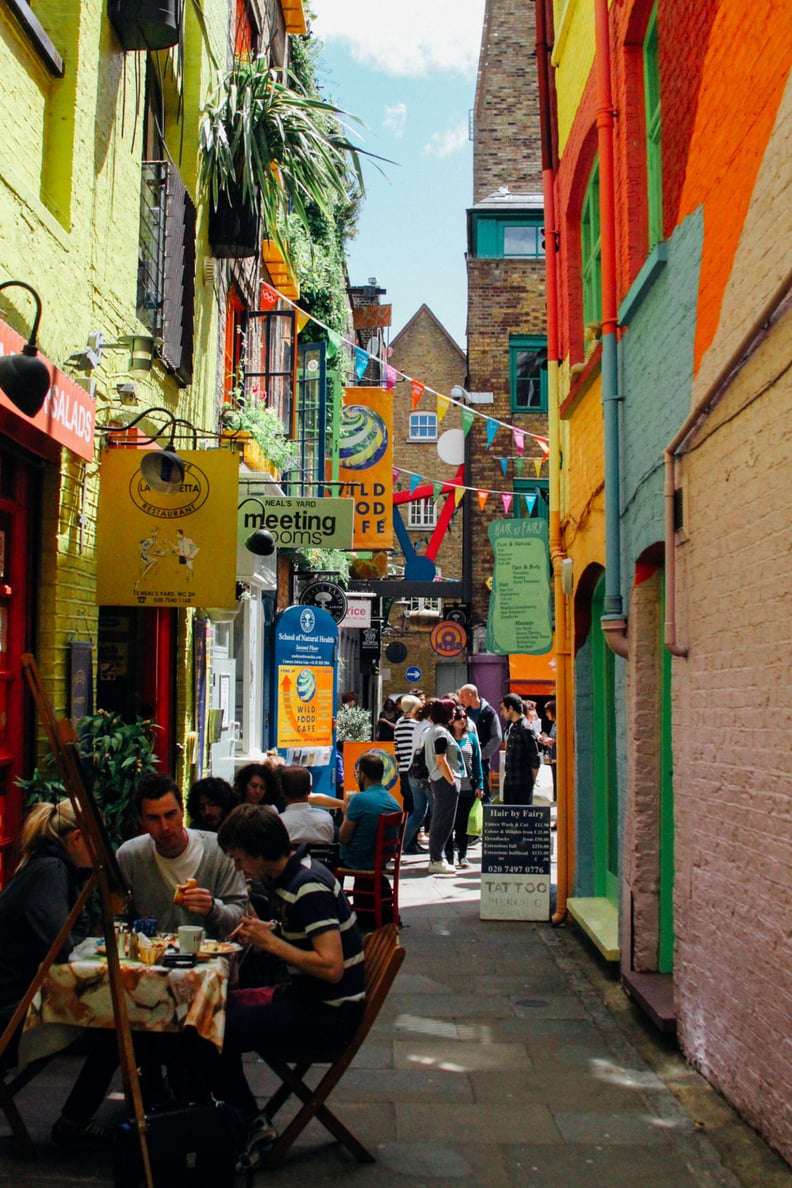 Neal's Yard
This funky alleyway near Covent Garden plays host to an array of shops and restaurants and is one of the few places in London covered in bright, neon paint. This quirky spot is quite unique, hidden back in a walkway you have to look out for signs to point you toward. Just don't miss the entrance.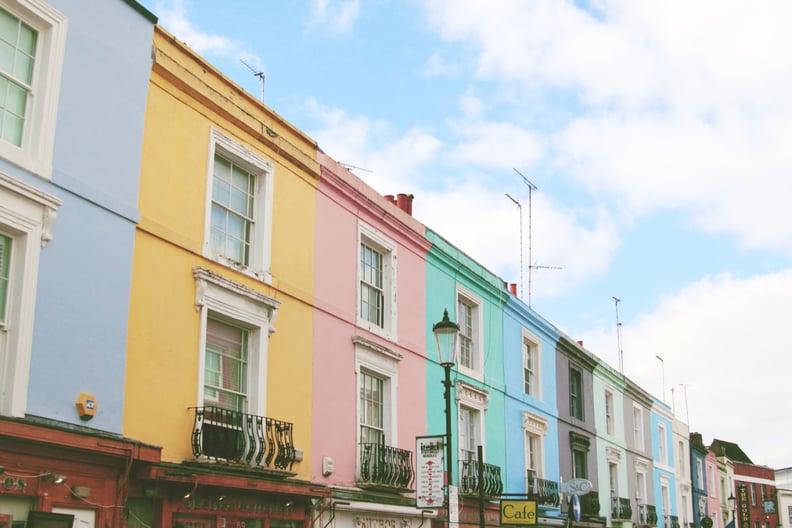 Portobello Road
In general, Notting Hill is definitely the most colorful neighborhood in London, and the place where you can find the most color is on Portobello Road. This long, eclectic street runs through the heart of Notting Hill.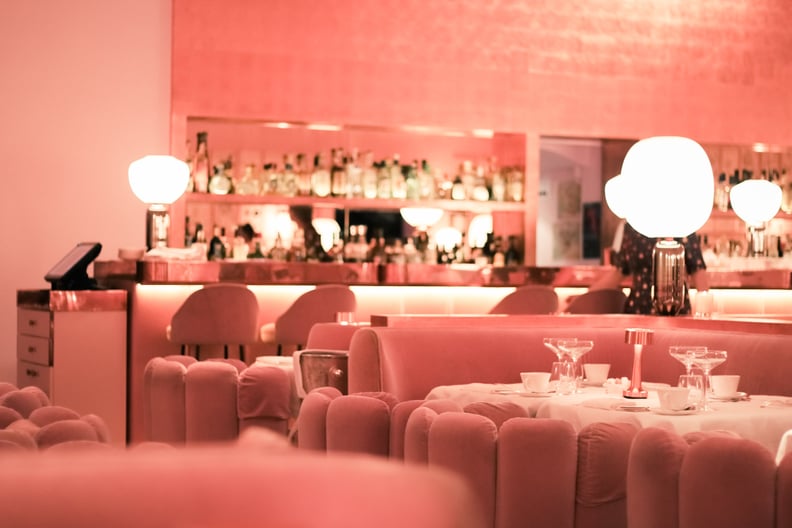 Sketch
If you need a pink explosion in your life, and would prefer to drink tea while experiencing it, then Sketch in London is the best place to be. In this upscale eatery, you can dine in the main gallery room and be surrounded by all things pink. And if you're wanting something even more, check out the pod-style bathroom where the ceiling is a faux-stained glass masterpiece.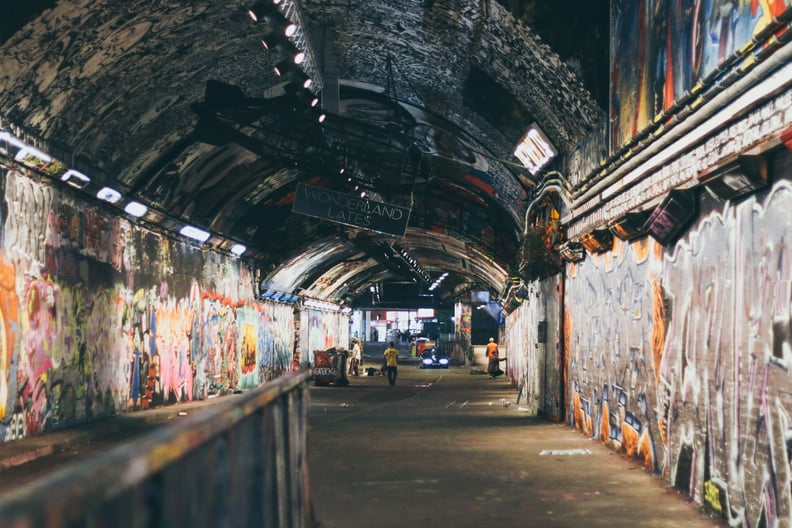 Leake Street Tunnel
This is one of the rare parts of London where anything goes in terms of legal graffiti. This long tunnel near Waterloo Station is an art-lover's delight and quite hidden from the average pedestrian walking along. Only a few minutes away from Big Ben, it's a great place to stop by if you want to find a place that feels truly secret.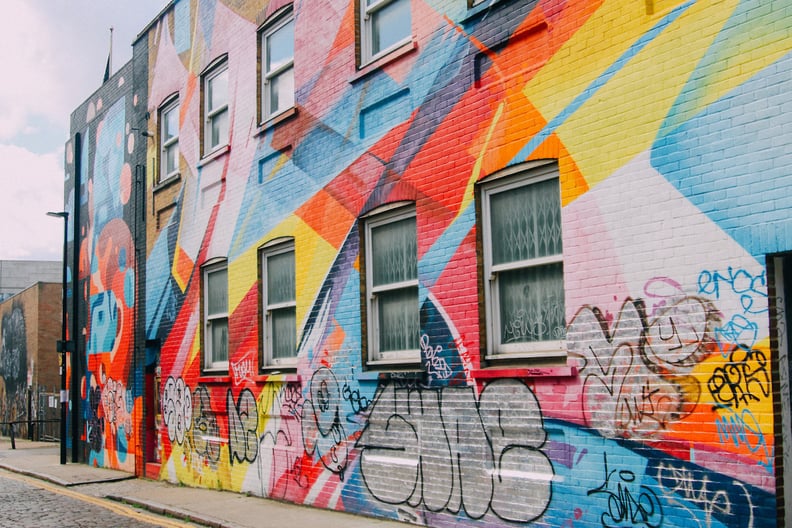 Chance Street
One of the few full-wall murals that hasn't been covered over in scaffolding lies on Chance Street in Shoreditch. This rainbow wall has stayed the same for some time now, which is rare in a place where art transforms constantly. Capture this wall before it inevitably changes, for an epic photo shoot backdrop.