Have a Romantic Dinner at Home Planned For Valentine's Day? Here's How to Prep
Valentine's Day can be pressure-filled enough without having to deal with crowds, reservations, and inflated prices. After all, while V-Day is arguably the busiest and most popular day of the year for couples to eat out, it's not you and your SO's only option. From preparing their favorite meal to lighting all the candles, a well-thought-out dinner at home can be much more romantic and personal — if you plan accordingly! Below, we've rounded up a few tips to help ensure your evening for two is as special as possible.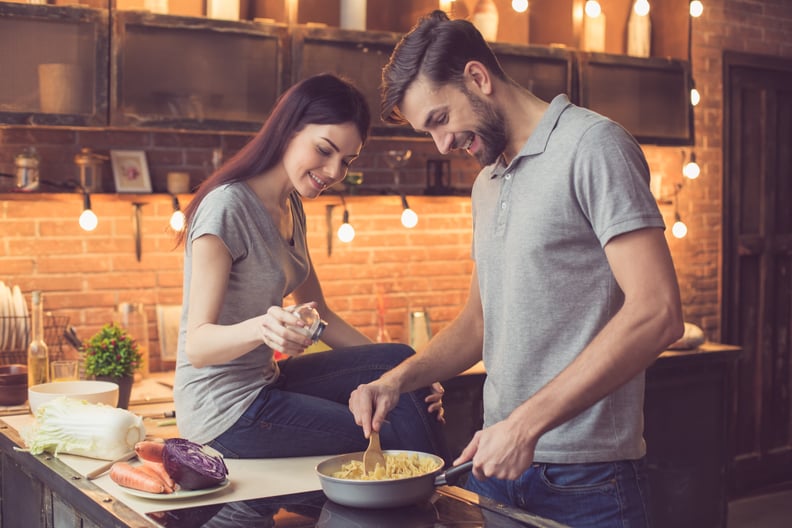 Create a Menu
Whether you're ordering in, cooking with your loved one, or completely surprising them, it's important to have a plan — and maybe a plan B just in case you burn the chicken! Obviously you know your other half best, so prepare something you know they'll love — maybe even a dish you both have fond memories of eating.
If you're going the cooking route, try to avoid something that'll keep you slaving away in the kitchen all evening. Know your schedule and adapt, and if something can be done beforehand, do it. If you're not a chef, don't sweat it and don't think too hard. It's the effort that's key here — showing time, thoughtfulness, and consideration is always appreciated.
Finally, if you want to really impress your date, plan on serving appetizers, a main course, a side dish or two, and dessert. While the main course and sides are a given, we're fans of apps as a way to fend off hunger while dinner is still in the oven. As for dessert, instead of preparing something elaborate, just pick up some cupcakes from your favorite local bakery. You can also serve ice cream with whipped cream and a handful of berries.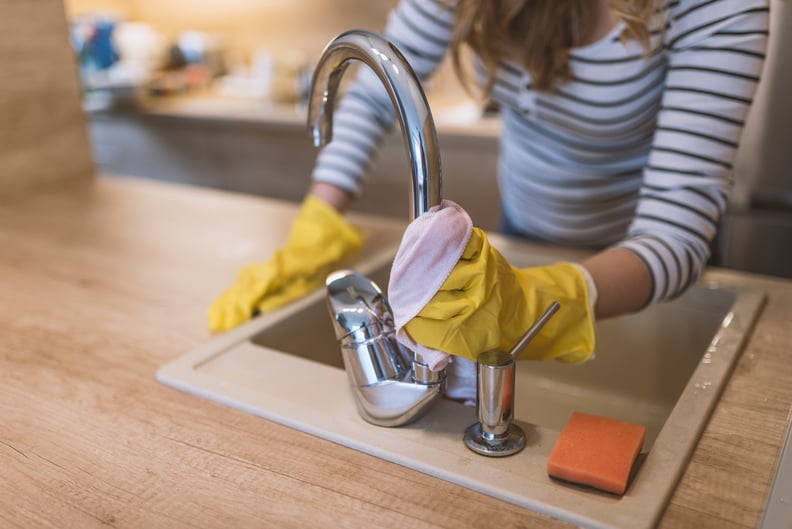 Clean Your Space
It's always nice to come home to a clean house, but on Valentine's Day especially, you're sure to score major brownie points for spotlessness. If dinner was prepared in advance, make sure to get rid of cooking evidence, such as dirty dishes, a full garbage can, or stovetop crumbs. After all, there's no better way to set the mood than starting with a freshly cleaned home.
To tackle germs and grime on cabinets, sinks, tiles, appliances, and other hard surfaces, try Clorox® Clean-Up® Cleaner + Bleach. It not only cleans quickly, but also disinfects and deodorizes. If you want to take cleanup a step further and really impress your SO, use Clorox® Toilet Bowl Cleaner Clinging Bleach Gel and Clorox® Regular Bleach₂ With CLOROMAX® to ensure your bathroom sparkles. Think of it as a bonus V-Day gift!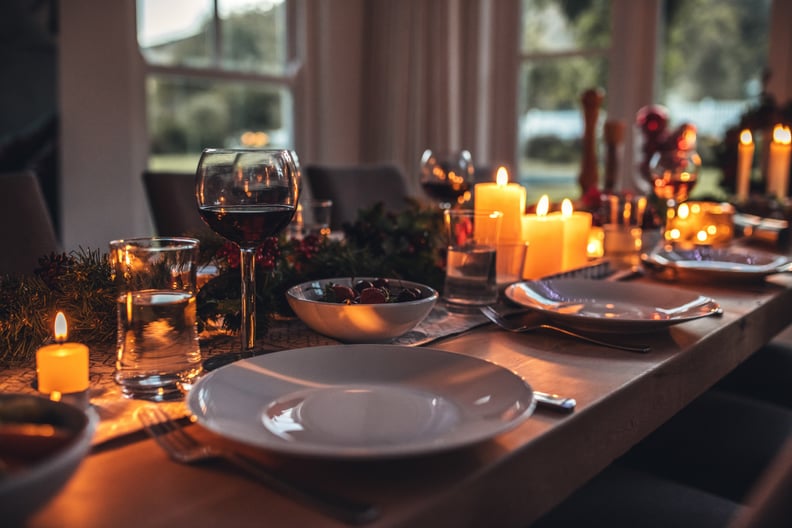 Set the Mood
Creating the proper ambiance is essential for pulling off an uber-romantic dinner at home. The easiest way to take your space from mundane to magical is with candles — lots of candles. Flowers are another key decoration that can transform a home. Perhaps even sprinkle flower petals on the table. Breaking out a tablecloth, place settings, and your nicest dishes and glasses is also all part of the experience. If you've been waiting for a special occasion, this is it!
If you and your partner have a meaningful song or a favorite artist, create a playlist and tailor it accordingly. If you're looking for something less distracting, playing classical music or jazz always sets the right tone. If you're in the mood to get creative, you can even pick a theme to help tie the whole evening together. You can base it on your favorite movie, where you met, or just your favorite type of food. Finally, eat somewhere you don't normally eat — like the dining room table — to make the night feel extra special.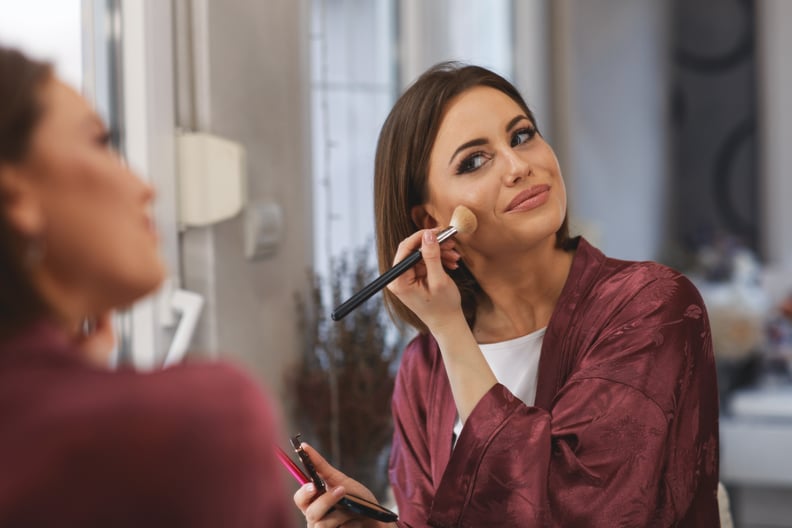 Dress Up
Just like you would do if you were going out, put on something that makes you feel amazing. Make an effort by showering, doing your hair, spraying on some perfume, the works! Then, take a picture together — even if it's just a fun selfie — to remember the occasion by.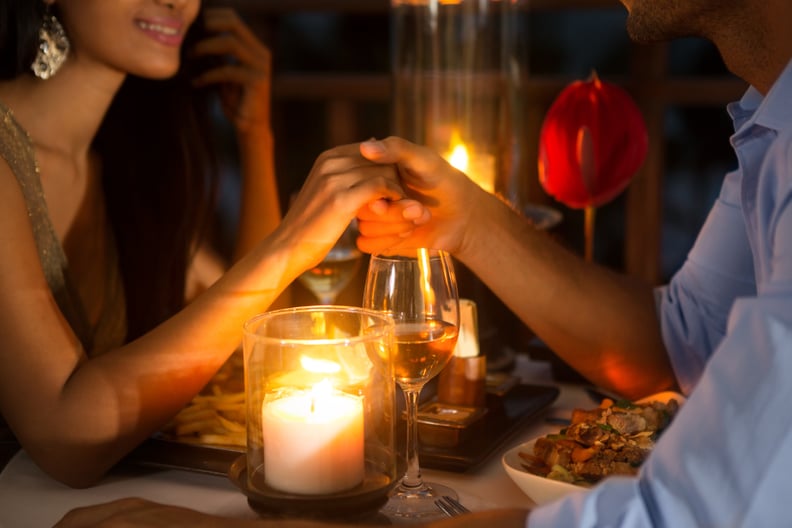 Avoid All Distractions
To have a successful night together, you need to stay focused on just the two of you. That means eliminating all distractions. Turn off your phones — or at least put them on airplane mode — and turn off the TV. Avoid talking about work, family drama, or anything with negative connotations. It's always good to bring up fond memories you have together or future plans you want to make.
Even though you probably talk to your valentine all the time, it can also be fun to come prepared with talking points or questions. Ask them things like, "If you had one day left to live, what would you do?" or "What would you do if you won $10,000?" It's a fun way to change up your conversation, keep the energy going throughout dinner, and learn new things about one another.