The Ultimate French Road Trip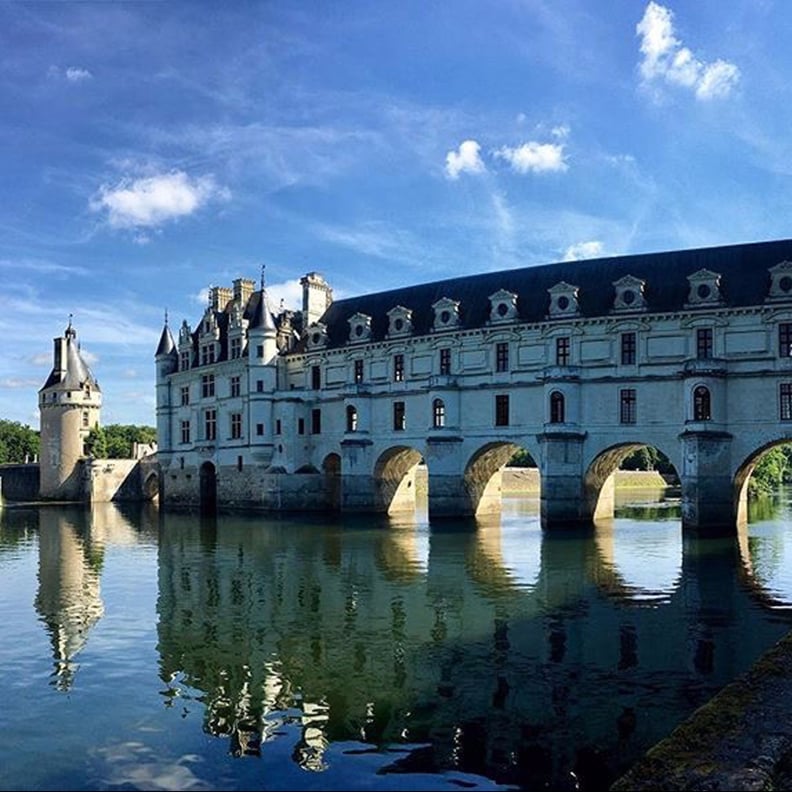 Close your eyes and picture France — what's the first thing that pops into your head? I'll venture a guess and say it's the Eiffel Tower and a variety of bread products . . . . Oh, and maybe this portrait of French President Emmanuel Macron (same).
But France is so much more than that! It's lavender fields and stony beaches. Castles, canals, and soaring mountains. Bright blue waters, medieval monasteries, and shockingly cheap Rosé. Every region of this country has its own character and charm, and if you've got the vacation time and funds to journey around France (via car or train), you're in for quite a treat. Here's your guide to the ultimate French road or rail trip. On y va!
01
Paris
As several Instagram captions and craft store signs have likely reminded you, Paris is always a good idea, and it's the perfect place to start your French adventure. Fly into Charles de Gaulle or Paris-Orly and spend a few days in the City of Lights soaking up culture, coffee, and a cocktail or two. While you're in the area, feel free to venture outside the city and visit Versailles (home to the perfectly manicured gardens and chateau of Louis XIV and Marie Antoinette), Giverny (the equivalent of walking into a real-life Monet painting), and Normandy (for the history buff). Then rent a car or head to the nearest gare (train station) and off you go!
02
The Loire Valley
From Paris, pop over to the town of Tours (three hours by car, just over an hour by train) and stroll through the castles of the Loire Valley. Most of the region's chateaus are between 30 minutes to an hour outside of Tours, so it's a fairly convenient place to make your home base (and an adorable town in and of itself). Villandry, Amboise, Blois, and Angers all offer gorgeous castles to explore — though Chenonceau (pictured here) and Chambord are the crowd favorites.
03
Bordeaux
One can never have too much wine, right? Right. From Tours, head down to Bordeaux (about a three-hour drive or four-hour train ride) and take a day or two to sample every red and white this medieval town has to offer (of which there are many). If you'd like to learn a bit about vin during your stay, book a visit at the Saint-Emilion wine school as well.
04
Montpellier
Next up is Montpellier (four and a half hours by train, five and a half driving from Bordeaux). This city blends the metropolitan charm of Paris with the relaxed energy and blue skies of southern France, and it's filled with cute boutiques and sun-soaked terraces. Spend a night here and grab an apéritif in the Place de la Comedie or Place Jean Jaurès, admire the Musée Fabre's extensive fine art collection, and squeeze into Le Bec de Jazz for some live music.
05
Provence
Provence (or Provence-Alpes-Cote d'Azur) is a massive region in the south of France, home to seemingly endless lavender fields and fresh sea air. There are a number of lovely towns to explore in the area, so definitely take your time on this stretch of the trip.
From Montpellier, head to Arles (just under an hour by car or train) — the town known for inspiring some of Van Gogh's greatest works — then wander through miles of lavender in Aix-en-Provence or the famous Senanque Abbey in Gordes (note: lavender season runs from late June through early August). Dive into the thick, turquoise waters of the Verdon Gorge, and finally, indulge in a seafood dinner and glass of Rosé at La Baie des Singes ("The Bay of Monkeys," a private beach and restaurant nestled in the Calanques of Marseille).
Oh, and save some room in your suitcase for the many lavender-scented souvenirs you're sure to find here.
06
Cote d'Azur (The French Riviera)
Though the Cote d'Azur is technically part of Provence, this side of the region has a personality all its own. Marseille's Old Port has a gritty, nostalgic charm to it, while the beaches of Nice (two hours away by car, two and a half by train) feel ritzy and glamorous.

The cities along this stretch of the coast — which also include Cannes and the colorful Menton — are dotted with palm trees, bright parasols, and a sense of luxury you'll be hard-pressed to find anywhere else in France. If you feel like channeling your inner Grace Kelly or Blair Waldorf, hop over to Monaco and maybe do a little gambling in Monte-Carlo, too.
07
Grenoble
Now onward, upward! To Grenoble you go! A four-hour drive or six-and-a-half-hour bus ride from Nice, Grenoble is described as a mix of "mountain culture and cosmopolitan energy." It's the perfect place to spend a few days hiking through the Alps, drinking tea at La Poule Perchée, and playing frisbee in Parc Paul Mistral before continuing up the border.
08
Alsace-Lorraine
Tucked in the Eastern corner of France, Alsace-Lorraine might just be the country's most charming region. The brightly colored houses and floral-lined canals are fresh out of the pages of a fairy tale, and towns like Colmar, Strasbourg, and Riquewihr will likely inspire you to burst into song, Beauty and the Beast style (or is that just me?).

It takes around four and a half to five hours (by train or car) to get to Colmar from Grenoble, but it's well worth another long trip. Be sure to try the tarte flambée at La Fleur de Sel as well — it's a local specialty.
09
Champagne
Fun fact: most of the "Champagne" we drink is really just sparkling wine. In order to be called Champagne, it must come from the Champagne region of France — which, lucky for you, is the next stop.
From Colmar, head west to Reims (between three and four hours by train or car) and tour the city's ancient cellars and even more ancient cathedral — for more than 1,000 years, French Kings were actually crowned at Notre-Dame de Reims. You can also pop down to Chalons-en-Champagne, known as the "sparkling Venice" of France, for another taste of Champagne and medieval architecture.
10
Back to Paris
From Reims, head back to the city where it all began: Paris (just a 45-minute train ride, or an hour-and-a-half drive). You've officially made your way around the entire country, congratulations! Now, just relax along the Seine and indulge in a few more pastries before flying out and returning home . . . . Tu l'as fait. You've done it.