Up and at 'Em! 25 Good Morning Habits For a Great Day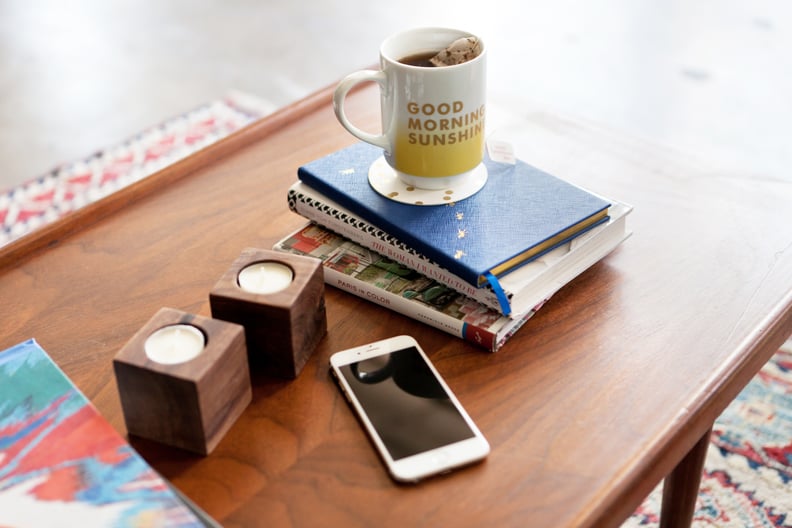 POPSUGAR Photography | Mark Popovich
POPSUGAR Photography | Mark Popovich
The phrase "good morning" can be a bit contradictory right about the time our alarms begin incessantly buzzing. However, morning is the foundation of your day, so it's a good idea to start off on the right foot from the get-go. The key to a great day is to approach it with a plan: know what you want to get out of it, and go for it with all you've got. If you practice some of these helpful habits, then good things will come your way.
Wake up early — it will motivate you more than sleeping in will!
Try to avoid drinking too much the night before.
Don't press snooze!
Get out of the bedroom and get going as soon as you wake up — don't let yourself be tempted to jump back under the covers.
Give yourself time to get ready and decide on an outfit that you will feel great in.
Take a hot shower.
Do your beauty routine.
Exercise! Make sure to warm up well, and then squeeze in a quick workout before you leave for the day.
Map out your day and make a plan about how you will get things done on your list.
Listen to a playlist that pumps you up.
Read or watch something that inspires you.
You've heard it before, and we'll say it again — eat a good breakfast!
Start out the day doing the hardest or most dreaded thing on your list so that it's out of the way. It will be all downhill from there!
Do a brain exercise like a crossword or sudoku to get those wheels turning.
Eat less at night so that you don't wake up feeling full and lethargic.
Try to be five minutes ahead of schedule so that if something disrupts your morning routine, it won't make you late.
Meditate. While doing this, remind yourself what your goals are and how you want your day to go, and make it happen!
If you can, swap tea for coffee, or avoid caffeine completely. But realistically — just wait to have that cup of coffee until about an hour after you wake up.
Check your voicemail and emails so that you can plan accordingly.
Catch up on the news so you don't face the day entirely clueless about current events (skimming the headlines should do the trick).
Hydrate! Drink a cup or two of water — a little bit of H20 works wonders for your body.
Smile!
Stick to your routine through the week, and try not to deviate too far from it on the weekend — it will make Mondays extra hard.
Take your dog for a walk if you have one. Or your cat; no judgments.
Go outside and appreciate the day!