Easy, Cheap, and Quick! 68 Creative Halloween Costumes to Wear in 2021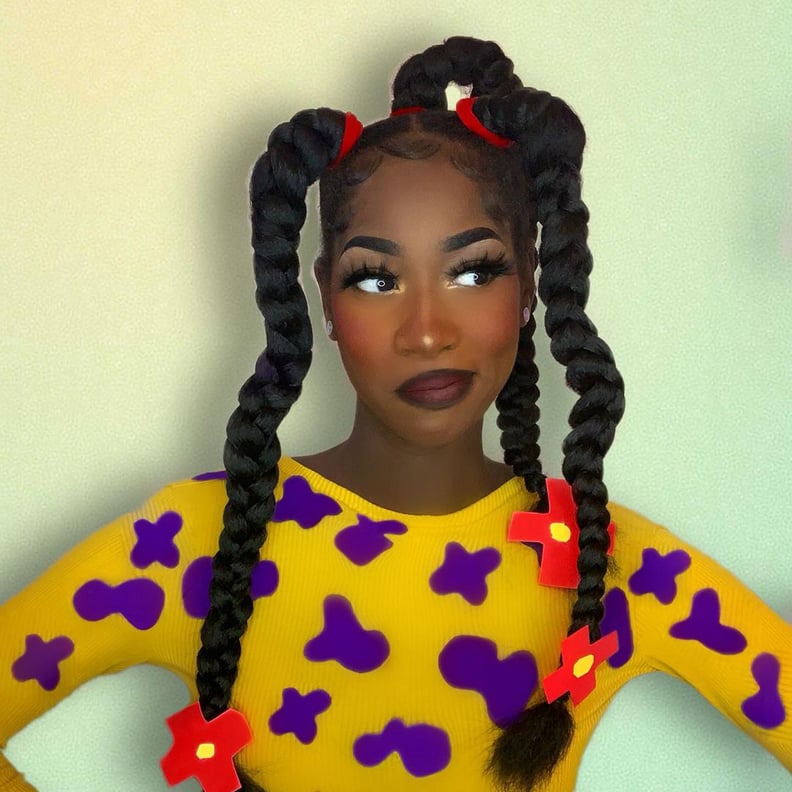 In need of a cheap costume that's quick to create? We've collected 68 easy and cute costumes to DIY for the 2021 Halloween season. No need to scour the internet for last-minute ideas or pay a visit to any kitschy, pop-up costume outlet, because we've got you covered. Each of these costumes is awesome in its own right, paying homage to the best of current pop culture and childhood nostalgia. Take a break from your day-to-day and let these costume ideas convince you that you're not too old to dress up.
— Additional reporting by Sierra Horton, Corinne Sullivan, and Lauren Harano
01
Deviled Egg
Turn your costume into a funny pun with this deviled egg attire. You'll need devil horns, a red cape, a white minidress, and a yellow felt circle for the yolk.
02
Cinderella
Want to enchant everyone this holiday? Wear a blue dress (or silk robe!) to re-create the princess's dreamy look. Throw on a blue headband and white shoes to add a bit more magic to your look.
03
Susie Carmichael From Rugrats
Help the babies stand up to mean Angelica by becoming Susie Carmichael from Rugrats. Either dress as Susie alone or grab your crew to become the whole Rugrats gang. Regardless, Susie always wears the same thing: a yellow and purple outfit with braids.
04
Spoiled Milk
No one likes spoiled milk, unless it looks like this. All you need is an all-white outfit that says "milk" on the front, pair it with and expensive shopping bag or two, and you'll look the part.
05
Spice Girls
Become everyones favorite fall flavors by dressing in all black, layering it with a red apron, and becoming McCormick's cinnamon and pumpkin spices.
06
Rex From Animal Crossing
If you play Animal Crossing, you'll love this cute Rex costume idea. He's a lazy lion villager, and can easily be emulated with a striped shirt, felt ears, and face makeup.
07
Spongebob Squarepants
Become the sea dweller with a Spongebob Squarepants T-shirt, brown skirt (or pants), and striped socks.
08
Rue From Euphoria
Turn into the badass Euphoria character by wearing a casual outfit topped with an oversize sweatshirt and glitter tear makeup.
09
Maeve From Sex Education
Take on bad girl Maeve's style by picking up some temporary pink hair dye, throwing on a casual outfit, adding dark black eye makeup, and finishing the look with a nose ring and hoops.
10
Stevie From Schitt's Creek
Welcome everyone to the Rosebud Motel by dressing as Stevie. This outfit is ultra comfortable and requires a flannel, T-shirt, and ripped jeans. Make sure to get a "Stevie" name tag too, so everyone knows who they're talking to.
11
Your Favorite Woodland Creature
12
Zombie
Have any clothes lying around that you don't care for? Repurpose them to create a zombie costume. Cut holes in your clothing and take a nail file to give them for a tattered look that screams "zombie apocalypse." Don't forget to do your makeup with blacks, blues, and purples for a "rise of the dead" vibe.
13
The Twinning Emoji
This costume is a great option for those who tend toward a minimalist approach to Halloween night — it only requires two components! The "twinning" emoji has become the ultimate icon for best friends everywhere, so get together with yours in matching leotards and black bows, then twin all over town.
14
Classic Burglar
Make use of your striped clothing and go as a burglar! Add a black beanie, and either paint on your mask or fashion it from black cloth. (The adorable trusty sidekick is optional.)
15
Poison Ivy
Doll yourself up as one of DC Comics' most loved villainesses. This costume works especially well for those of you with red hair. There are multiple ways to go about this look, too. You can paint your leaves on, fashion them out of card stock paper, or simply gather some leaves from a tree for an au naturel take.
16
Spinelli From Recess
Channel your inner too-cool-for-school tomboy as Ashley Spinelli from the '90s classic cartoon Recess. You can utilize pieces that are already in your wardrobe!
17
Despicable Me Minion
Is there anything cuter than a lil minion? You can throw on denim overalls and a yellow shirt like these girls, or wear shorts and suspenders.
18
A Ghost
This is a costume that is more than perfect for the comedic teen who wants to expend as little effort as possible on their costume this year. Take a white garbage bag, cut two eyeholes in it, and voilà — you're basically a ghost.
19
Cotton Candy
A costume that is just as sweet as you! Spray-paint some cotton fluff and construct a cone for your head with a rolled-up piece of paper.
20
Jughead From Riverdale
Channel the star from the popular high school set series with this easy look that only requires a few closet staples.
21
Princess Bubblegum and Finn
These Adventure Time costumes are easy to re-create with clothes you already have hanging in your closet. While you could go to the store and purchase Finn's hat, you'll save money by using a plain white beanie and adding cotton-ball (or paper) ears. For Princess Bubblegum's crown, check out this simple DIY!
22
A Pig in a Blanket
If you gravitate toward all things punny, dress up as a pig in a blanket! You can DIY a pig nose and ears using pink cardstock paper. What a wonderful excuse to be swathed in a blanket all night, right?
Check out other "punny" costume ideas here.
23
Mother Nature
Go green this Halloween as Mother Nature. You can pin leaves (real or fake) to clothing that you already own. Top it off with a nature-inspired DIY headband.
24
Lydia From Beetlejuice
Put an all-black wardrobe to good use with this Beetlejuice-inspired costume.
25
Minecraft
Geek out with a Minecraft costume.
26
Amelia Earhart
Dress as Amelia Earhart, one of America's most inspirational leading ladies. This costume is easy to re-create if you already own a brown leather jacket, a white button-up, and a pair of aviators!
27
Regina George From Mean Girls
Fashion yourself as resident mean girl Regina George at homecoming. You know, after she walked in front of a bus — or Cady pushed her . . . everyone is still unsure.
28
Your Google Maps Location
This is perfect for those of you who are notorious for being the last to arrive at the party. Respond to all of those "WHERE ARE YOU?" messages by showing up as your own location.
29
A Ballerina
Go for the dancer look in a ballerina costume that is both elegant and simple. Crown your head with a tiara, slip into a leotard and a tulle skirt, and dress your feet in a pair of quintessential ballet flats, then be prepared to prance beautifully all night.
30
Russell From Up
If you're a Boy Scout or you have any friends who are Boy Scouts who are willing to loan out their uniform, your Russell costume is practically set!
31
Feline Friends
Take a different approach to the feline costume by nixing the standard black-cat look and opting for wild-cat prints — you'll be bringing "cattitude" to a whole new level.
32
Wednesday Addams
There's no better way to channel creepy-chic girl power than to dress up as Wednesday Addams. Get your deadpan face and your favorite black dress ready . . . and don't forget the braids!
33
Harry Styles
Here's a fun one to take on! Dress in any of heartthrob Harry Styles familiar looks.
34
Riverdale Cheerleaders
Grab two friends, dress in matching athletic wear, and use your own pom-poms (or borrow some) to channel Betty, Veronica, and Cheryl from the CW show.
35
Social Butterfly
Add butterfly wings to your social media costume, and you have a punny twist!
36
Workout Barbie
If you want to maintain your air of sporty girl charm, glam yourself up as Workout Barbie! You can re-create the look with a leotard or one-piece bathing suit, leggings, and knee-high socks. Perfect the look with a pop of bright lipstick and big hair.
37
Jelly Beans
This costume idea is easy and adorable! Blow up a bunch of colored balloons, wrap them up in a clear plastic bag, and then fasten it to yourself. Print out the Jelly Bean logo, attach it to the front of the bag, and voilà — you're a delicious bag o' candy.
38
Medusa
Channel one of Greek mythology's most iconic and terrifying ladies by pinning fake rubber snakes in your hair. You can purchase these from the dollar store!
39
Cutesy Minnie Mouse
Take a modern approach to the Minnie Mouse look with a polka-dot skirt and a pair of Minnie ears!
40
Arthur's Fist Meme
This hilarious ode to the Arthur's fist meme is perfect for anyone who grew up with Nickelodeon.
41
Steve From Blue's Clues
Another homage to childhood days of yore! Team up with your favorite pair of khakis and a green and black striped shirt for an outfit that looks just like Steve's.
42
Penny Proud
Bring back one of the Disney Channel's coolest characters in a classic white button-up, pink cardigan, and purple skirt.
43
This Is Fine
This all-too-relatable meme is easy to re-create with construction paper and scissors.
44
Lilo and Stitch
You only need a few Hawaiian accessories for this Disney-inspired costume.
45
'90s Girl
Get decked out in '90s-style clothing by raiding a thrift shop (or, let's be real, Forever 21, since it's all coming back!).
46
Mario and Luigi
Go as Mario and Luigi with your best friend or SO — you can't go wrong. Plus, the costumes are so simple!
47
Louise From Bob's Burgers
Ah, Louise . . . the epitomization of sass and sarcasm. If her attitude resonates with yours, you can effortlessly imitate her outfit as well. Slip into a green dress and attach pink cutout ears to a pink beanie!
48
The Mean Girls Characters
Get your posse together and show up to school as the entire Mean Girls cast . . . just make sure not to get in any cat fights.
49
Pee-wee Herman
Convey your silly side by dressing up as Pee-wee Herman.
50
French KISS
If you're into puns, this idea is perfect and super easy to re-create.
51
Napoleon Dynamite
Imagine all of the awkward dancing you'll be allowed to get away with if you show up on Halloween as Napoleon Dynamite. Throw on some snow boots, rugged jeans, a plain white t-shirt, and a pair of thick-rimmed glasses. For extra effect, frizz your hair and keep a stick of chapstick in hand!
52
Harley Quinn
The key factors to the Suicide Squad-inspired Harley Quinn costume are colorful pigtails, a baseball bat, pink and blue makeup, and tattered clothes over fishnet stockings.
53
Mime
Going as a mime is a totally stylish and chic option, as evident by this pic!
54
Starbucks Frappuccino
Addicted to Starbucks Frappuccinos? Dress up like one with paper, a brown dress, and a white scarf.
55
Dora the Explorer
Bring it way back in a Dora the Explorer costume. Instead of going out on the hunt for an actual one, you can easily print out a graphic of "Backpack" and pin it to your back.
56
Fortnite
Dress as Brite Bomber from the popular video game Fortnite with leather leggings, a rainbow unicorn top, and a unicorn stick to complete the look.
57
Detective Pikachu
Morph into Detective Pikachu this Halloween by wearing a classic detective outfit and topping it off with Pikachu ears — super cute and easy to DIY!
58
Steve and Robin From Stranger Things
It's smooth sailing (ha, get it?) to replicate Steve and Robin from Stranger Things. Simply dress as sailors with lots of blue and white stripes and top the costume with nametags and ice cream scoops so that fellow Halloween celebrators understand the reference.
59
JoJo Siwa
If you consider yourself a siwanator, then dress in true JoJo Siwa fashion this Halloween by pulling together a colorful outfit from your closet, putting your hair in a high ponytail, and topping it off with a bow on top.
60
Forky From Toy Story 4
Channel this new character from Toy Story 4 with a white outfit, red sweater, blue lipstick, and googly eyes.
61
Erica Sinclair From Stranger Things
Transform into Erica Sinclar from Stranger Things by wearing a bright yellow shirt, overalls, and a helmet with flashlights attached.
62
Tweedle Dee and Tweedle Dum
Recreate Alice in Wonderland's most beloved characters with red bottoms, a yellow top, and a bright blue bowtie.
63
Twister
Perfect to do with a partner or friend, or even by yourself! Twister is an easy game to dress up as, all you need is an oversize white t-shirt, polka dots, and the classic Twister spinner to bring it to life.
64
Mal and Evie From Descendants
It's all about the wigs if you're going as Mal and Evie from Disney's Descendants. You and your BFF need purple and blue wigs plus coordinating faux leather jackets to channel the daughters of Maleficent and the Evil Queen.
65
Uma From Descendants
Go blue if you're dressing as Uma from Disney's Descendants. Besides the teal attire, you'll have to top it off with a pirate hat to really get in the spirit of Ursula's daughter.
66
CatDog
If you were a big Nickelodeon fan, then this nostalgic CatDog costume will bring you back to the good ol' days. Simply pick up a few oversize t-shirts, felt, a glue gun, and scissors, and get to work!
67
Copy Cat
Anyone can wear a pair of cat ears, but only the most clever partygoers see an opportunity for the perfect pun.
Cactus Lady
You've heard of a cat lady, but what if you're a cactus lady? A messy 'do and a plant-printed outfit is all you need for this look.