This Harry Potter-Themed Cafe in LA Has a Notorious Black Latte — So Accio Broom!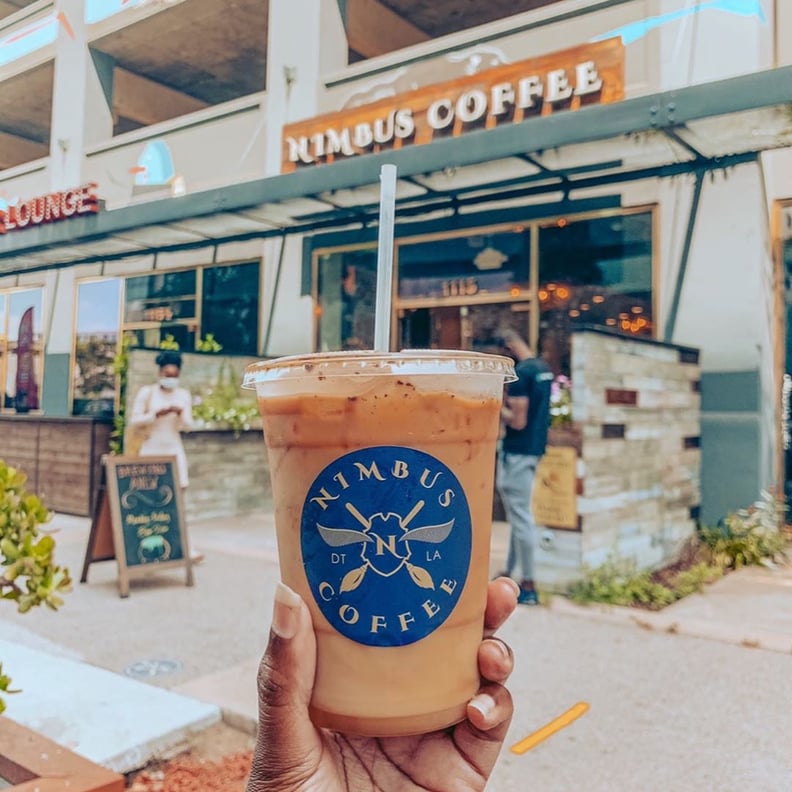 Grab your broomsticks, LA-based Harry Potter fans! We've discovered a fun coffee shop for Potterheads to get their caffeine fix, and it goes by the name of Nimbus Coffee.
Located in the South Park neighborhood in downtown LA, Nimbus Coffee first opened its doors in June 2018 and welcomes all witches, wizards, warlocks, and even dogs to its enchanted property. Although it's not an official Harry Potter-owned property, its atmosphere sure feels like one. Filled with wizard celebrity portraits (the Albus Freeman one is too good), Hogwarts-bound trunks, and even a wall of magical wands, this cafe is an ideal destination for those with an imagination. Take an Instagram pic in front of its whimsical decor, and then open the menu to discover a list of magical drink options like the Mandrake Matcha (a spiced dark chocolate fudge and white vanilla bean matcha) and Witches Cold Brew (a coffee drink with oat milk, cold milk, and condensed spices), or order a sandwich or snack (like the Dark Arts Pop Tarts)! Due to COVID-19, Nimbus Coffee is currently only offering delivery and takeout orders, so show your support now and hopefully you'll be able to dine in their magical space when it's safe to do so.
If the sound of this coffeehouse appeals to you, have a look through the photos ahead. And if you're located on the east coast, take a look at this NYC Harry Potter-inspired coffee shop for a similar vibe. Now get to sippin'!
From the Outside, You May Think Nimbus Coffee Is Your Average Coffeehouse
But the Name Nimbus Comes From Harry Potter's Broom, the Nimbus 2000
And This Coffee Shop Is Anything but Normal
The Shop's Logo Even Looks Like a Golden Snitch
The Interior Style Is Modern Hogwarts Chic
Visitors Can't Resist Snapping Pics in Front of Its Cool Decor
And the Fact That They've Turned Celebrities Into Wizards Is Pretty Cool
Like This Mariah Le Strange Portrait
And Let's Not Forget Albus Freeman
Taking an Instagram Picture in Front of the Levizzle Wand Wall Is a Must
And There Are Tons of Cool Drinks You Can Order
I Mean, How Enchanting Do Those Coffee Beans Look?
Check Out the Notorious Black and Sorcerer's Tears Drinks
The Notorious Black Iced Latte Looks Out of This World
We Bet the Ginny Gingerbread Latte Tastes Amazing
How Good Does the Witches Cold Brew and Notorious Black Look Together?
The Orange Is the New Hex Is Just Plain Spooky
The Mischief Macaroon Potion Has "a Dash of Coconut a Hint of Vanilla" . . . YUM
Surprise! Nimbus Coffee Even Sells Baked Goods
Like This Dark Arts Pop Tart, Made For Death Eaters
Or This Delicious-Looking Cupcake
The Shop Often Has Magical Signs in the Front
Like This "Something Wicked This Way Comes" Sign
Or This "I Solemnly Swear That I Am Up to No Good" Sign
It Even Welcomes Creatures "Big and Small"
We Recommend Wearing Your Favorite Harry Potter Outfit
And FYI: Every Recipe Is a Potion
So Prepare For the Drinks to Cast a Spell on You
How Delicious Does This Coffee Look?
Plus, It's a Black-Owned Small Business — So Show Your Support!
Did We Mention That They Also Sell Merchandise?
How Cute Are the To-Go Cups?
Taking a Picture With Your Cup of Coffee Outside Is a Must
Because Just Look at How Magical It Is
Cheers to This Whimsical Coffee Shop, We Can't Wait to Visit!