How to Do the Instagram Urban Dictionary Name Trend
This "Show Us Your Name in Urban Dictionary" Trend Is Absolutely Taking Over Instagram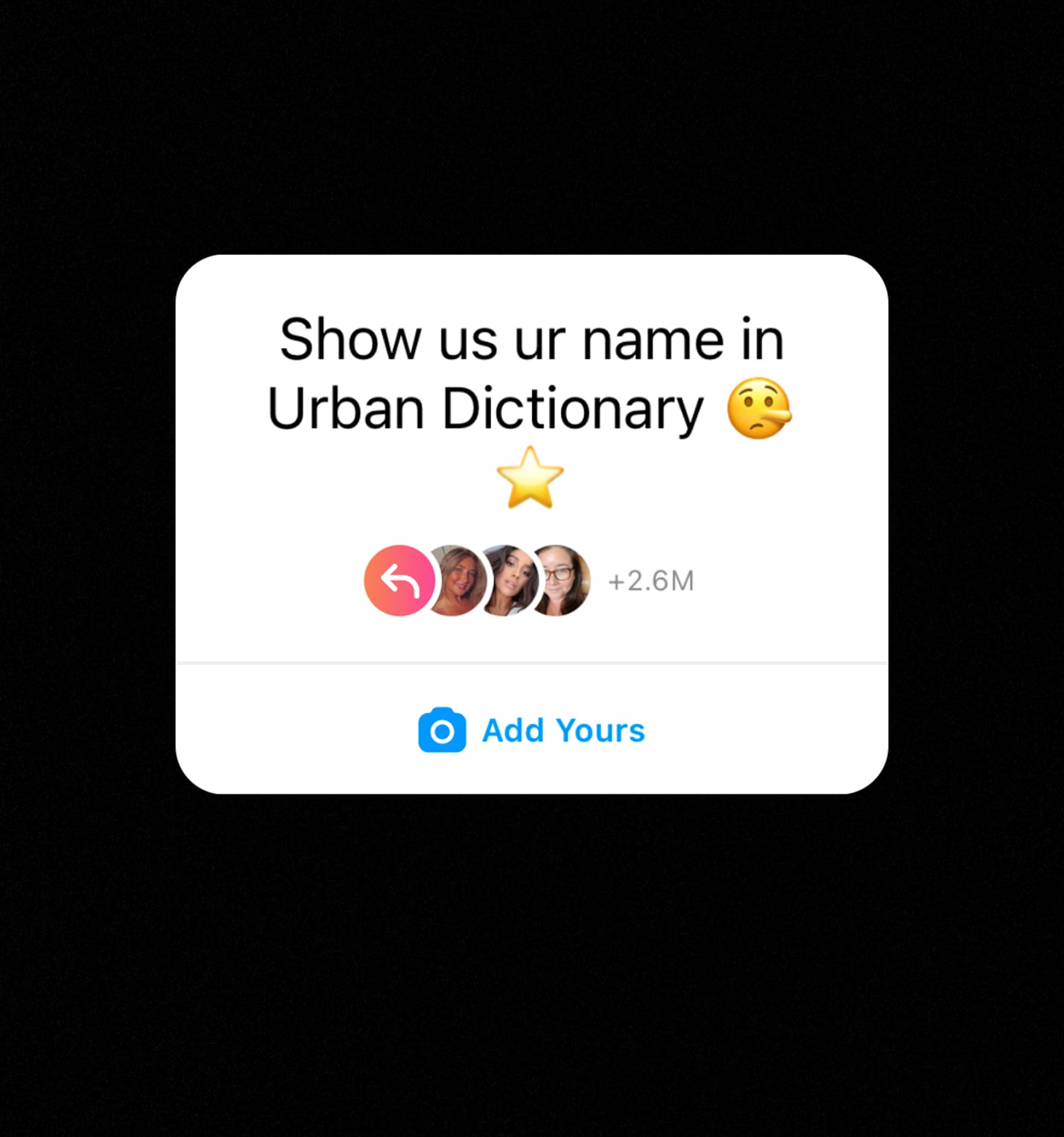 Hold up, hold up . . . let's double-check the year, shall we? Urban Dictionary is suddenly all over our Myspace Instagram feeds, and it's a blast from the early-'00s past. The online dictionary, which hosts user-generated definitions for slang words (and apparently human names), is seeing a major rebirth thanks to Instagram user @bymayuuu's viral "Show us your name in Urban Dictionary" Instagram Story trend. The trend involves heading to Urban Dictionary's website, searching your name, and posting its definition on your Instagram Story. No, it's definitely not always accurate (mine says I only date guys whose names start with "D"), but it certainly is entertaining! The trend utilizes Instagram's popular "Add Yours" Story Sticker, which has given way to a handful of viral moments this past month, such as the "Who are you in love with?" Instagram trend and the "We'll plant one tree for every pet picture" photo chain. If you're interested in joining in on this Instagram Add Yours prompt, here's a look at how to do so.
How to Do the "Show Us Your Name in Urban Dictionary" Add Yours Story Trend on Instagram
When you come across the "Show Us Your Name in Urban Dictionary" Sticker on someone's Instagram Story, tap the "Add Yours" button to join in yourself.
Without closing Instagram, head to Urban Dictionary's website, search your name, and pick the best "definition" that appeals to you.
Screenshot the definition, save it to your camera roll, head back to Instagram, and choose the screenshot as your "Show Us Your Name in Urban Dictionary" Sticker background. Then, post away.
Yes, it's really that simple. Now, go ahead and get started on this Urban Dictionary trend yourself before the next one comes along. (And trust us, there will be a next one.)
Image Source: POPSUGAR Photography / Haley Lyndes