Artist Gaudmother Wants to Encourage Others to Carve Their Own Path: "I Didn't Go to Art School"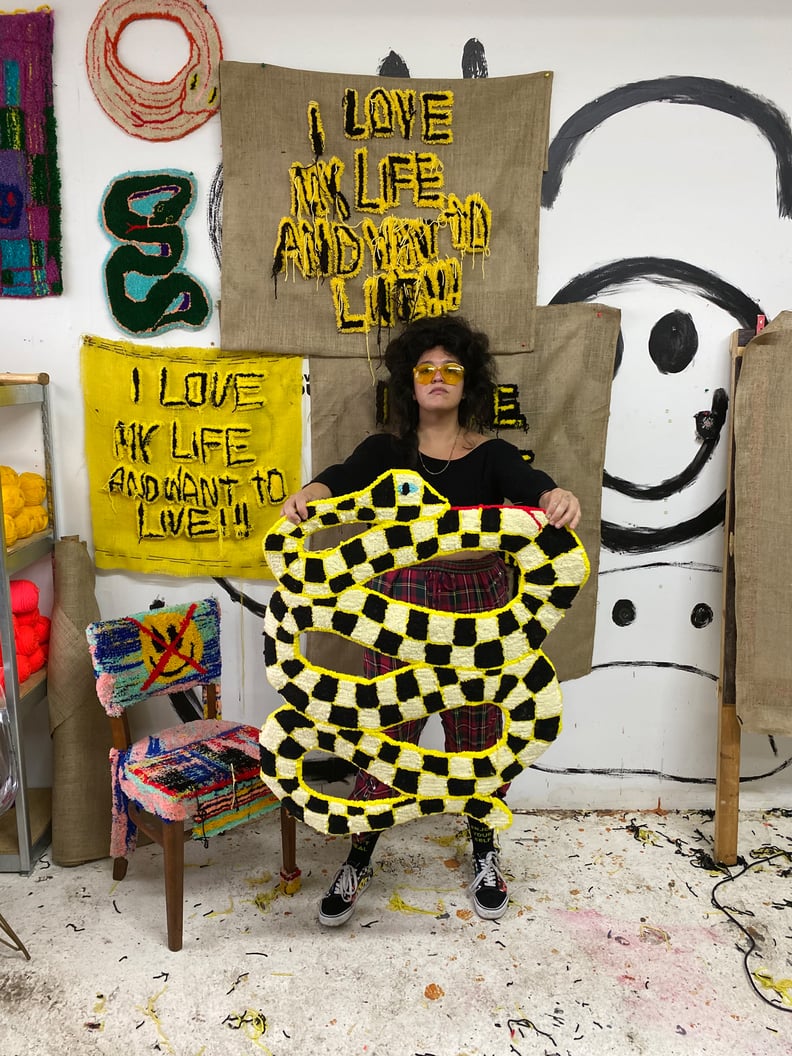 Courtesy of Vans | Gaudmother
Courtesy of Vans | Gaudmother
The artist who calls herself Gaudmother has been creative since childhood and, like a lot of kids, spent her early years painting and drawing. But a career in the arts didn't seem possible at the time: she didn't paint "realistically," she didn't get into the arts high school she wanted, and no one in her family was an artist. Her motivation then became to "go to school and get a job to make money," she explained to POPSUGAR. That was then, and now, in honor of Women's History Month and International Women's Day, Gaudmother is a part of Vans's latest campaign that celebrates women-identifying creatives.
"I couldn't fight the need to be a creator and just to put things together that I hadn't seen before," she said. "The motivation is to have fun because the day-to-day can be so bleak. I like to see what kind of games I can play with reality."
Gaudmother started pursuing art more aggressively in 2016, when she moved to Philadelphia and kept herself busy by creating projects with the clothes she found at the thrift store where she worked. And the move has paid off for the self-taught artist. She quit her job in 2019 to pursue art full-time and is celebrating her recent collaborated with Vans.
POPSUGAR spoke with Gaudmother about what inspires her as an artist, why diversity matters, and why women should create.
POPSUGAR: For International Women's Day, Vans decided to forgo a traditional ad campaign and instead, dedicate ad resources to celebrate women-identifying creatives, including you. How did it feel to get selected as a featured artist?
Gaudmother: I feel very lucky. I've been waiting for an opportunity to do bigger work or a bigger project. Right now, art is my full-time job so I spend most of my time doing things that will pay rent, but to be given the resources to do a little something more involved, I was really excited about that. It feels like a nice stepping stone for me.
PS: The goal of the Vans campaign is to promote female creators. Why is that important to you to be a part of something like that? What are some of the disparities between men and women you've found in this field?
Gaudmother: Representation matters, and it's important to people who look like you to feel inspired and carry on. I try not to spend too much time thinking about what's unfair, and instead [think about] what I can do with what I have right now and bring up as many people with me [as I can].
On Instagram, I like to talk about the fact that I didn't go to school for art — I didn't finish college. Self-teaching and self-motivation goes a long way to encourage people who don't have those resources that most artists who make it have, who are backed by money and education and people connections.
PS: When did you make the leap into really pursing your art?
Gaudmother: In January 2019, I left my job at a thrift store and committed myself to doing this full-time. From 2016 to 2019, I was just playing and experimenting with embroidery and mixing up found clothing from the thrift store and whatever material I can find. If I existed in a different time where Instagram wasn't where it is, I don't know if I would have gotten consistent positive feedback to keep going. That built momentum.
PS: You work especially with textures like clothes and rugs. Why do you like those particular mediums?
Gaudmother: I started with clothes because that was what was available to me, being at a thrift store and not having money to invest in materials, so I would get them for cheap or free. And if I messed up a project, it wouldn't be a big loss because I didn't spend a lot of money on it. I'm just motivated to create at a baseline and then use whatever's around. I found a bunch of wood in my studio, and I started experimenting with furniture and frames, so I sort of look around and whatever I can use right now, I'll use it.
I started making rugs in August 2019. I wanted to make a new textile, I think that's always been my drive. I like to knit and crochet and weave, and I had an interest in rug making for a long time.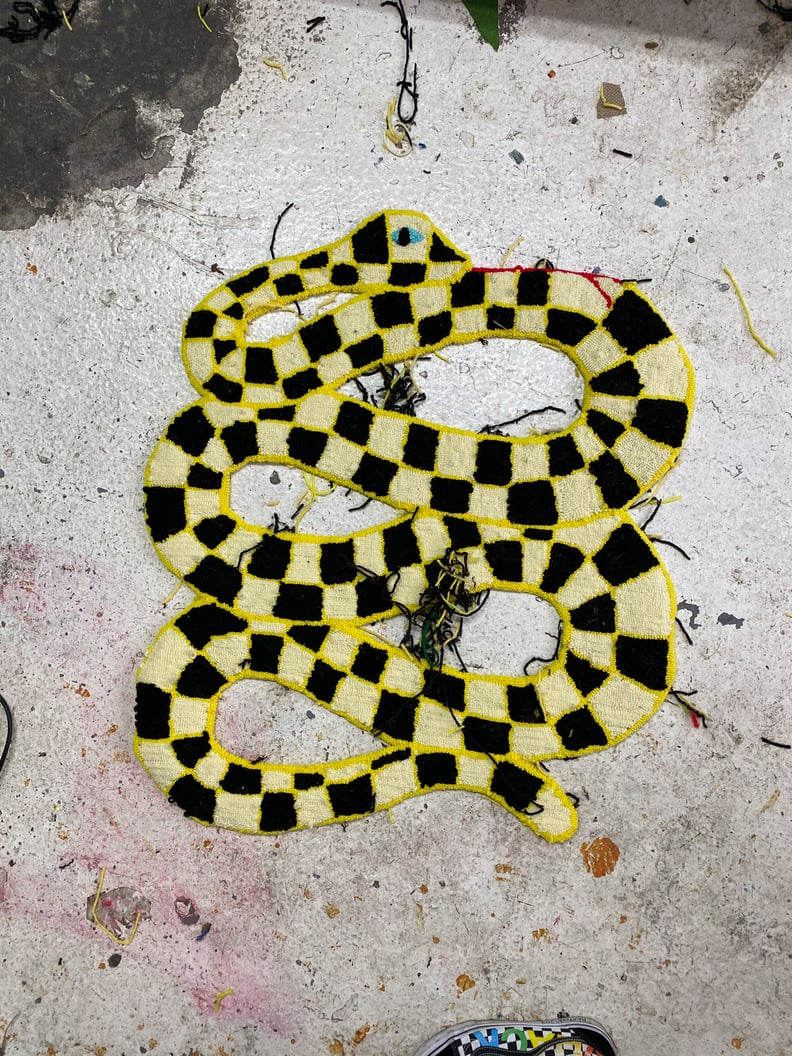 PS: I know snakes are a recurring motif for you — and one of your snake rugs is featured in the Vans campaign. What's the reason behind that? And in general, what motivates you as an artist?
Gaudmother: In general, I'm a little obsessive. I will repeat a thing over and over until it's done. The snake imagery started with . . . throughout my work, I like to hint at dark things, but the physical product is really light and playful. Snakes makes me think of something darker and there's a conversation I'm having with duality — everything is both. I wanted for so long for everything to be happy and nice, but that's not how things go. So trying to come to terms with duality, that's what I'm saying with the snakes. Because they are a scary image, but they also represent rebirth, and these positive things like mother and creator, as well as negative things. I'm mostly inspired to impress myself. I want to see things I haven't seen before.
PS: Women have been more affected by job loss during COVID-19. As an independent artist and female creator, why do you think it's important for people to support female workers and creators during this time and always?
Gaudmother: If you have the means and you have extra, a small amount to you can be life-changing to someone else. A thousand dollars to someone with immeasurable wealth is nothing, but that can really jump-start someone's career or get them out of whatever hole the world put them in and be self-sufficient. I think it's incredibly important to support women and not just white artists to sort of level the playing field. There's so much creativity that comes from diversity and I think we'll all better off from it.
PS: What advice would you give to someone who wants to create or make art but has doubts about themselves and their talent?
Gaudmother: We all as a collective society decide what has value, what is real, and what is true. And sometimes the greater social decides for you, but I would encourage everybody to make those decisions yourself. If the standard is, "This is what art is," I think you can decide something else and call art whatever it is. I also think finding ways to create and express yourself is super healing and a free way to just take care of yourself. And give yourself permission to try stuff, because most art is play! People grow up and they stop playing, so I would encourage people to give themselves permission to play and do whatever they want, especially in art.