Now I Understand Why This $150 Ceramic Cookware Set Is Taking the Internet by Storm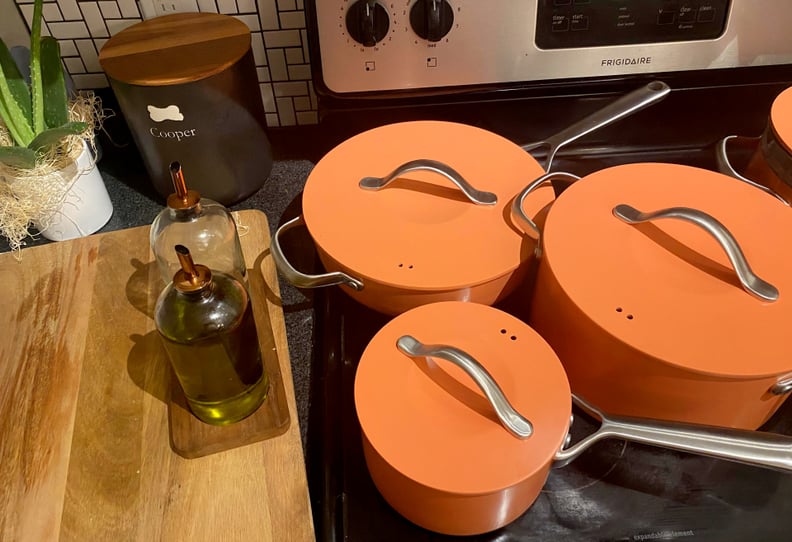 POPSUGAR Photography | Marisa Petrarca
POPSUGAR Photography | Marisa Petrarca
As POPSUGAR editors, we independently select and write about stuff we love and think you'll like too. If you buy a product we have recommended, we may receive affiliate commission, which in turn supports our work.
My all-knowing Instagram algorithm has been trying to convince me to buy a new name-brand ceramic cookware set for a while now. I've seen all the ads, and it's likely you have, too. There are a few uberpopular ones, and all usually have at least one thing in common: they're chic. Often, they come in every color of the rainbow, like they were born for a photo shoot — a stark contrast to the pots and pans family and former roommates have bequeathed to me through the years.
There's no doubt that I like the look of them; it's that the price was a little out of my comfort zone. Don't get me wrong, I appreciate a good investment, but I have to be really convinced it's worth the hype. So when I came across very similar-looking cookware from Sam's Club — the Member's Mark 11-Piece Modern Ceramic Cookware Set ($150), to be exact — I knew it was my chance to see what all of the hype was about. Not only did they look exactly like a set from a particular brand that I had my eye on, but they looked so similar, down to the small details, color options, and nonstick ceramic interior.
Ahead, I share my honest thoughts on the ceramic cookware set and touch on what you need to know before adding it to your cart.

What I Like About This Ceramic Cookware Set
For starters, I fell in love with the obvious: Its extensive lineup of cookware essentials. This set comes with seven key pieces and four lids (when you break it down, that's just around $14 an item). You get a 9.5 and 11-inch fry pan, a two-quart covered saucepan, a three and six-quart Dutch oven, a four-quart deep sauté pan with a lid, and a multi-function stainless-steel basket. As for the color, it's exactly how I dreamed — I ordered the coral hue, and it's so beautifully brightened up my kitchen.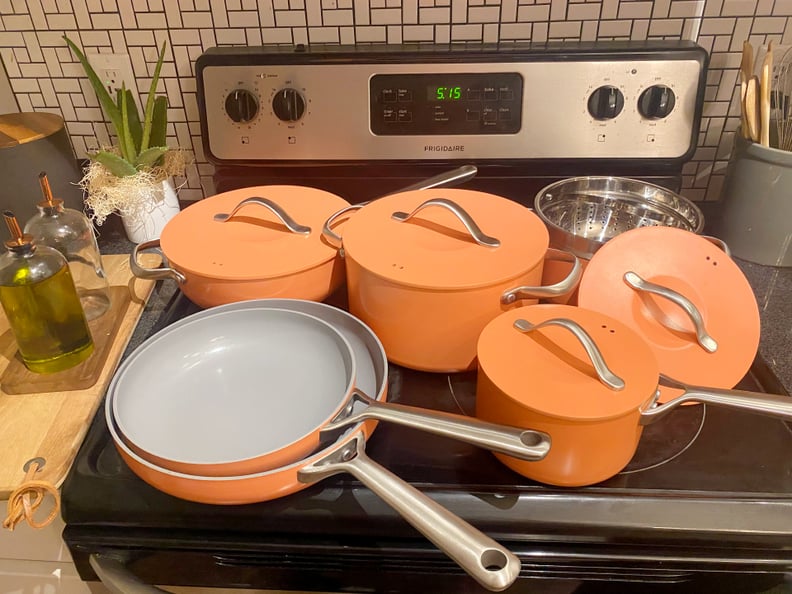 Cooking is equally as luxurious an experience. Two things I noticed right away was that they're decently lightweight and heated up quicker than my previous ones thanks to their aluminum construction. While making scrambled eggs, I found that I could get away with using less oil to coat the pan and they slid right off the pan when they were done – as opposed to scraping them out like I hate to admit I did in the past. The result: Faster cleanup and healthier meals — a double-win.
What's Worth Noting
For some background, this cookware set launched late last year, and it's so popular that Sam's Club has a hard time keeping it in stock. This week, the brand restocked it in all six colors — but it's already going fast, FYI. You'll need a Sam's Club membership to purchase it, but it's worth it — trust us.
There are two more things to keep in mind if you decide to buy them. First, it's advised you cook only on low to medium heat — never on extremely high heat — as it can ruin the pans' nonstick coating. Second, it's recommended that you hand-wash them instead of putting them in the dishwasher to keep them in tip-top shape.
A small percentage of shoppers have noted that the exterior of their pots and pans chipped or cracked over time. I haven't experienced this just yet, but it may be worth considering if you're looking for a highly durable set.
Who Is This Ceramic Cookware Set Good For?
This Member's Mark set is an excellent option for those looking for a high-quality — and equally chic! — dupe to more expensive ceramic cookware options.
Additional Details
This ceramic pan set comes in a total of six colors: cream, navy, gray, coral, red, and green.
It's free of PTFE, PFOA and PFOS.
They're suitable for all cooktops, including induction.
They're oven-safe up to 450 degrees Farenheit.
Rating: ★★★★★