Meaning of Mercury Retrograde in Libra and Virgo Sept. 2022
The September 2022 Mercury Retrograde Is Already Stirring Things Up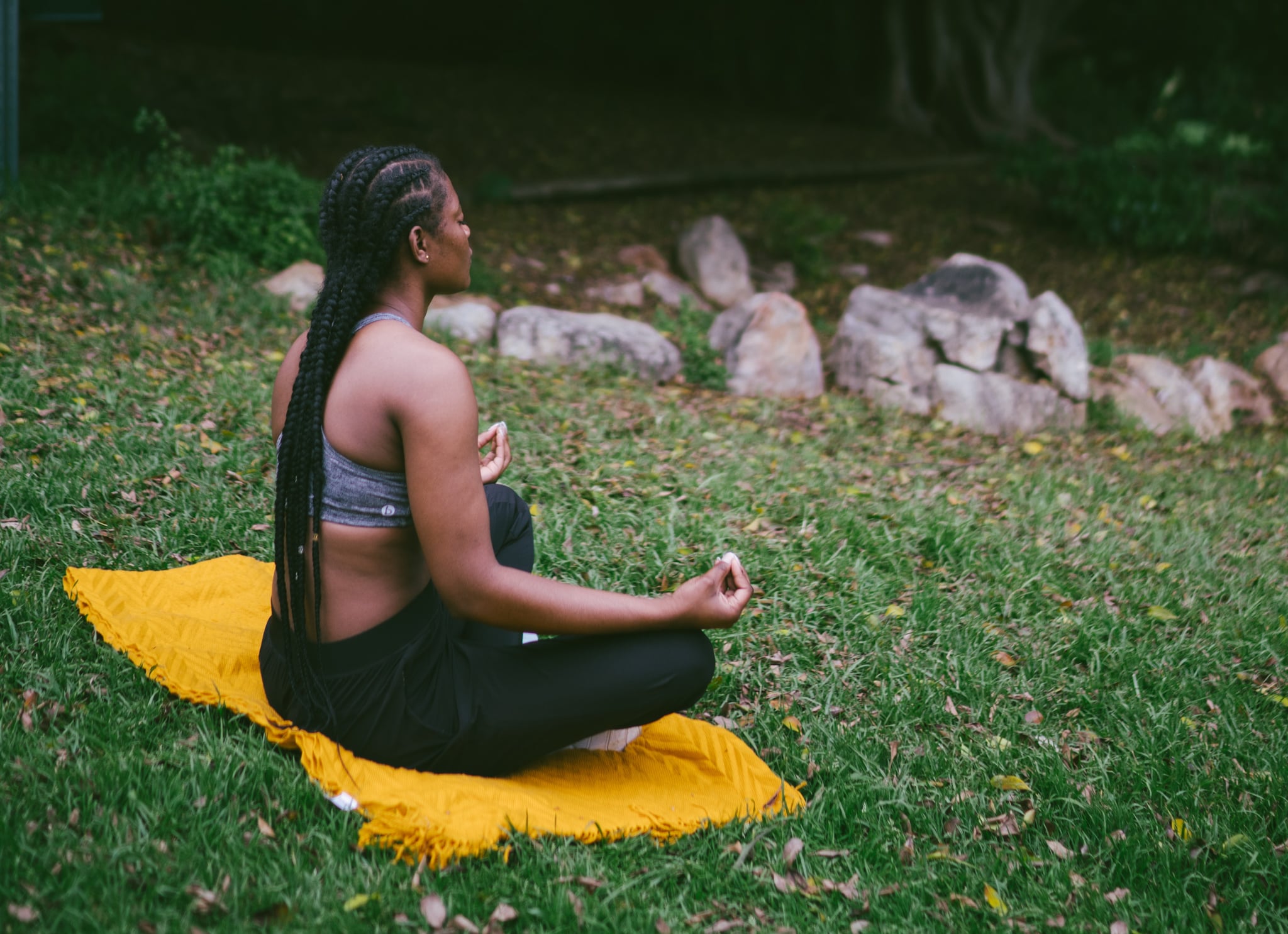 September, which hosts both last summer hurrahs and our initial flirtations with fall, tends to feel like the perfect transitional month. And at the end of that transition, you can't help but hope to feel like you're stepping into a whole new chapter. Heads up: that new chapter might be a tiny bit delayed in 2022, thanks to the third Mercury retrograde of the year.
After all, when the planet of communication, transportation, and technology appears to move backward from our vantage point on Earth, we're nudged to review, reflect, and revise, as opposed to pushing forward on new endeavors. Beginning in Libra, the cardinal air sign, and moving backward through Virgo, the mutable earth sign, Mercury's backspin officially kicks off on Sept. 9 and wraps up on Oct. 2. Thankfully, understanding the themes of this particular Mercury retrograde can help you make the most of it.
What Does Mercury Retrograde Mean in Astrology?
To get a sense of what Mercury retrograde entails, it can help to understand how the planet functions when it's moving forward (aka "is direct"). Typically, Mercury, the messenger planet, speeds up our ability to connect, supports our mental energy, and keeps technology and transportation running smoothly. But three to four times a year, for three weeks at a time, it appears to slow down and move backward through the zodiac. And when this happens, miscommunications abound, transportation gets hairy, and our devices glitch out.
But again, it's not all doom and gloom. The planet of communication's frequent slowdowns encourage us to rest, recharge, take a step back, and contend with the past in order to make room for the future.
The General Vibe of Mercury Retrograde in Libra and Virgo
Mercury is retrograde in Libra (ruled by Venus, the planet of relationships) from Sept. 9-23 and then in Virgo (ruled by communicator Mercury itself) from Sept. 23 to Oct. 2. As such, the overall tone of this particular retrograde is social and cerebral. You will most likely run into people who are total blasts from the past, have to figure out how to text — or avoid texting — an ex, and take special care to avoid misunderstandings in one-on-one bonds. It's an ideal retrograde for research, revision, and editing anything that has been throwing off your inner balance, especially on a day-to-day basis, as Virgo is associated with the sixth house of wellness and daily routine.
Mercury's retrograde in Libra can nudge you to tie up loose ends related to relationships, money, or values. Its backspin in Virgo may compel you to tackle everyday to-dos that you've put on the back burner and rethink how you're caring for your health and being of service to others and yourself. (Also FYI: around this time, you may find yourself revisiting themes that came up around Aug. 20-25 when Mercury was direct in this same spot.)
To better understand how you'll experience these often confusing but ultimately enlightening three weeks, read on for your September 2022 Mercury retrograde horoscope, and be sure to read not only your sun sign but also your rising sign, if you know it.
How Will the September 2022 Mercury Retrograde Affect My Zodiac Sign?
Aries (March 21-April 19)
Until Sept. 23, Mercury retrograde will activate your seventh house of partnership, requiring that you reevaluate goals you share with a significant other, best friend, loved one, or close colleague. You might also be reflecting on reciprocity and whether or not someone's not pulling their weight within a one-on-one bond. And from Sept. 23 to Oct. 2, the messenger planet's backspin in your sixth house of wellness and daily routine will turn your focus to health matters. If it's been a minute since you've gotten a particular checkup or you're itching to rework your fitness routine, now's your chance.
Taurus (April 20-May 20)
If you've been trying to work up the energy to tackle an ambitious new workout plan or come up with an aggressive schedule for your side hustle, you probably won't have any luck until after Sept. 23, because Mercury will be retrograde in your sixth house of wellness. But it's for the best, as this moment is meant for taking a microscope to your day-to-day hustle and revising it so it optimizes your sense of inner balance. From Sept. 23 to Oct. 2, the trickster planet heads back through your fifth house of romance, potentially stirring up communication with old flames but also encouraging you to revisit a favorite date-night spot or go back to the drawing board on an artistic undertaking.
Gemini (May 21-June 21)
Mercury retrogrades just about always clobber you over the head, because the messenger planet is your ruler, Gemini, but unlike the last one, which happened in your sign, this one's activating your fifth house of romance and fun until Sept. 23. You might be inspired to take heartfelt walks down memory lane with your nearest and dearest. And from Sept. 23 to Oct. 2, Mercury moves backward through your fourth house of home life, nudging you to tend to any loose ends related to family issues or, quite literally, your home.
Cancer (June 22-July 22)
With this Mercury retrograde falling in your fourth house of home life until Sept. 23, you could find you need to revisit an ongoing heartfelt conversation with a loved one or work through an emotional issue related to your roots, past, or upbringing. Once the messenger planet is cruising back through your third house of communication from Sept. 23 to Oct. 2, don't be surprised if those classic retrograde tech glitches and misunderstandings rear their ugly heads. It's a reason to slow down and be more intentional about how — and with whom — you're exerting your social energy.
Leo (July 23-Aug. 22)
Up until Sept. 23, Mercury moves backward through your third house of communication, which might shake up your social life — and not necessarily in a bad way. It's possible you'll reconnect with people you haven't seen in months or years and find ways to trade notes and collaborate once more. And then from Sept. 23 to Oct. 2, the messenger planet's backspin in your second house of income is an opportunity to revisit your budget and reflect on whether or not you're being adequately valued for what you bring to the table in business endeavors.
Virgo (Aug. 23-Sept. 22)
For starters, Mercury, your ruler, moves backward through your second house of income, so you'll be reassessing your approach to earning and spending. Now's your chance to make sure the way you're doing both accurately reflects your values. And from Sept. 23 to Oct. 2, the planet of communication lands back in your sign and first house of self, which can help you revise the way you're putting yourself out in the world. You might want to edit your résumé, rework your website, or refresh your wardrobe ahead of pursuing a major personal goal.
Libra (Sept. 23-Oct. 22)
Until Sept. 23, this Mercury retrograde is sure to feel especially personal to you, Libra. Falling in your sign and first house of self, it's a chance to refresh how you're showing up in the world, whether that's in terms of your social media presence or your game plan for making long-term aspirations a reality. And as Mercury moves backward through your 12th house of spirituality from Sept. 23 to Oct. 2, you might feel a bit stalled and sleepy. But you can also pour your energy into imaginative pursuits and mind-body routines you've previously adored.
Scorpio (Oct. 23-Nov. 21)
At first, Mercury moves back through your 12th house of spirituality, and you might be a bit frustrated if it seems like you keep trying to hit the gas on big-picture plans only to find you're still at square one. You can get somewhere if you use this time to nourish your soul, imagination, and inner well-being. And from Sept. 23 to Oct. 2, Mercury's backspin through your 11th house of friendship can help you revisit collaborative undertakings, team efforts, and platonic bonds that'll have you feeling more connected.
Sagittarius (Nov. 22-Dec. 21)
With the messenger planet initially moving backward through your 11th house of networking, you'll need to tie up loose ends related to your communities and teams. Group projects you thought you'd already laid to rest might be back on your plate, but know you have a fresh perspective that can get you across the finish line now. And from Sept. 23 to Oct. 2, Mercury moves back through your 10th house of career, which allows you a chance to reflect on your approach to long-term professional goals.
Capricorn (Dec. 22-Jan. 19)
Mercury retrograde kicks off in your 10th house of career, spurring reflection and revision around how you're cultivating your dream professional path and public image. This could be a period in which you review your track record with a higher-up in a play for more responsibility, a raise, or a promotion. And as Mercury moves back through your ninth house of adventure and higher learning from Sept. 23, you might be inspired to hit the books, brushing up on a particular skill set or planning a trip to a beloved long-distance spot you haven't visited in some time.
Aquarius (Jan. 20-Feb. 18)
This Mercury retrograde initially activates your ninth house of higher learning and adventure to start, which can cause you to feel a bit frustrated. When Mercury is in this part of your chart, it can inspire you to spread your wings and take a leap of faith, but because it's retrograde, it'll be tough to gain momentum. Instead of worrying that you're stuck, use this time to research and develop a game plan you can dive into in the near future. And until Oct. 2, Mercury's backspin in your eighth house of intimacy might require you to review joint resources and what makes you feel comfiest when connecting with someone special physically and emotionally.
Pisces (Feb. 19-March 20)
As Mercury begins its backspin, it'll be in your eighth house of emotional bonds and joint resources, so you'll want to revisit and revise how you're tackling shared financial responsibilities and projects. You could also benefit from slowing down and devoting more energy to connecting with your SO or a dear friend. Then from Sept. 23 to Oct. 2, Mercury will be in your seventh house of partnership again, bringing up any unfinished business that you'll do well to tackle as part of a pair.