I'll Be Living Out of This MZ Wallace Tote All Summer Long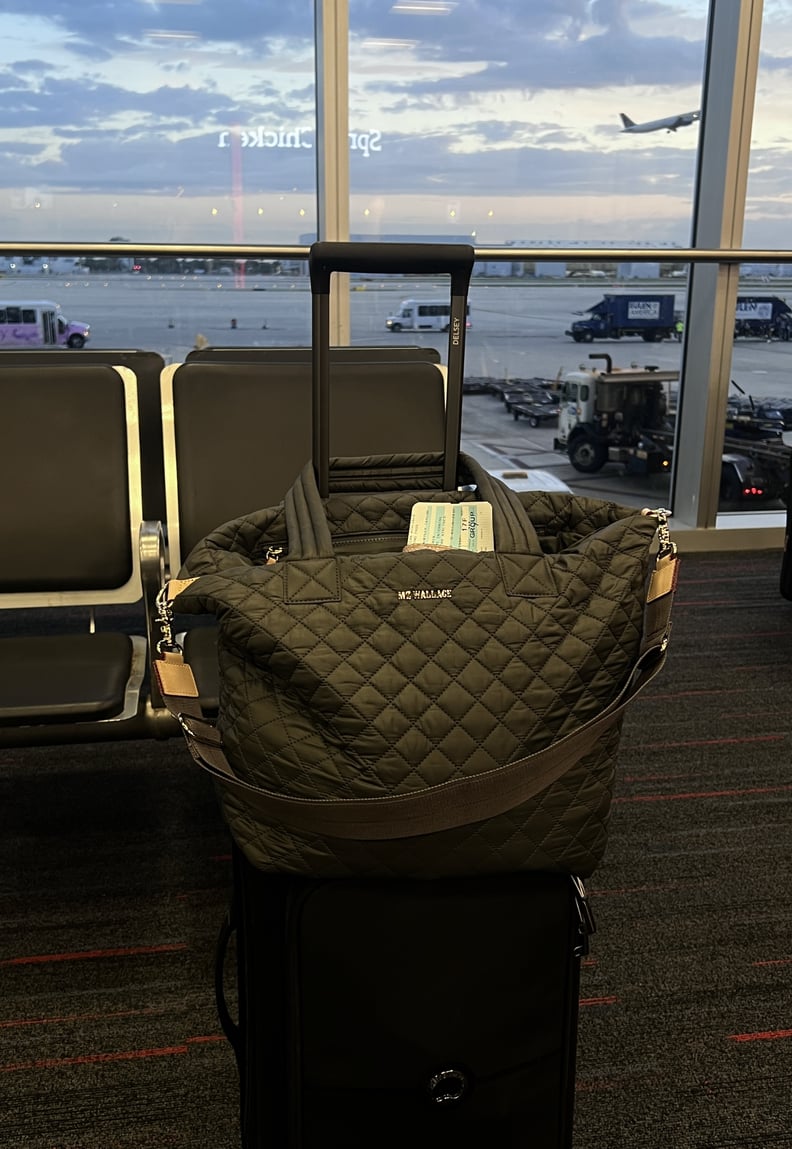 POPSUGAR Photography | Kyley Warren
POPSUGAR Photography | Kyley Warren
As POPSUGAR editors, we independently select and write about stuff we love and think you'll like too. If you buy a product we have recommended, we may receive affiliate commission, which in turn supports our work.
Unlike summers past, this year is shaping up to be a pretty busy one for me on the travel front. Between multiple work trips, a girls' weekend for my birthday, and a few family vacations, I'll be away more often than I'll be home — much to my cat's dismay. The mix of constant flights and frustratingly long TSA lines has made me perpetually exhausted of packing, resulting in me basically just throwing everything into a bag and hoping for the best upon arrival (as you can imagine, my vacation wardrobe has proven to be just as chaotic as my packing strategy).
But on my most recent airport rendezvous, I was introduced to the travel bag of all travel bags, designed to make even the messiest flyers (hi!) that much more organized: the MZ Wallace Medium Metro Tote Deluxe ($275).
A fellow traveler had the personal carry-on bag conveniently perched on the open seat next to her while on our flight. With a little coaxing (or incessant pestering, depending on who you ask), she told me all about the accessory, even claiming that she "never [leaves] home without it anymore."
From the outside, the travel accessory looks chic and compact: it's made from an Oxford cloth material, and it has two carrying straps and a sleeve that can be easily slid over a hard-shell suitcase or carry-on handle. But the interior is really where the magic happens — think: concealed extra-large compartments and zippered pockets galore. I immediately knew that I had to try out the travel tote bag, so I took it on a trip to the Dominican Republic.
Keep reading to see how this bag held up on an international flight and why I too don't ever plan on traveling without it again.
What I Like About the MZ Wallace Metro Tote
In terms of what I like about this travel tote, the list is actually pretty endless. For one, I appreciate the bag's organization-heavy design. The accessory features 11 pockets in total, including a protective laptop sleeve (designed for 13" laptops), two exterior pockets, two zippered collar pockets, and a multitude of other tucked-away compartments that provide even more room to hold all my essentials, including my travel makeup bag, passport holder, silk eye mask for those daunting red-eye flights, and snacks (because of course).
Despite its medium-size frame, the tote's carrying capabilities are that of a comically large bag. It's Mary Poppins-esque — so much so that my friends have joked that I look like I'm performing some kind of magic trick every time I rummage through it, since there's seemingly no end to the number of products I can pull out from it. A full-size Hydro Flask? Easy fit. A travel pillow? No problem. A full bag of flight-specific skin-care essentials on top of my other full-size toiletry bag? I'll admit it's extra, but it doesn't feel like it with this MZ Wallace tote.
Beyond its practicality, I also can't get over just how stylish this travel tote is. It's not quite as clunky as other personal carry-on items, but it also doesn't skimp on any interior carrying space. Best of all, the accessory's straps are incredibly comfortable. No matter how much I squeeze into the bag, I never feel weighed down or like it's a burden on my shoulders, mainly because the carrying straps are made from such a thoughtful, thick material.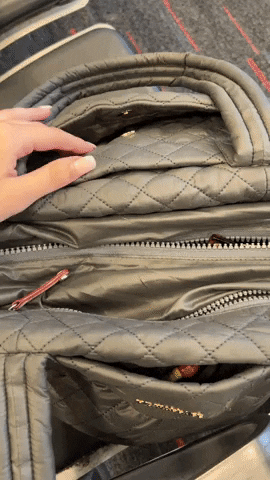 What's Worth Noting
My one and only critique with this bag is its price. At $275, it's a pretty hefty investment, especially considering that many suitcases and carry-on bags can cost that much by themselves — and usually boast a lot more interior space, too.
Still, I'd argue the bag is worth every penny for its practical design and easy-to-carry build alone. It's also made from a quilted nylon-like material that's easy to clean, and the straps are crafted from a natural Italian leather composition that's thick feeling and incredibly durable, so it's designed to last for the long term. You'll be able to take it on a number of travel adventures and flights, with the bag still retaining its natural shape and like-new freshness.
Who Is the MZ Wallace Metro Tote Best For?
Whether you're a frequent traveler, an avid organizer, or just someone anticipating a busy summer (and a lot of visits to the airport), this MZ Wallace travel tote is a great buy for anyone. It boasts enough interior space to double as a lightweight weekender bag, but it's also chic and compact enough to work as an everyday tote bag that you can take on an airplane, to the office, and beyond.
Where Can I Buy the MZ Wallace Metro Tote?
The MZ Wallace Medium Metro Tote Deluxe is available to shop at MZ Wallace, Nordstrom ($275), Saks Fifth Avenue ($285), Neiman Marcus ($275), and Bloomingdale's ($275).
Additional Details
This medium tote is available to shop in more than 20 colors, including Pearl Metallic, Neon Pink, Acid Yellow, Magnet Rec (my colorway of choice), and Black Rec.
Sustainability is a big part of MZ Wallace's ethos, and 100 percent of this bag's signature fabrics are Bluesign approved and meet the Global Recycled Standard.
Besides all the interior and exterior pockets, this travel tote also features a number of other cool accents, like a luggage sleeve, detachable straps, a phone pocket, and a key-ring strap.
Rating:
★★★★★