Sagittarius Season Is Igniting Your Party Era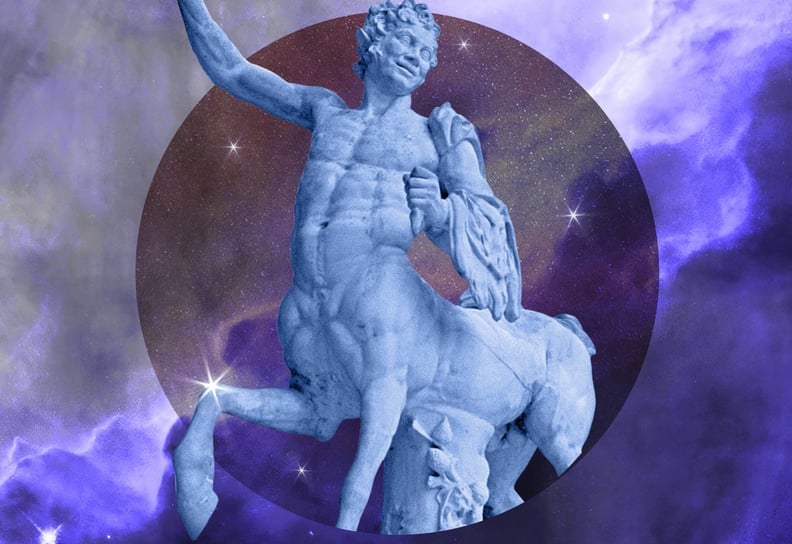 Design Elements: Getty | Roberto Machado Noa; Gilmanshin; WIN-Initiative; Neleman
Photo Illustration: Michelle Alfonso
Design Elements: Getty | Roberto Machado Noa; Gilmanshin; WIN-Initiative; Neleman
Photo Illustration: Michelle Alfonso
From getting together with loved ones and cheering on your favorite football team to planning holiday get-togethers, Sagittarius season is brimming with opportunities to make the most of November and December. In fact, chances, are your calendar may feel a bit too packed from now until the end of the year. That's because the festive, jovial fire sign — ruled by Jupiter, the planet of abundance — is all about going big. The more entertainment, laughter, coziness, and socializing, the better.
But partying is far from the only focus of the season. Sagittarius season also cranks up your desire to spread your wings, move beyond the mundane, pinpoint and celebrate unfiltered truths, and soak up knowledge at every turn. In 2023, it's also a moment for getting out of your comfort zone and possibly even spreading your wings by taking a long-distance trip or learning something new, thanks to Mars, the planet of action, following the sun into Sagittarius.
It's a season for exploring how you can deepen intimacy within your relationships, given relationship-oriented Venus's trip through Scorpio. And as the season wears on, you should prepare to slow down and retrace your steps, knowing that that fourth and final Mercury retrograde of the year kicks off on Dec. 12-13 (depending on your time zone).
Here's what you need to know about Sagittarius season, in general and particularly in 2023.
When Is Sagittarius Season?
Sagittarius season happens annually from approximately Nov. 21-22 to Dec. 21-22. This year (at least in US time zones), Sagittarius season is from Nov. 22 to Dec. 21.
The Overall Mood and Vibe of Sagittarius Season
For an idea of how Sagittarius functions in astrology and influences the vibe of mid-November to mid-December, look no further than the sign's ruler: Jupiter, the planet of abundance, growth, expansion, fortune, and luck, which has a magnifying effect on everything it comes in touch with. In turn, Sagittarius is one of the most optimistic and upbeat signs, but it's also one that's innately drawn to extremes. When it comes to the aspects of life they desire the most — fun, higher learning, and long-distance travel — the more, the merrier Sagittarians are.
Highly opinionated and wired to share their beliefs, Sagittarians tends to express more — generally without any kind of filter. (Cue Britney Spears's Instagram captions, Chrissy Teigen's outspoken quotes about pregnancy loss, fertility, and motherhood, and Hailey Bieber's openness with PDA.) That's because to anyone with Sagittarius placements (meaning their sun is in Sagittarius, or one of their big three or big six is in the sign), the truth takes precedence over just about anything and everything else.
It also bears noting that as a mutable fire sign, Sagittarius is adaptable and actually deeply passionate about always evolving — especially cerebrally and spiritually. Associated with the ninth house of adventure and higher learning, Sagittarians crave exploration.
That said, while the sun moves through Sagittarius, we're all a bit more restless than usual and might be drawn to tap into our inner globetrotter and student. Whether you take a different workout class than usual, attend a holiday event and open yourself up to making new friends, or are compelled to work closely with a mentor to hone your skill set, expanding your mind is a must during this dynamic season.
Sagittarius Season: What to Expect in 2023
Although the sun moves through Sagittarius annually, the moon and other planets each have their own unique paths through the sky, making for a unique astrological picture of Sagittarius season that differs from one year to the next.
As Sagittarius season kicks off, we'll be in a bit of a lower-key lull between the previous month's eclipse season and the upcoming month's Mercury retrograde from Capricorn back into Sagittarius. In turn, it can feel like an incredibly social and productive moment — cue all the Thanksgiving and Friendsgiving get-togethers.
Mars, the planet of action, energy, and sex, will move into Sagittarius on Black Friday, cueing up a fiery, adventurous vibe until Jan. 4. Channel this into exploring uncharted terrain in whatever area of your life is activated during Sagittarius season (more on that in a moment).
The full moon in Gemini on Nov. 27 could feel frenetic and have you swimming in an overload of info that's hard to make sense of, so carving out time to get (at least ever so slightly) out of your head and into your heart may be helpful. And the new moon in Sagittarius, which falls on Dec. 12, coincides with the kickoff of Mercury's fourth and final retrograde of the year, which encourages slowing down and self-reflection until Jan. 1.
Here's what every sign can expect this Sagittarius season. Feel free to read the below based on your zodiac sign and/or rising sign, too.
Aries (March 20-April 19)
Though Scorpio season tends to highlight your intimate bonds and encourage you to take a step back from being out in the world to connect more deeply with loved ones, Sagittarius season is a whole new vibe. Now, your focus can't help but be on your desire to get out of your typical mundane routine, because the sun is moving through your ninth house of adventure. You're full of wanderlust and desire to meet people outside of your usual social circle, maybe even hone an eye-opening new skill set. This moment's all about figuring out how you can best take a leap of faith, knowing full well that the net will appear.
Taurus (April 20-May 20)
Scorpio season throws the spotlight on your one-on-one relationships, but Sagittarius season takes it to the next level, because the sun is now in your eighth house of emotional bonds and intimacy. You'll be more apt to wear your heart on your sleeve with loved ones and share what you need to feel most comfortable and secure within your nearest and dearest bonds. You may also enjoy a surge of confidence when it comes to putting your nose to the grindstone to achieve results related to joint financial endeavors, and FYI, you'll be more self-assured in the bedroom too.
Gemini (May 21-June 20)
With the sun moving through your seventh house of partnership, your one-on-one relationships are the highlight of this season. Whether you're collaborating with a work colleague on a business proposal or setting new shared goals with your significant other, you'll have the wind in your sails to put in solid work as part of a duo. At the same time, you'll do well to reflect on your sense of self, especially as it relates to your relationships, and reciprocity within your bonds. If someone's not showing up for you in the same way you're showing up for them — or vice-versa — it may be time to rethink how much time and energy you want to give the connection.
Cancer (June 21-July 22)
During Sagittarius season, the confident sun hangs out in your sixth house of routine and wellness, which boosts your ability to move the ball forward on day-to-day to-dos and methods for tending to your inner balance. Now's your chance to sign up for a new workout class, try that meditation app you've been considering diving into, or reorganize your home office. Bear in mind that Sagittarius season brings a fairly unboundaried energy, which might fuel your innate willingness to take on more, more, more to help others. But simply rethink how many projects you can realistically juggle at once without feeling stretched beyond your limits may benefit your well-being now.
Leo (July 23-Aug. 22)
During Sagittarius season, the confident sun, your ruler, moves through your fifth house of romance and self-expression, encouraging you to share what's in your heart — creatively and with others. You might also be more playful, spontaneous, flirtatious, and willing to hit pause on hitting your ambitious goals in order to prioritize pleasure. To be fair, given the holiday season, this is one of the most festive, jovial moments of the year for everyone — but it's especially fun and a prime time for partying for you!
Virgo (Aug. 23-Sept. 22)
You're generally moving at a rapid pace through the world, juggling a lot at once and working hard to be of service to others. But while the sun moves through your fourth house of home life during Sagittarius season, you may be inspired to chill out more than usual. You'll find it's easier to set boundaries that allow you to be more fully present while enjoying quality time with family and cozy homebody activities, like journaling, practicing mindfulness or yoga, or catching up with a dear friend over a long overdue FaceTime. This is also a time in which you might find you can hit the ground running doing healing self-work.
Libra (Sept. 23-Oct 22)
The sun's trip through Sagittarius activates your third house of communication, which cranks up the volume on your social commitments and appetite to spend more time with friends, colleagues, neighbors, and siblings, if you have them. Yeah, you're a social butterfly, but this season amplifies that characteristic for you big time. Your packed calendar brings you lots of fulfillment and joy. Just make sure to build in the occasional op to rest and recover your energy. That way, you'll be prepared to dive right back into planning, hosting, and connecting with everyone in your circle.
Scorpio (Oct. 23-Nov. 21)
The sun's time in your sign over the course of Scorpio season has thrown the spotlight on you and spurred a surge of confidence related to achieving your passion projects. But now, as it moves through Sagittarius, your second house of income is activated, and you can take everything you've been musing about over the past month to the next level — particularly in terms of boosting your cash flow. You'll also become even more aware of your values and understand just how important it is to do your best to commit only to undertakings that align with your heart. After all, that's the fast track to achieving winning results.
Sagittarius (Nov. 22-Dec. 21)
Welcome to your season, Sagittarius! During Scorpio season, you likely felt like you were standing backstage, waiting to step under the hot lights and out in front of a crowd. Now that the sun is cruising through your first house of self, you're finally able to soak up the limelight. You'll be particularly in tune with your personal brand, whether that's how you're presenting yourself on social media or on the job, and you can make major strides reimagining the best new way to make an impression on others. The first step is, of course, to commit to any self-work that will support your ability to stand even stronger in your sense of self.
Capricorn (Dec. 22-Jan. 19)
While the confident sun moves through your twelfth house of spirituality during Sagittarius season, you might find that slowing your usually incredibly driven and ambitious pace benefits your overall energy. This is a time period for prioritizing self-care, daydreaming, writing in a dream journal, or trying your favorite visualization or manifestation technique to plant seeds for your next big intention. Though it may feel sleepy at times, know that a lot of work is going on behind-the-scenes — in other words, mentally and emotionally — that can help you to step even more fully into your future once the sun slips into your sign.
Aquarius (Jan. 20-Feb. 18)
While the confident sun moves through your eleventh house of networking, Aquarius, you'll be even more apt to dive into team projects. (Yes, really!) Although you're a huge fan of community-based activities, you'll feel an intense desire to feel especially connected to friends and colleagues. Collaboration is sure to do the trick. Plus, if there's a long-term wish you've been wanting to make a reality, now can be a fruitful moment for talking a game plan through with your social circle. Feeling supported, in and of itself, is powerful fuel for progress.
Pisces (Feb. 19-March 20)
While the confident sun moves through your tenth house of career during Sagittarius season, you'll be extra motivated to take on a leadership position or assert your long-term aspirations to a higher-up. This is a moment for being seen, recognized, and applauded for everything you bring to the table, Pisces, so definitely own all of your hard work. You might also be fired up to find more balance in your inner life now. Streamlining your commitments can make you feel like you have more room to breathe at home and at work.