Target's Gelatinous Rainbow Water Blob Cooling Mats Are Only $30, and I Need 3 ASAP
As POPSUGAR editors, we independently select and write about stuff we love and think you'll like too. If you buy a product we have recommended, we may receive affiliate commission, which in turn supports our work.
Raise your hand if you ever hurled yourself at a Slip 'n' Slide as a kid, had the wind knocked out of you, and did it all over again a dozen times just for fun. As someone who spent many summers running through the sprinkler growing up, my mind is blown by Target's latest gelatinous creation: the Sun Squad Rainbow Water Slide, aka all of my childhood dreams wrapped up in a multi-colored piece of plastic. Made for ages 3 and up, the 9-foot-by-6-foot slide holds over 550 pounds, keeps you cool in the heat, and it's only $30!
For some added fun, the slide also connects to your garden hose and will spray water in all directions, making it the sprinkler-slide combo 8-year-old me always dreamed of. So if anyone needs me in the next three months, you can find me lounging on the blob with a summer cocktail in hand. Of course, I'm not the only one obsessed with the cooling mat. TikTokers have already gotten their hands on the trippy backyard toy, so shop the slide for yourself here, and take a peek at what it looks like in action ahead.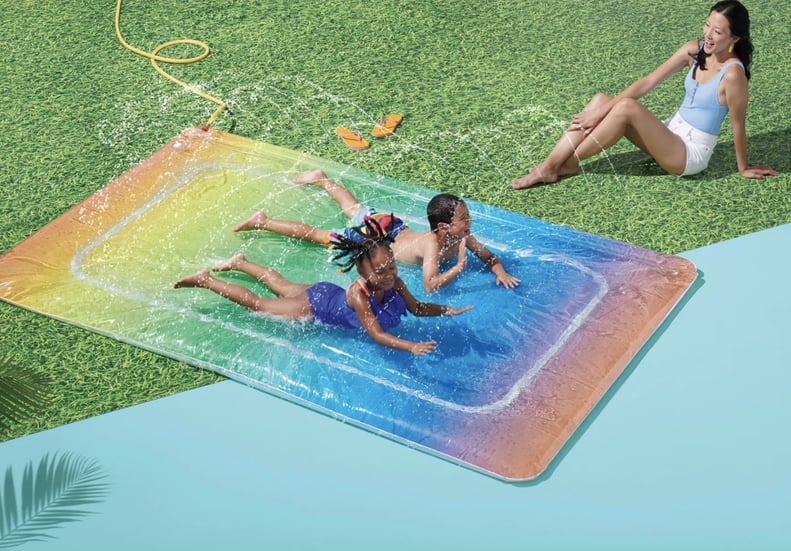 Sun Squad Rainbow Blobz Water Slide