Here Are the Top 10 Instagrammed UK Cities to Inspire Your Next Trip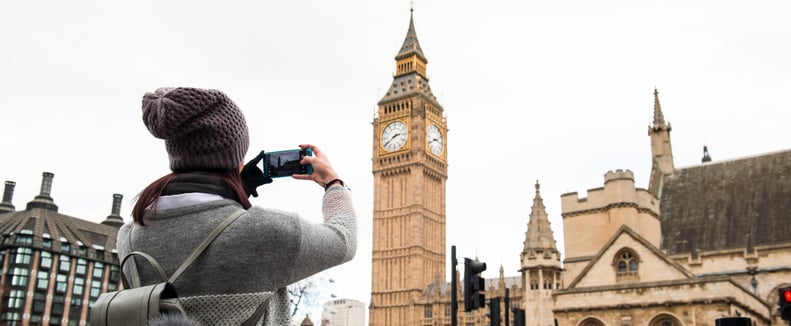 POPSUGAR Photography | Bonnie Burke
POPSUGAR Photography | Bonnie Burke
Just admit it, we all like to get it for the 'gram when we visit a new city, so stop pretending you wouldn't visit somewhere just to get the perfect shot. Holidu researched the hashtags of UK cities to see which came out on top, because if you visited a city but didn't hashtag it, were you really there?
Perhaps unsurprisingly, London came in first place with over 80 million hashtags. Popular hashtag hot spots of the city include Big Ben with over 2.6 million, the London Eye with over two million, and Tower Bridge with 1.3 million. Two football cities tied second and third place, proving that the UK really does love the game. And thanks to the numerous cute dog pictures on Instagram, York(ie) made it into the top 10 too.
Keep reading to see how the other cities ranked and get some inspiration for your next vacation.
London
London is calling at No. 1!
Manchester
Besides football, Instagrammers enjoy visiting John Rylands Library, once used as a set for Harry Potter.
Liverpool
Liverpool FC ensures that the city on the banks of the Mersey comes in at third place.
Edinburgh
With over 3.5 million visitors each year, the capital of Scotland offers some of the best photography spots to fill every Instagram feed.
Brighton
Thanks to its beach and the high amount of young people living here, Brighton notched up 3.8 million hashtags.
Glasgow
Another Scottish city made it to the list with hashtags #glasgowuni (23,644) #glasgowlife (31,863) and #glasgow2014 (71,049).
Birmingham
The second largest city in the UK has six universities, seriously bustling nightlife, and great shopping.
Bristol
With 2.9 million hashtags, Bristol is a top tourist attraction filled with bridges, balloons . . . and plenty of weddings.
Leeds
According to Instagram, Leeds festival reigns supreme in this Yorkshire city, with more than 110,000 photos tagged #leedsfest.
York
Thanks to the very cute Yorkshire Terrier, the York hashtag has a cute new meaning. But there is still an abundance of pretty shots from the charming streets of this city.