The Best Ugly Christmas Sweaters to DIY This Year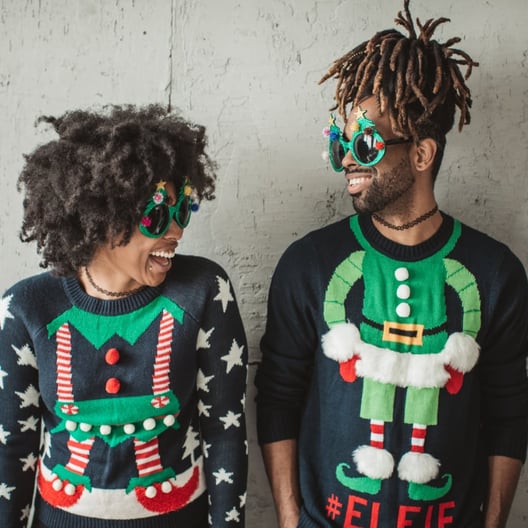 It's the time of year for Christmas music, holiday cheer, gifts, and food galore. But most importantly, it's the time of year for ugly sweaters. Getting decked out in the tackiest, most ridiculous Christmas sweater has become one of the highlights of the holiday season, but since you (probably) won't be wearing one more than once or twice a year, don't break the bank on your hilarious ensemble. We've found some ugly Christmas sweater DIYs that are easy to do and barely cost a thing. And when in doubt? Just add more glitter! Check out the best tips and tricks for making an ugly sweater ahead.
— Additional reporting by Lauren Harano
01
DIY Wreath Ugly Christmas Sweater
You can absolutely DIY this beautiful wreath Christmas sweater. All you need to do is cut out some green-shaped "leaves" out of construction paper (or use green Post-It notes) and tape them along your short and sleeves. Then, pair it with a red-tied bow in the middle.
02
DIY Snow Family Christmas Sweater
Whether you're dressing up just yourself or with friends and family, nothing beats this snow family Christmas sweater. Find a blue sweater, tape (or glue) some snowmen on it, and voila. Pair it with holiday earrings, large red glasses, and whatever other accessories you'd like.
03
DIY Tinsel Ugly Christmas Sweater
Got tinsel? To re-create this cute sweater, simply use a hot-glue gun to stick tinsel to a sweater you already have. Then get ready to light up the holiday season!
04
DIY Snowy Ugly Christmas Sweater
Grab an old sweater and find iron-on letters to make this sweater complete. Feel free to add (sparkly) snow, pom-poms, and any other iron-on accessories you please.
05
DIY Christmas Tree Ugly Christmas Sweater
The best way to re-create this sweater is by finding a cheap sweater with a Christmas tree already on it, and then getting creative. You can add sparkles, decorations, pom-poms, and more with the help of a hot-glue gun.
06
DIY Candy Cane Ugly Christmas Sweater
This easy sweater can come together in minutes. Just cut out little felt candy canes and secure them onto the sweater of your choice.
07
DIY Bow Ugly Christmas Sweater
If you have tons of bows, this sweater is what you need to DIY ASAP. Just stick them to a sweater (superglue might help if you'll be moving around in the sweater), and make sure every inch is covered. You'll be a gift to all those who see you.
08
DIY Bow-Themed Ugly Christmas Sweater
All you need to re-create this look is a couple strands of ribbon, a few safety pins, and a sweater. Just tie the ribbons into bows, secure them onto your sweater, and you're ready to go.
09
DIY Q-Tip Ugly Christmas Sweater
Easy, cute, and super festive, grab all the Q-Tips you can to make this ugly sweater come to life. Just superglue the Q-Tips onto a sweater, and make sure they're in the shape of little snowflakes. Feel free to add cotton balls and tinsel to make it complete.
10
DIY Glitter Glue Ugly Christmas Sweater
Got glitter glue? Good! Just write a fun holiday saying on a long-sleeve shirt with the glue, and you're ready to sleigh. (Get it?)
11
DIY Snow-Globe Ugly Christmas Sweater
If you don't want to ruin a sweater with glitter and glue, then a snow globe DIY is perfect for you. The decorations are all added onto a plastic bag that goes over your clothes, and the easy craft only requires a few cheap materials.
12
DIY Christmas Morning Scene Ugly Christmas Sweater
If you are a Christmas-clothing fanatic, then you'll love this full-blown Christmas living room scene.
13
DIY Christmas Party Ugly Christmas Sweater
When in doubt, take all of the Christmas items you have lying around and glue them to a sweater. Add glitter and the masterpiece is complete!
14
DIY Bow Ugly Christmas Sweater
Just find the absolute biggest bow that exists and stick it on your sweater. Add a string of lights for an even more eye-catching effect.
15
DIY Bow Ugly Christmas Sweater
If you are short on time (or cash!), then simply stick some holiday-colored bows on a sweater you already own.
16
DIY "Stranger Things" Ugly Christmas Sweater
Rep your favorite show by paying homage to characters you love. Pair your favorite Christmas sweater with some Eggo waffles for the best "Stranger Things" theme yet.
17
DIY Light-Up Globe Ugly Christmas Sweater
Go the extra mile with a sweater that actually lights up like this snow globe DIY. You can do it yourself by making this snow globe with paper bags, cotton balls, and store-bought snow men.
18
DIY Reindeer and Jingle-Bell Ugly Christmas Sweater
This decorative jingle-bell Christmas sweater totally (and tackily) rocks. Just cut out images of whatever you want to be on your sweater.
19
DIY Ho Ho Ho DIY Ugly Christmas Sweater
For an ugly Christmas sweater that borders on inappropriate, simply sew on some puns, dolls, and whatever else you need to get your message across. Find an old Barbie, tape it on your sweater, and add any other holiday-themed accessories to go beside it.
20
DIY Extra Flair Ugly Christmas Sweaters
Take a store-bought ugly Christmas sweater and jazz it up by attaching holiday accessories.
21
DIY Santa and His Reindeer Ugly Christmas Sweaters
This is how you win your office ugly Christmas sweater competition. All you have to do is wear a brown sweater, buy some reindeer ears, and then cut out two white circles and color in eye balls on them.
22
DIY When Christmas Throws Up On You Ugly Christmas Sweater
Glue as many random Christmas things as you can to your sweater for this funny look.
23
DIY Fireplace Mantel Ugly Christmas Sweater
Don't be afraid to go all out with your ugly sweater! This fireplace mantel has it all — real lights, tinsel, miniature stockings, a bow, elf legs, and even real presents!
24
DIY The Nutcracker Ugly Christmas Sweater
This ballet-inspired look isn't even ugly, it's just straight-up cute. Buy one yourself and pair it with cute, holiday-themed accessories in your hair.
25
DIY Fireplace Ugly Christmas Sweater
Stay nice and cozy with a light-up fireplace sweater. You can DIY this yourself with garland, lights, and an image of a fireplace.
26
DIY Fireplace With Stockings Ugly Christmas Sweaters
Get a group together, then pick one of your favorite themes to represent on your Christmas sweater. Glue it all on a green colored sweater, and there you have it.
27
DIY Stranger Things Ugly Christmas Sweater
Turn yourself into the "Stranger Things" wall with real (or fake) Christmas lights and some paint or felt letters.
28
DIY "Harry Potter" Ugly Christmas Sweater
This "merry snitch-mas" sweater is a cheeky nod to the magical series.