Unhide Shleepy Robe | Editor Review
This Robe From Unhide Is Like Wearing a Fluffy Cloud
As POPSUGAR editors, we independently select and write about stuff we love and think you'll like too. If you buy a product we have recommended, we may receive affiliate commission, which in turn supports our work.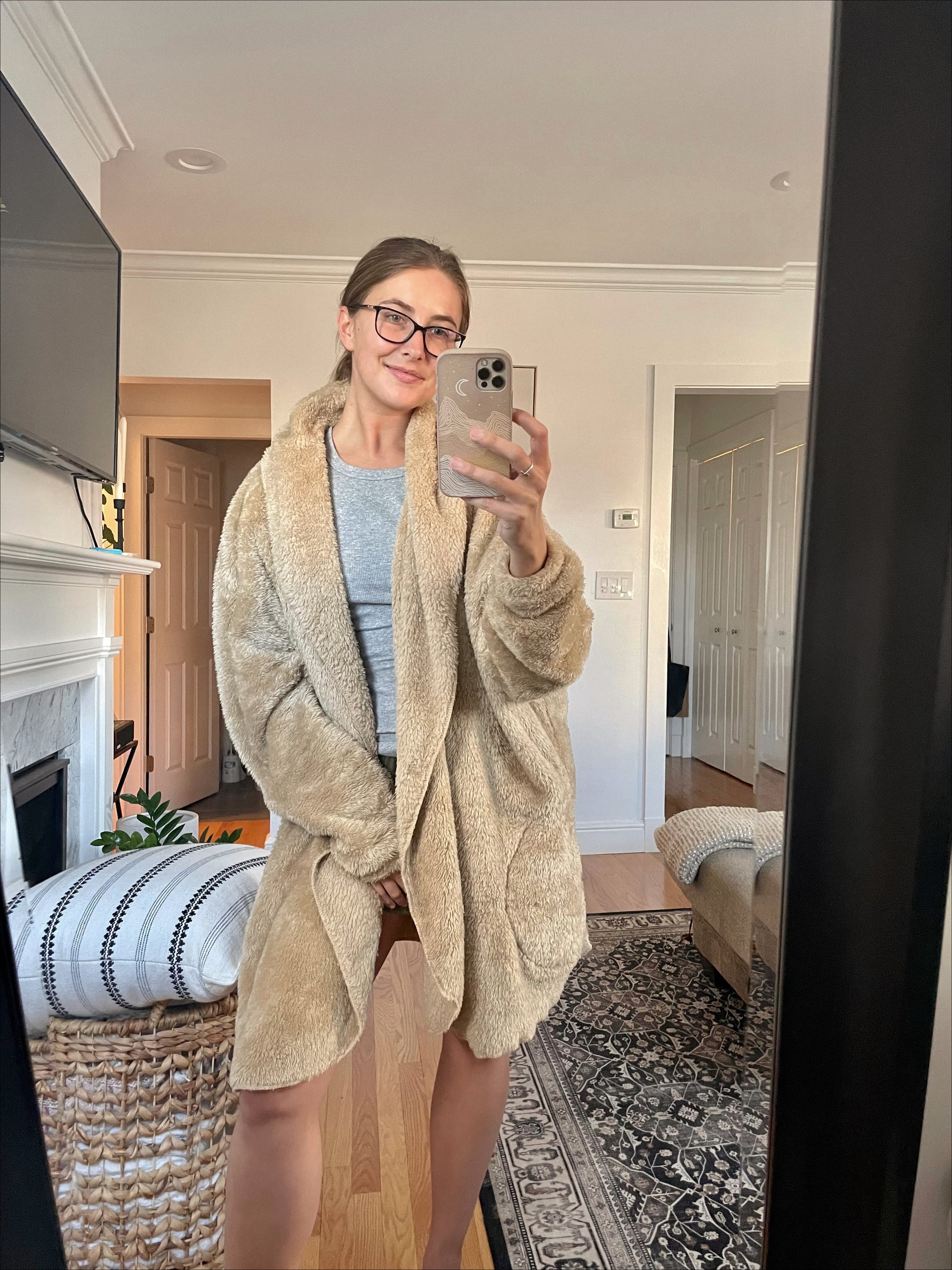 There are people who despise wearing clothes and people who love them. For me, I'm a fabric-lover. The more layers of clothes I have on — spring, summer, fall, or winter — the better. My roommates always joke that I have a "uniform." In other words, you can catch me almost daily in sweats and a tank top with some type of cardigan or robe on if I'm relaxing around the house. I love being comfortable, so when I found out Unhide has a Shleepy Robe ($95) that's made in fabric as soft as its blankets, it was an easy sell.
What I Like About Unhide's Shleepy Robe
As I write this review cozied up in my Shleepy Robe, I think about how soft its fabric is, how convenient its pockets are, and how I could genuinely sleep wrapped up in nothing but this robe alone. I constantly feel like I'm cocooned in a blanket (with arms), which makes sense since it's made of the same signature material as Unhide's blankets. While you can find me wearing this robe around my house on any given day of the week, I also think it'd make a great airport companion. Or, if you have a super-cold office, this robe would be a nice addition to have slung over an office chair. The material by far is my favorite part about it, and if you really want to snuggle up, there's a hood to cover your ears. This robe has become a staple in my work-from-home wardrobe, and I don't see that changing anytime soon.
Would I Recommend the Unhide Shleepy Robe?
If you're the type of person looking for a convenient robe to feel warm and cozy in, Unhide's robe is a great option. It comes in four colors, plus standard and plus sizes for the perfect cozy fit. This robe doesn't have absorbent material and isn't meant to be put on after a shower, but it's the perfect thing to slip into once you're dried off. I 100 percent recommend it to anyone looking for comfortable loungewear. I never take mine off.
Rating: