Amber Alerts on Facebook
You'll Now See Amber Alerts in Your Facebook News Feed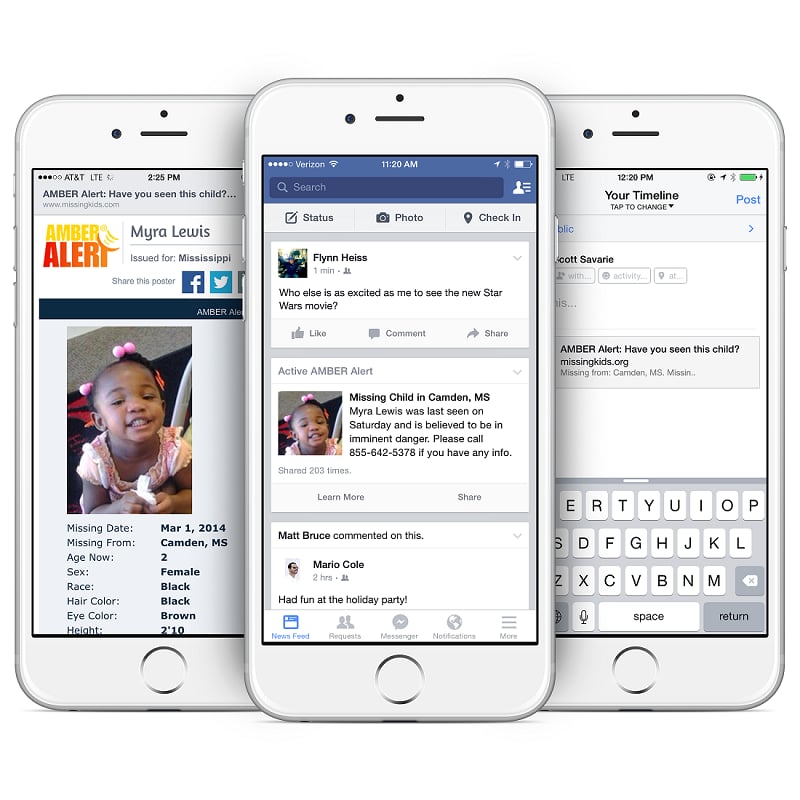 Back in Jan. 2015, Facebook announced a new feature that could make a huge difference in the life of a child: Amber Alerts. The social network is partnering with the National Center For Missing and Exploited Children to feature photos and other details of missing children on users' news feeds.
The alerts will appear on mobile and desktop, and users will be able to share them with friends. In the past, photos of missing children have been shared on Facebook, which has led to children's successful recoveries. Facebook credited this as a reason for the new initiative.
"It's amazing word-of-mouth efforts like this that inspired us to develop a more systematic way to help find missing children on Facebook," wrote Emily Vacher, Facebook's trust and safety manager, in a press release. "We know the chances of finding a missing child increase when more people are on the lookout, especially in the critical first hours. Our goal is to help get these alerts out quickly to the people who are in the best position to help."
As soon as an Amber Alert is issued, Facebook will post the available information (a picture of the missing child, a license plate number, and the name and description of the child and suspected abductor) in users' news feeds. Law enforcement will determine the range of the target area for each alert, and the number of alerts you'll see depends on how many alerts have been issued in your area. The alerts won't show up as notifications on your phone — they'll simply appear in your news feed.
Smart idea, isn't it?