Beats Music Service
Beats — Headphone Maker and Now a Music-Streaming Service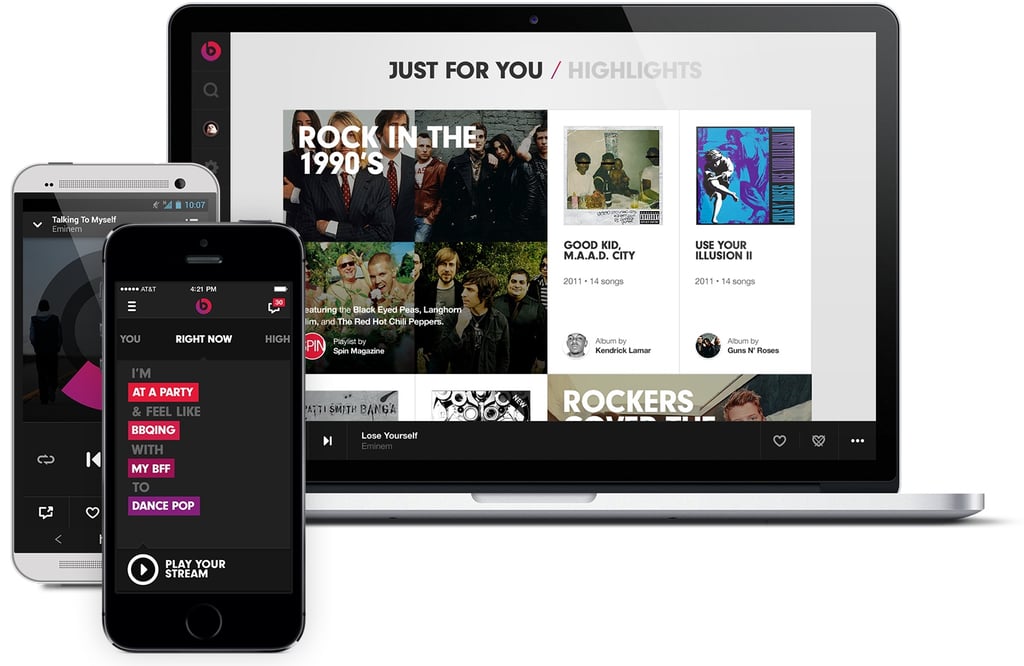 Beats Electronics and music go hand in hand thanks to the brand's iconic speakers and headphones. But a new music-streaming subscription service from Beats is hoping to change the music game for a different reason. Ready for download starting Jan. 21, Beats Music will feature more than 20 million songs from major and independent labels.
Developed by Jimmy Lovine, Dr. Dre, and other music moguls, it promises a uniquely personalized and curated listening experience. "Beats was created so people could hear the music the way the artists intended, but speakers were just the first step," said President Luke Wood in a press release. "Beats Music is the final piece in making that vision a reality."
How will that vision come to life? Through perks like a personalized selection of albums delivered at least four times daily depending on factors like musical preferences and time of day; playlists put together after users answer questions about their location, activity, and surroundings; and more playlists handpicked by an editorial staff. Another bonus is that fans can either stream their music or download it to listen offline.
Expect the service to be available on iOS, Android, and Windows phones as well as through the web. At first, everyone can try out the service for free, but it'll soon cost $10 a month.
And that's not it! Beats has teamed up with a couple of other big-name companies for its launch. Through an exclusive deal with AT&T, a plan called Beats Music Family will be made available to AT&T wireless customers on a multiline account that can include up to five people on 10 devices for $15 a month. Then there's Target, which will offer 30-day free trial cards for all Target Red Card holders and for customers who buy certain electronic items and Beats Music gift cards.
No doubt Beats Music has some competition out there, but it's exciting news for the company.