Couple Gets Engaged in Front of Sebastian Stan
This Might Be the Ultimate Geek Proposal — Prepare to Say "Awww"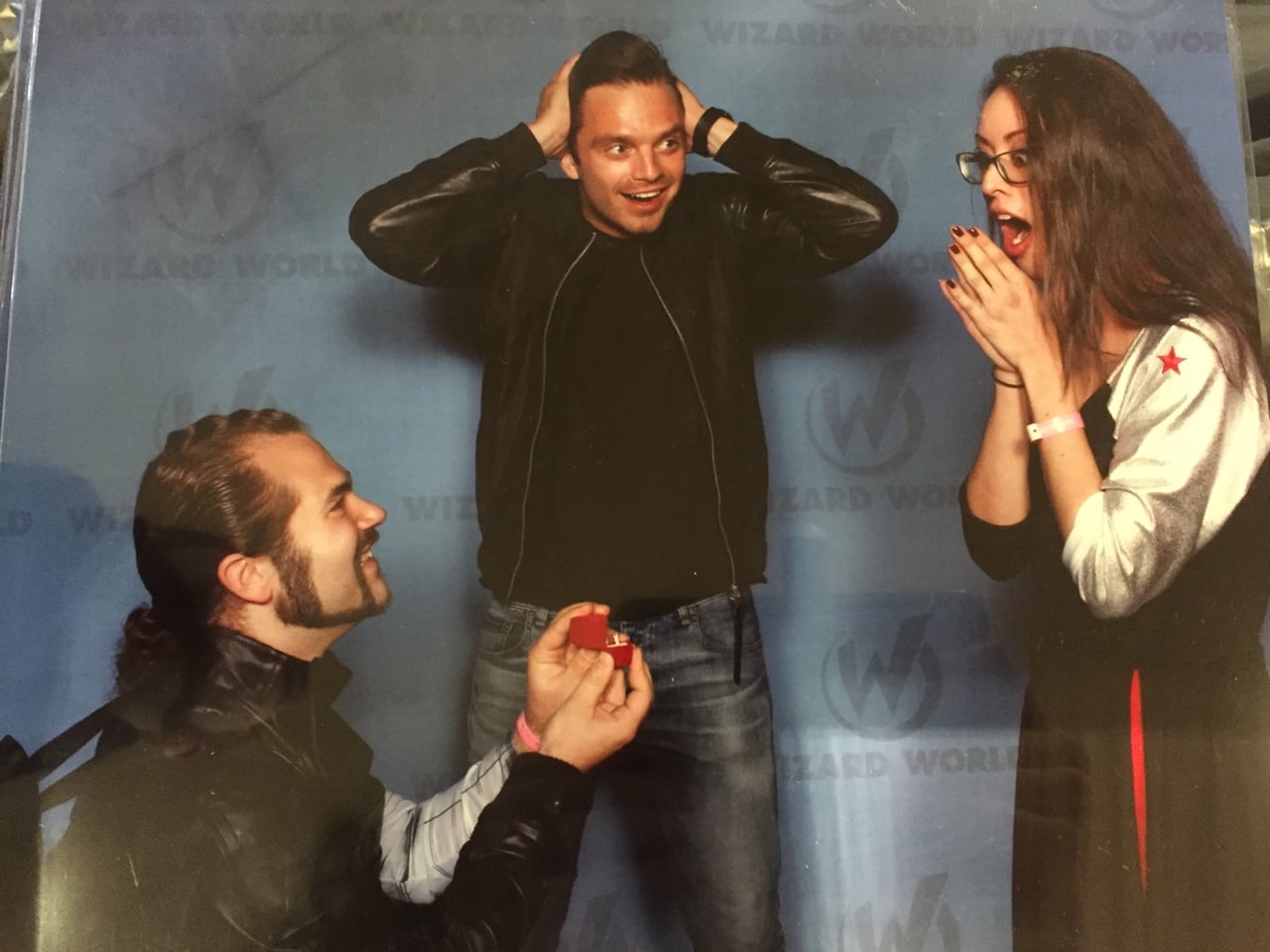 Image Source: Tumblr user watersofglasscosplay
In the geek world, a couple that cosplays together stays together. Perhaps that's why 33-year-old John Felix decided to propose to his girlfriend (and fellow cosplayer) Natasha Marrero at the Wizard World convention in Philadelphia, while they were both dressed as the Winter Soldier and enjoying a meet-and-greet with Captain America: Civil War star Sebastian Stan.
What started out as a preplanned photo opp with the Marvel-franchise actor quickly took a romantic turn when Felix, clad in a silver "bionic" arm much like Stan's character, dropped down to one knee and popped the question. We can't decide whose facial expression is more priceless: the delirious new bride-to-be or the stunned actor!
The day after their engagement, the couple returned to the convention for another meet-and-greet with Stan, where he congratulated them and they invited him to their wedding. "He remembered us from yesterday and got super excited, hugged us both and congratulated us after we told him he's invited to the wedding," wrote Marrero on her cosplay blog, Waters of Glass Cosplay. "I love this man. I'm so glad I picked him as my favorite celebrity."
Stan took to Instagram to congratulate the happy couple, wishing them a lifetime of love and thanking them for including him in their big day. The question is, will he take them up on that wedding invite? Only time will tell! Regardless, we're sure that this hero-obsessed couple is destined for a super romantic (and geeky) marriage. Congratulations!