Google Drive Tips
12 Things You Had No Idea You Could Do With Google Drive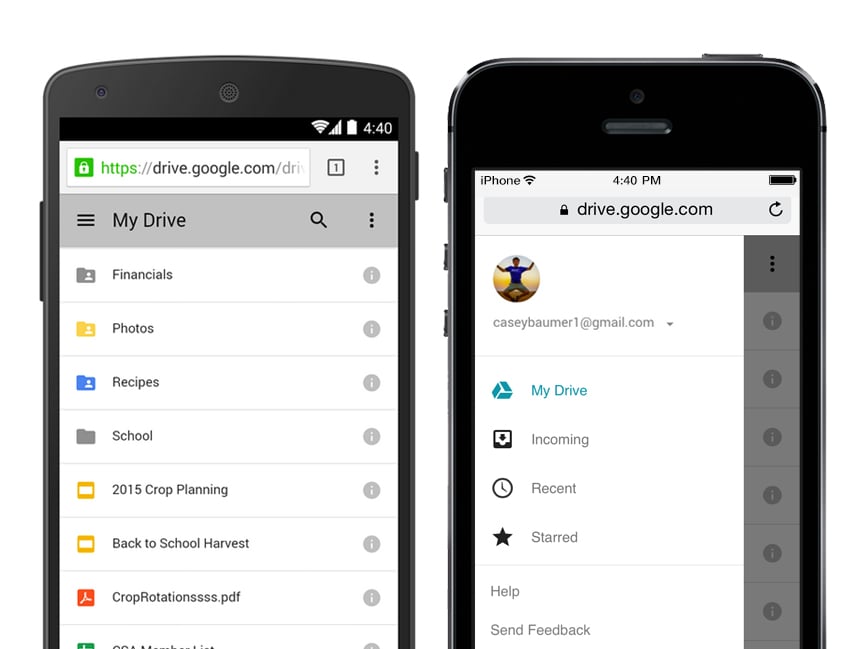 Microsoft what? Let's be honest: it is all about the cloud. The convenience of having all your documents, spreadsheets, and presentations accessible from any device that can connect to the Internet is too good not to take advantage of, which is why most of our digital lives can now be found on Google Drive. Sayonara, Microsoft Office! Unlock the true potential of Google's digital hub with these 12 tips and tricks.

Google Drive <3 Microsoft Office — You can edit Microsoft Office files (.doc, .docx, .ppt, .xlt, etc.) right in Google Docs, Google Sheets, or Google Slides, then convert them back into Office files. When you receive Office files in Gmail, simply click on the Edit button (the little pencil) to begin. 
Make presentation photos even better — Edit images right from Google Slides. Click on the photo, select Image Options from the toolbar or format menu, and you can adjust the opacity, brightness, contrast, and even add filters.
Easy peasey citations — Install the EasyBib Bibliography Creator extension for Google Chrome to create the easiest automatic bibliography ever. You'll definitely want this citation generator for Google Docs, which is suited for MLA, APA, and Chicago styles.
A shortcut to Google Search — If you need to do a quick fact check on a place or a person, like J.K. Rowling, go to the Tools menu > Research in Google Docs, and you'll get a nifty pane filled with Google search results so you never have to leave the Docs editing page. 
Check your word count — Press command + shift + C!
Offline access — When the Internet cuts out, you're safe! Go to the Settings gear > Offline > check the box next to "Sync your work to this computer so that you can edit offline." Note: Drive can only store 5GB of data offline. Offline access is only available via the Chrome browser.
No need for regret — Find and restore previous versions of your Doc by going to File > Revision History. It's also a great way to track changes if you're editing with someone. 
For when you need a feature and have no idea where to look — Press option + / and start typing anything. This will automatically expand the Help menu!
Plan parties with forms — Stop trying to organize get-togethers with endless email chains. Gauge everyone's interest and availability with the ridiculously easy to use Google Forms.
All these keyboard shortcuts — From selecting items to deleting them, there are so many shortcuts that will make your workflow much easier and much faster.
You don't need to worry about storage space  — Everyone gets 15GB of storage across Google+ Photos, Gmail, and Google Drive. But Google Docs, Sheets, and Slides don't count against your storage totals. So save that 15GB of storage for photos and other files.
The ultimate study tip — Use TextHelp Study Skills, a Chrome extension, to highlight key points of your Google Docs notes to group your highlights and make a quick outline for an upcoming exam!
Itching for more tech tips? There are bunch of helpful guides this way.