How to Stream Music on Chromecast
How to Stream Music With Google Chromecast
We proudly present this article from our partners at ReadWrite.
By Taylor Hatmaker
Considering its diminutive size and price tag, Google Chromecast is crazy good at what it does. But now that it does more than streaming video, just how good is Google's little-USB-dongle-that-could for music?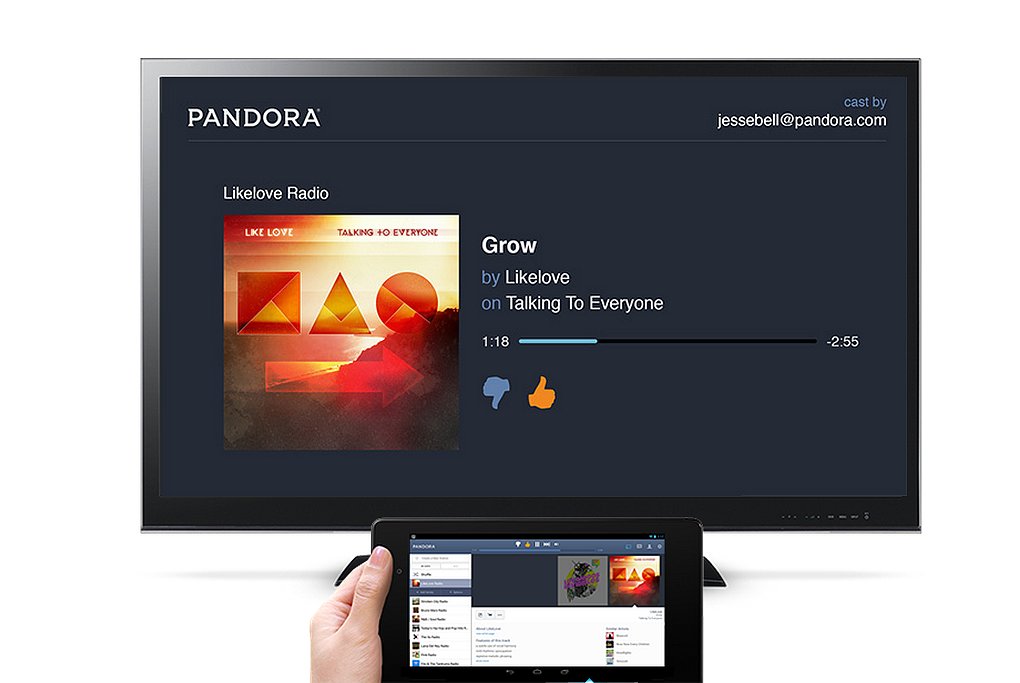 Source: Google
Chromecast officially supports a growing selection of music apps, with Rhapsody just hopping aboard recently, too. If you want to use your Chromecast as a home audio system, we'll make sure you get set up and learn the main tools at your disposal.
Getting Started: Check Yourself
First things first: Your Chromecast music experience can only be as good as your speakers. If you're stuck with your TV's built-in speakers and still compelled to get your 'cast on, a basic 5.1 surround setup will go a long way toward improving your listening experience.
That said, Chromecast turns your phone into an all-powerful sonic remote, so you should probably be willing to make a few sacrifices.
Music Quality on Chromecast
Speaking of sacrifices, you should only expect low-to-mid quality streaming audio. For most Chromecast-friendly apps, streaming quality maxes out 192kbps and you'll be routing the sound through your TV's audio channels, which likely aren't optimized for music. (The Chromecast was designed for the experience of streaming TV and movies, after all.)
Notably, Google Play Music offers 320kpbs streaming over a solid connection. So does Beats, which is actively working on building Chromecast support into its app.
If you're like me and spend more time listening to music than watching Netflix or YouTube, you might wish you could plug your Chromecast into your ancient-but-awesome audio receiver and speakers. Apparently, the right HDMI to VGA adapter makes it possible to plug the Chromecast into an auxiliary input, creating a cheapo version of a Sonos or Beep set-up.
(We haven't tested this one and imagine that by connecting a cheap cable to a streaming music dongle, your music quality mileage may vary even more.)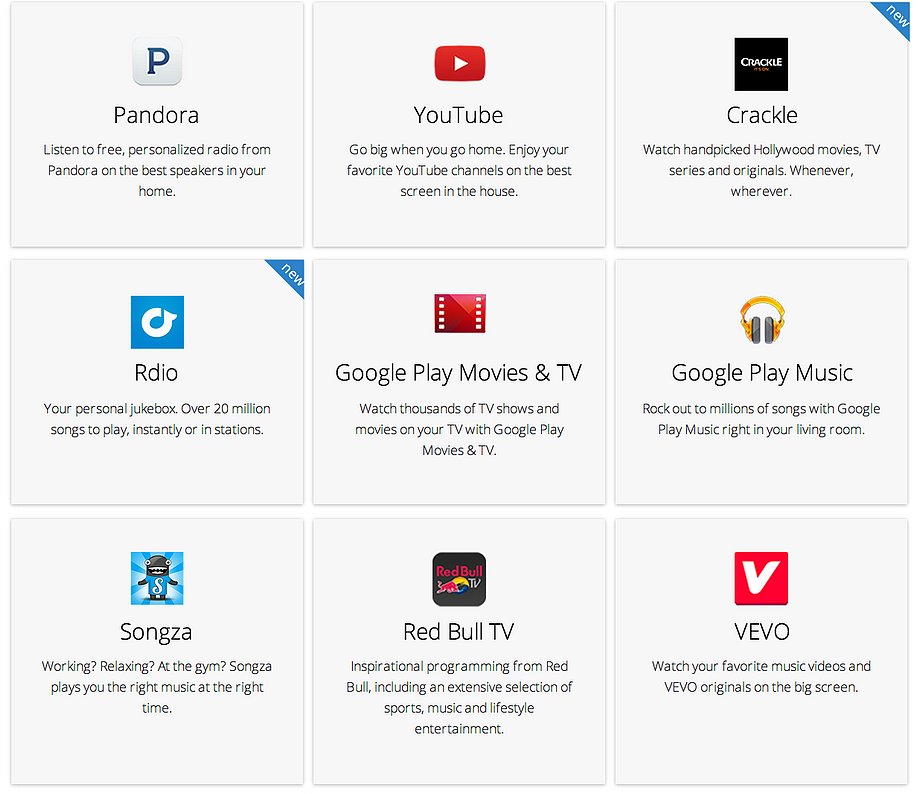 Source: Google
Chromecast Music Apps
There are many new options for streaming music through Chromecast. Let's review them:
Google Play Music: With support for up to 320kbps quality, Google's own music service makes for a good Chromecast partner. To access its on-demand service, you'll have to pony up the standard $9.99 per month, but you can store and play back 20,000 songs of your own for free. For iTunes users or anyone with a big MP3 collection, Google Play's free service is a solid way to turn the Chromecast into your very own music workhorse.
YouTube: Yes, you can finally have that throwback VJ party you've been dreaming about. Unsurprisingly, Chromecast and YouTube go together like two peas in a Google-owned pod. Of course, your experience wholly depends on YouTube's stock of music videos you like, which can be hit-or-miss. It's definitely your best option for viral music content.
Rdio: Another on-demand streaming service with very nice app, Rdio for mobile is a paid service only, though it offers an ad-supported tier for playback over the Web.
Pandora: The stalwart of Internet radio beamed to your Chromecast is free—with grating audio ads.
Vevo: Since Vevo has a stamp of approval from some major record labels, the music-centric video service has made it much easier to find high-quality music videos on its platform—but beware of ads.
Songza: A free option to listen to curated playlists made by actual humans, Songza remains the best place to find playlists themed around each house in Game of Thrones, so that's one million bonus points for Songza.
Plex: If you're an exting user of Plex's paid home media library streaming service, Chromecast support is a welcome addition.
Rhapsody/Napster (on Android now, iOS support in the works): There are no free trials or tiers for this $9.99/month on-demand music service, but for now it's only available for Android. The company promises iOS support is in the works.
In addition to this handful of music apps, you can cast any Chrome browser tab to your TV, so technically you can play anything with a Web interface. That said, the quality suffers compared to apps with a baked-in Chromecast button. If you're feeling even more experimental, there's a whole new crop of lesser-known apps that support casting, which are listed here.
Plenty more music apps are working to support Chromecast, so users might want to bookmark Google's official Chromecast apps list to keep track of noteworthy new options.
Related Links
Microsoft is finally poised for the future
Everything you need to know about the Heartbleed bug
If Facebook was serious about privacy controls, it would let us control them
12 powerful apps to clean up your finances
Pebble's CEO discusses how to make a smartwatch people really want