Insurance For iPhone
Choosing the Best Insurance For Your Phone
We proudly present this article from our partners at Techlicious.
By Suzanne Kantra
Phone insurance and extended protection plans aren't cheap, but the investment can save you big down the line should your phone get lost, stolen, or damaged. Take the iPhone 6. While you may be able to get it for $0 down, a replacement will cost you $650 out of pocket, and even a small drop can leave you with a cracked display that can cost hundreds to fix.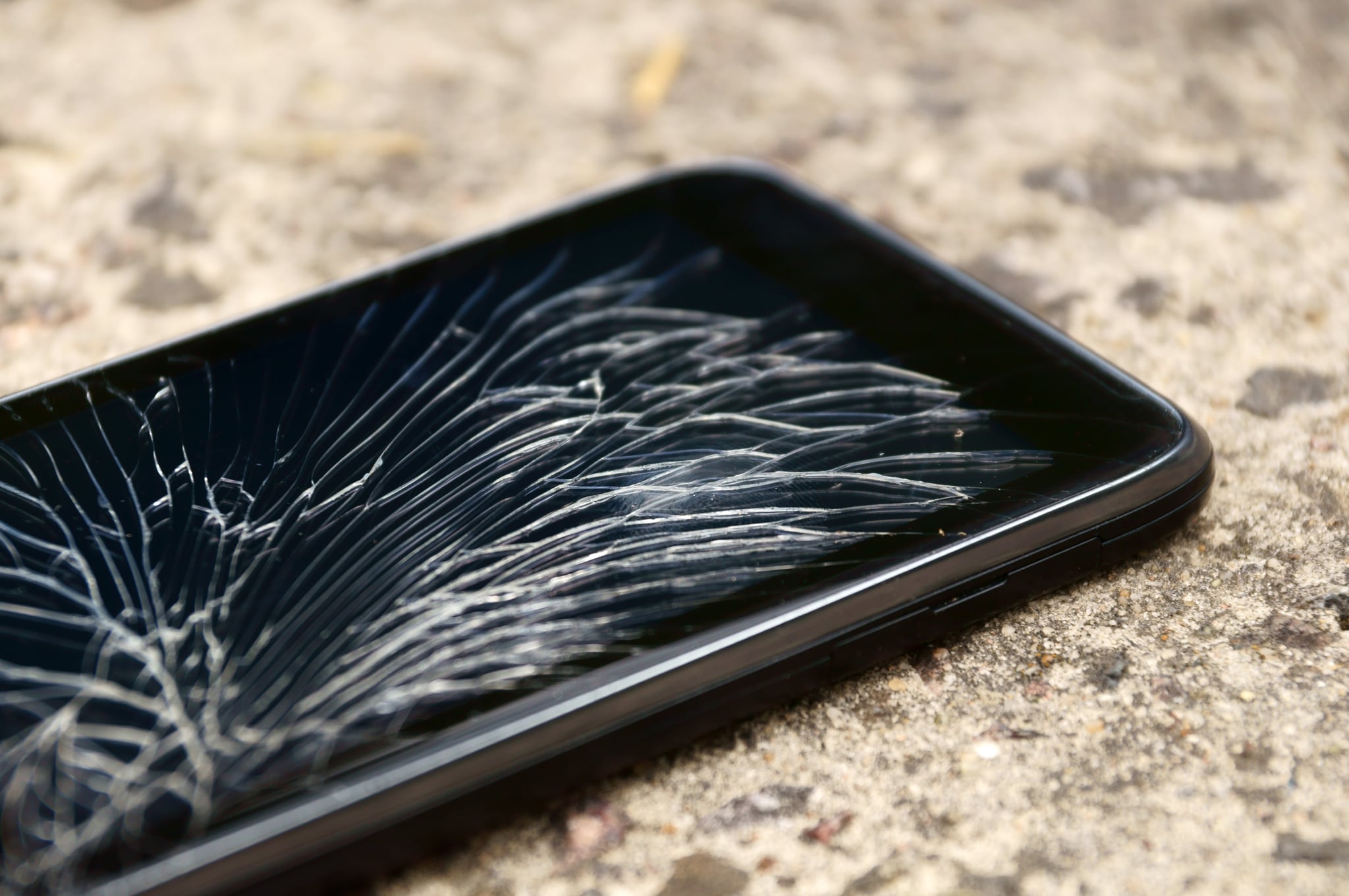 Fortunately, protection plan options are plentiful, but picking the right one can be complicated. Extended warranty plans only cover repairs when there's a mechanical failure, not loss, theft, or accidental damage. Other plans will cover accidental and mechanical failures but not loss or theft. And different types of coverage come at varying price points.
So which is the right plan for you? If you or your child is forgetful or accident prone, a full coverage plan may be best. Or you may have enough coverage from your credit card company or homeowner's insurance. Check out the following plans to see what's right for you.
Retailers
Many large electronics retailers offer phone insurance. Best Buy, for example, will insure an iPhone 5S or 6 for two years for the lump sum of $200 for two years or for $10 a month. That covers malfunctions as well as accidental damage to the phone, but not loss or theft. There's a $150 deductible for claims that are not covered under the manufacturer's warranty and you have to buy the Geek Squad protection with the product online or within 15 days of buying your phone in-store. There's a limit of 3 claim submissions.
SquareTrade
For two years of coverage for mechanical and electrical failures as well as accidental damage — but not loss or theft — SquareTrade offers a warranty for the iPhone 5S or 6 for $99 for two years or $5 per month. That's a better deal compared with Best Buy, even though they nail you with a $75 deductible for every smartphone claim.
You can buy a SquareTrade warranty on a retail item within 30 days of buying it or if the phone is currently insured by AT&T, Verizon, Sprint or T-Mobile. For one you bought on eBay, coverage starts after the existing manufacturer's warranty expires or on the 46th day after purchase, if there is no warranty.
Worth Ave. Group
An insurance policy from Worth Ave. Group covers a cell phone for accidental damage such as drops and spills as well as theft, fire, flood, natural disasters and lightning strikes. For an iPhone 5S (16GB model with $649 coverage), you'll spend $130 for two years with a $50 deductible (iPhone 6 pricing isn't available yet). For smartphones other than iPhones, a phone costing $649 will run $138 for two years with a $50 deductible. Loss and malfunction are not covered. You can buy insurance from Worth Ave. Group anytime, even on older devices
Carriers
For $7 per month, AT&T offers coverage for loss, theft and out-of-warranty malfunction of your phone. When making a claim, you'll need to pay a $50-$199 deductible (iPhones have a $199 deductible). You can make two claims per year for a total of $1,500.
For $8-$11 per month, Sprint offers full coverage–loss, theft, accidental damage and mechanical or electrical breakdown. You'll also pay a deductible of $50-$200 (see the full list of fees and deductibles) for each claim. You can make two claims per year for a total of $1,500. New York residents can also purchase just insurance (loss, theft and accidental damage) for $5-$9 per month (iPhones would be $9 per month).
T-Mobile offers a few options for those looking for coverage. For $8 per month, you can get full coverage–loss, theft, accidental damage and mechanical or electrical breakdown–or you can choose to pay for an extended warranty for $5 per month or just for for insurance for $6 per month. A non-refundable deductible of $20 to $175 (iPhones have a $175 deductible), depending on your device, is applied for each claim. You can make two claims each year with a limit of $1,500 for each loss.
Verizon tacks $10 for the iPhone and $8 for other smartphones and to cover loss, theft, accidental damage and electrical or mechanical failure after the manufacturer's warranty expires. There's a deductible of $99 for non-iPhone models and $99-$199, depending on which model iPhone you have. You can make two claims per year for a total of $1,500.
Major Credit Cards
There are two ways that credit cards can provide coverage for your phone. First, many major credit cards extended the manufacturer's warranty by a year or longer, though it varies depending on the card. Check out Credit.com's tutorial on the subject. Many also cover loss from theft or damage within the first 90 days after purchase.
You can also get theft and damage coverage from select cards if you use them pay for your cell phone service, including Wells Fargo and First Citizens Bank. MagnifyMoney.com has a list of more than 25 banks and credit unions offering the feature.
Homeowners/Renters Insurance
For larger purchases, such as premium smartphones, some insurance companies will let you attach a rider to your homeowners or renters insurance, which will specifically cover that purchase. Smartphones are usually covered in general by homeowners and renters insurance under the same conditions of your general insurance policy. You'll want to check with your provider to find out your options. You'll also want to find out how filing claims for your smartphone, if you don't have a rider, may impact the fees you pay for your overall homeowners or renters insurance and whether repeat claims could lead to your insurance company dropping your coverage.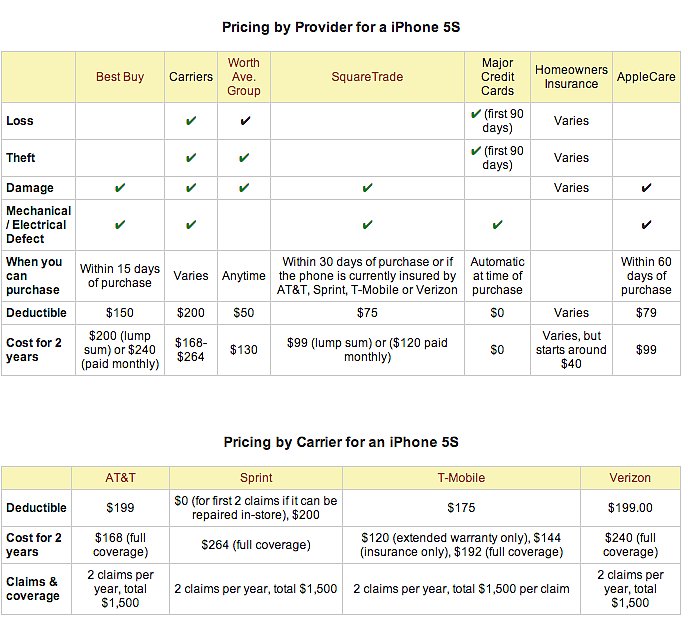 All pricing and plan data as of 9/15/2014.
Related Links
Congress Considers Law Prohibiting Retaliation For Online Reviews
The iPhone 6 is Apple's Easiest-to-Repair Phone to Date
FTC Mandates Refunds For Online Backorders Over 30 Days
Best Weather Apps For iPhone and Android
Manage What Happens to Your Online Accounts After You Die