Kim Kardashian Butt Memes
The Best Kim Kardashian Booty Memes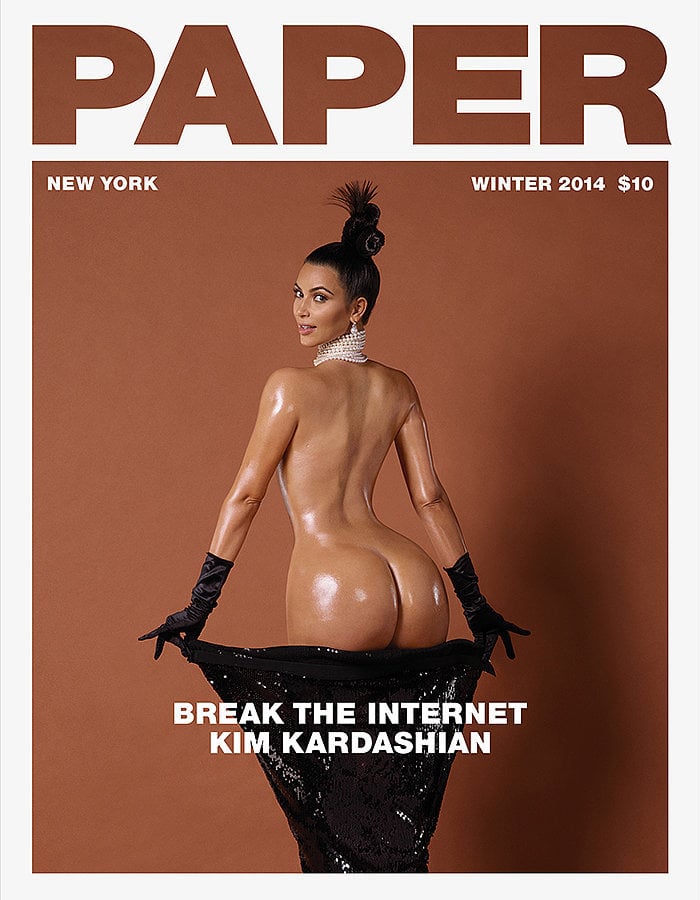 Source: Paper / Jean-Paul Goude
Kim Kardashian's oiled behind is on a mission to #BreakTheInternet. Unsurprisingly, the Internet has something to say about that — in the form of hilarious memes. After Kim's nude Paper magazine cover hit the web on Monday night, people got working on some creative photoshops. Here are our NSFW favorites. Don't forget to check out Twitter's hilarious attempt to #FixtheInternet too!
I THOUGHT Kim's magazine cover looked familiar. pic.twitter.com/7yznw1FYuM

— Matthew D'Ambrosio (@drmattdambrosio) November 12, 2014
CAN'T UNSEE. OH NO.
Hmm, interesting pose Kim Kardashian... pic.twitter.com/gUC9LcuNXX

— Ryan Broderick (@broderick) November 12, 2014
Gasp. Is it all an Illumanti conspiracy?
Bahaha. OK, *that* was clever.
The peach emoji fits perfectly. love you girl! @KimKardashian :)#PaperMagazine pic.twitter.com/kbWely5qac

— Jose Renteria (@AcrylicGenes) November 12, 2014
This Emoji was completely violated in the making of this meme.
I don't see why everyone's bashing kim..her photoshoot is fine pic.twitter.com/jeZcpHSky8

— Kardashian Gifs (@kimkgif) November 12, 2014
Wait a minute.
Turns out we really did land on the moon #BreakTheInternet pic.twitter.com/UEwn533n5s

— Conspiracy Cat (@NoConspiracyCat) November 12, 2014
This cover was just screaming for a moon joke.
The Patron Saint of Style aka Audrey Hepburn vs The Patron Saint of Vulgar aka #KimKardashian. #BreakTheInternet pic.twitter.com/uU1fEiggGn

— Esther Prade (@EstherPrade) November 12, 2014
Is this an appropriate use of pearls?
What a moment. Scientists celebrate after balancing a champagne glass on Kim Kardashian's ass pic.twitter.com/n7ST0YSdEk

— pourmecoffee (@pourmecoffee) November 12, 2014
JK. They're happy about something else totally different.
Kim Kardashian looks so much like a centaur in Paper Magazine, I figured I'd take it one step further. pic.twitter.com/Sh70yV43gE

— Kelkulus (@kelkulus) November 12, 2014
OK, sure. Kim would be one hot centaur.
If this is how Kim Kardashian serves champagne, I don't want to see how she serves Thanksgiving dinner. pic.twitter.com/opoZggsNYM

— Jonathan Doll (@jdonair) November 12, 2014
Sounds like a challenge!
Well, somebody was going to do it ... #BreakTheInternet pic.twitter.com/1u9Wqsi5tI

— AngryBritain.com (@AngryBritain) November 12, 2014
Naughty, naughty.
Is this too much? Guys, I'm sorry. Kim K, I'm sorry. #kimbutt pic.twitter.com/j56cDfdoVL

— Francis Whittaker (@frittaker) November 12, 2014
Yes, that's too much.
Kim Kardashian or glazed donut?? pic.twitter.com/J95PeQUnAO

— ayy lmao (@aayylmao) November 12, 2014
I can't tell. Which is it?
Sorry, Kanye, but Kim has the best butt of all time.
Another appropriate donut joke.
What is happening here? Whatever it is, it's disturbing.