Percy Lavon Julian Biography
Meet Percy Lavon Julian, the "Forgotten Genius" of American Chemistry
Today's Google Doodle commemorates the 115th birthday of Percy Lavon Julian, an American scientist whose laboratory breakthroughs made him one of the most notable chemists of the 20th century. As the grandson of slaves, Julian had to overcome countless obstacles in a segregated America while on the path to his career milestones. He was the fourth African-American to receive a PhD in chemistry, which was granted 11 years after graduating valedictorian from DePauw University in 1920.
His work synthesizing plant chemicals is among his greatest achievements to science. Here, a closer look at the man who pioneered countless medical discoveries.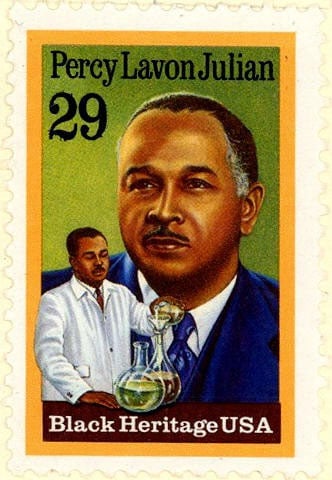 Source: US Postal Service via PBS
Natural Products Chemistry
The barriers Julian faced on account of his race made it difficult to find a university in America that would help him achieve his dream of earning a PhD in chemistry, so he sought eduction abroad at the University of Vienna, Austria. At the time in 1929, Europe was the hub of natural products chemistry, which Julian was interested in — uncovering the chemical structures of natural compounds and devising a way to synthetically re-create them.
With this education, Julian returned to DePauw and synthesized an alkaloid called physostigmine, which was used to treat glaucoma. In 1999, the American Chemical Society called this feat one of the 25 top accomplishments in the history of American chemistry.
Pioneered Soy Research
In 1936, Julian left academia to be the director of research at Glidden Company (yep, what we now know as the paint company), which was pioneering research on the chemical properties of soybean protein as a possible ingredient in paints. While there, Julian discovered how soy could be used to manufacture progesterone and testosterone.
Fire-fighting foam was also among one of his discoveries from soy protein, which was used by the military in World War II.

Source: Google Doodles
Created Synthetic Cortisone
Cortisone today treats conditions from arthritis to asthma to carpal tunnel, but in 1949 when it was first discovered, it was hailed for its help of patients with painful rheumatoid arthritis. There was a drawback to the treatment, though; it was prohibitively expensive to many. Julian set to work looking for a synthesis of cortisone in the Glidden lab, which was later able to help sufferers for a fraction of the price.
Over 100 Patents
Julian eventually left Glidden and started his own research laboratory in Chicago called Julian Laboratories, which he later sold for $2 million (a huge sum in 1960!) to Smith, Kline, and French, a pharmaceutical company. During his lifetime, Julian held over 100 patents, was named Chicagoan of the Year, and was the second ever African-American inducted into the National Academy of Sciences.
Learn more about the life of Julian in PBS's NOVA documentary Forgotten Genius below.