Shopping on Pinterest
Users Kept Asking For This Feature, and Pinterest Finally Made It Happen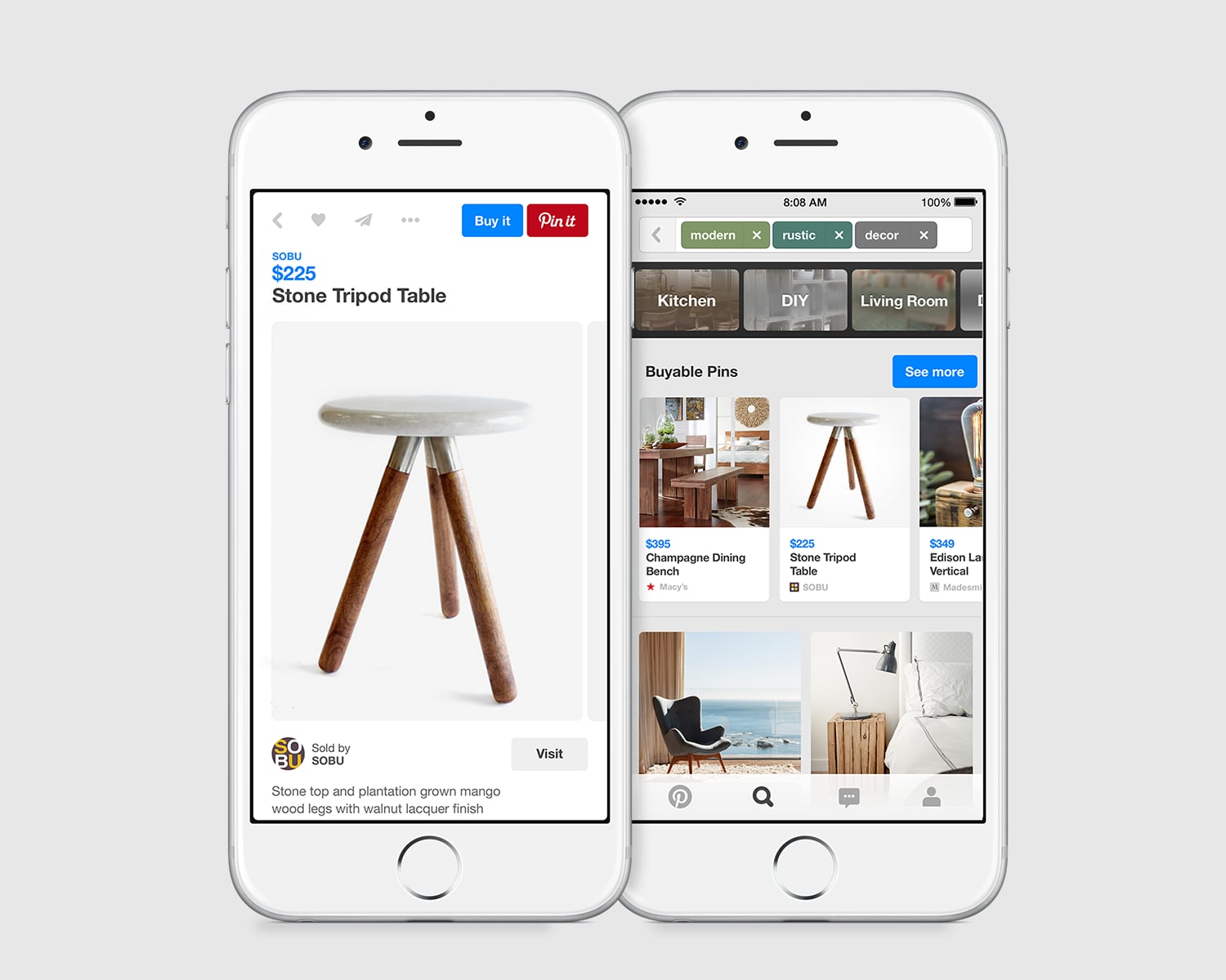 Source: Pinterest
Pinterest is officially part of the ecommerce space — its newest feature, "Buyable Pins" is here for the iPhone and iPad. This means you will be able to buy products directly from Pinterest, without ever leaving the app.
The "Buyable Pins" will appear on the iPhone and iPad app and will be integrated throughout the home feed, guided search, and recommendations. Starting today, there will be millions of products to purchase from brands like Macy's, and Nordstrom or from specialty retailers through Demandware like Kate Spade and even independent stores that currently sell their products through Shopify.
The "Buyable Pins" work pretty simply. You'll see the small blue pin on pins, tap it, pick product size, color, etc., and then pay either with Apple Pay or a credit card. The product will then ship at the same price it normally would if it was purchased directly on the product company's website. If you want to make multiple purchases, your credit card information and address will only have to be entered once. To ensure extra security with this sensitive financial information, the company announced that Stripe and Braintree will handle all payments and processing. Though this feature is currently only be available to iPhone and iPad users, it will also soon arrive to the Android and desktop versions of the website.
The move by Pinterest is a signal that the company wants to create a better shopping experience for its 70+ million users in the US, in the same vein as other ecommerce websites like POPSUGAR's own ShopStyle.
In a similar announcement, Instagram revealed in early June that it will launch buttons called "Shop Now," "Install Now," "Sign Up," and "Learn More" on its ads that promote products, ads, and services. These buttons will simply open up a new browser window within the app, so you can remain within Instagram after taking an action. For businesses, the new feature comes with an added plus, as they will also be able to target users based on their demographics and interests by tapping into the information available through Facebook profiles.


Source: Instagram
"The joy of shopping is personal — it's not just about buying things," said Ian Smith, lead product designer at Pinterest. That is definitely true for Pinterest and its users as their desire to buy tailored Pinterest boards goes from wishful thinking to reality.