Snowmageddon Social Media Reactions
Musings Getting the East Coast Through Snowmageddon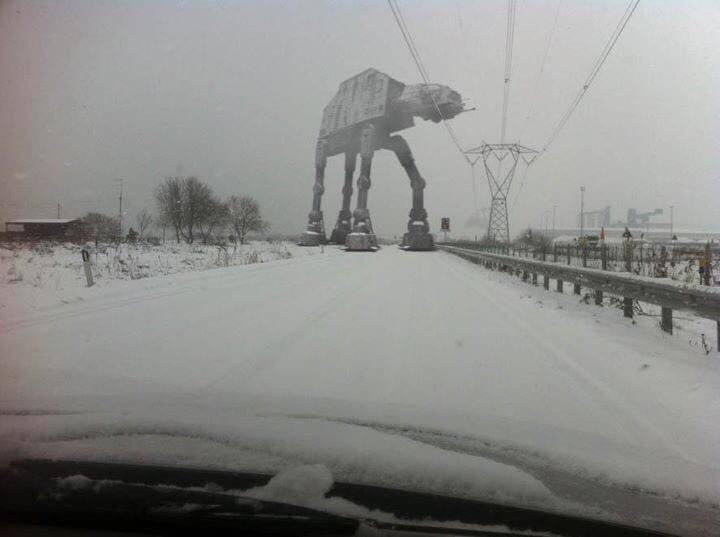 "It's not business as usual," New York City Mayor Bill de Blasio said this week about what could be the largest blizzard in the city's history. While citizens of the Northeast brace themselves to stay safe during the serious weather conditions, they're also having some fun with being cooped up. From thoughts on the amount of kale on hand to fuel morning smoothies to photoshopped Star Wars cameos, here's how East Coasters are keeping their spirits up on social media.
RT @SupermanTweets: BREAKING #BLIZZARD NEWS!!!

Just saved Earthlings from #Snowmageddon2015

You're welcome. pic.twitter.com/b1lvKAfluJ

— Eye on Politics (@EyeOnPolitics) January 26, 2015
Really wish Queen Elsa would learn to keep her emotions under control. #Snowmageddon2015

— 𝗡𝗲𝗹𝗹𝗮 𝗩𝗲𝗿𝗮 🙋🏻‍♀️ (@spinstripes) January 26, 2015
Valley Patriot Weather Forecast for the week #Snowmageddon2015 pic.twitter.com/lyN185YSEZ

— Tommy Duggan (@ValleyPatriot) January 26, 2015
Wish it would move so I can get home before the blizzard. #juno2015 pic.twitter.com/IY87MAfVJz

— David Honig (@davehonig) January 26, 2015
OH NO HAS NYC RUN OUT OF KALE?? #Snowmageddon2015

— Susan Orlean (@susanorlean) January 26, 2015
Cookies, Beer, Sonic Screwdriver, Cupcakes, Spider-Verse Comics, Batteries for Sonic Screwdriver, Orphan Black Box Set. #BlizzardChecklist

— Nerd York City (@nerdyorkcity) January 26, 2015
Ohioans be like... #Snowmageddon2015 pic.twitter.com/HvlbbindBg

— Ohio Problems (@OhioProbz) January 26, 2015
And in a few tweets that show the storm does have consequences, share these tweets reminding people to look out for their friends of all ages and species.
URGENT! Please remind everyone you know to keep their animals INDOORS! #Snowmageddon2015 pic.twitter.com/mrJ4pY9V8X

— peta2 (@peta2) January 26, 2015
#Snowmageddon2015 Be safe & look in on elderly living alone. We all need to help each other in weather emergencies. Follow @RedCross

— Marlee Matlin (@MarleeMatlin) January 26, 2015