Social Media Birthday Surprise
This Man Got The Coolest Birthday Surprise Ever With Twitter's Help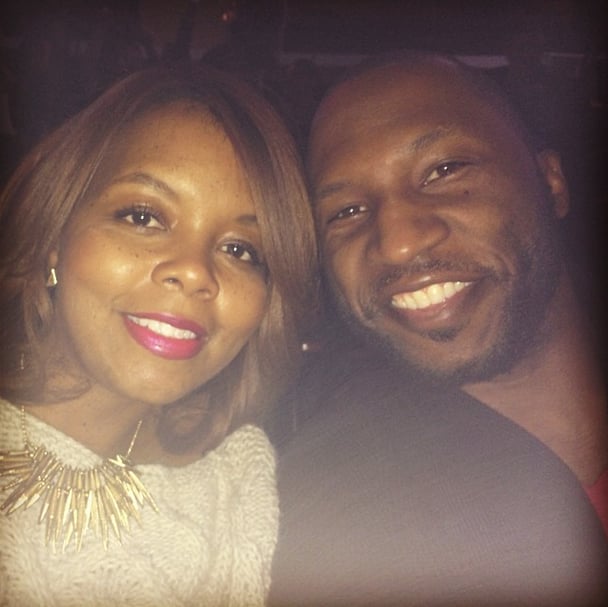 Source: Instagram user thegaryham
Last week was just business as usual for Gary G. Hamilton, a TV host and reporter for the New York Yankees. But on July 19, everything changed. Thanks to the hard work of his wife, Jennifer, and the power of social media, turning 32 became an extraspecial moment for Gary.
The magic began after his wife, Jennifer, posted fliers at subway stations around New York and its boroughs asking strangers to help give Gary his best birthday ever. "I wanted to surprise him because he always surprises me." She wrote, "I'm hoping the great people of NYC can help send some birthday cheer to my favorite person in the world."
Since Gary published an Instagram photo on July 19 explaining his surprise to receive well-wishes from perfect strangers on social media, his picture has garnered over 16,000 "likes." Scroll through to see some of the thoughtful birthday messages complete strangers shared with him, and celebrate the crazy awesome power of social media to make someone's day.
Gary's Instagram: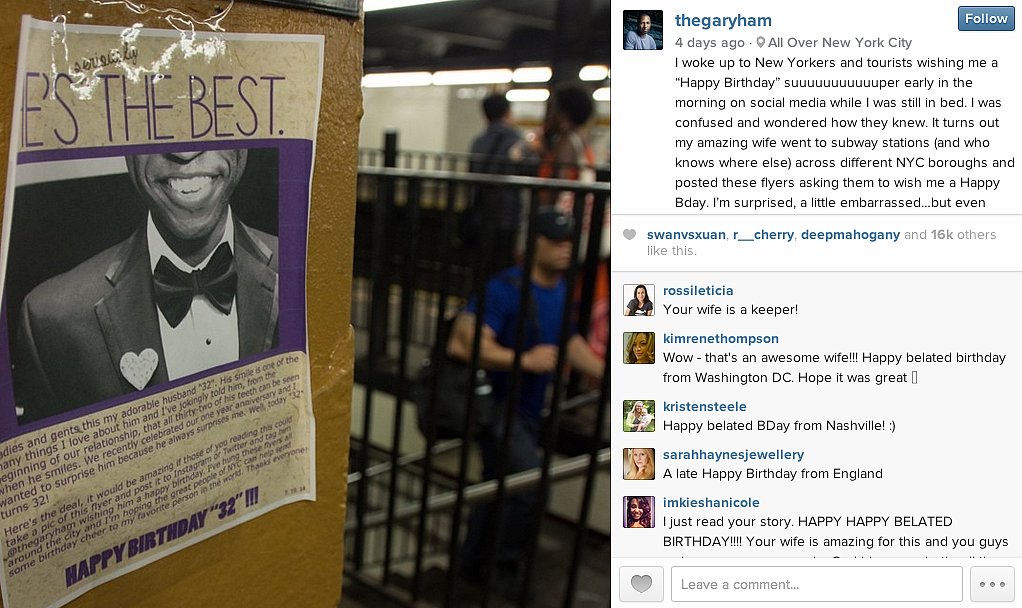 Source: Instagram user thegaryham
The Tweets:
BEST BIRTHDAY PRESENT EVER!!! http://t.co/jqMnFUV00K @thegaryham #birthday #surprise #happybirthday #IloveNY #amazing #blessed #thegaryham

— Gary G. Hamilton (@GaryGHamilton) July 19, 2014
Saw this and thought it was too cute... HAPPY BIRTHDAY @thegaryham !!! You have an awesome wife!!! pic.twitter.com/ImpLz5AJ0g

— Phoebe Rea (@phoebekrea) July 19, 2014
@thegaryham happy BDay! Saw this on the 135th St 2/3 line platform in Harlem pic.twitter.com/RITmDRmueD

— Souleo (@Souleo) July 19, 2014
Happy birthday from Barclay Center! @thegaryham pic.twitter.com/jWAqHudmMM

— Roohi Choudhry (@brooklynstani) July 19, 2014
@thegaryham Happy Birthday from Penn Station! pic.twitter.com/2BILvhN84x

— Tim Hicks (@TimeHikes) July 19, 2014