ThredUp Goody Boxes Secondhand Thrift Shopping Review
ThredUp Goody Boxes Will Change Everything You Thought You Knew About Thrift Shopping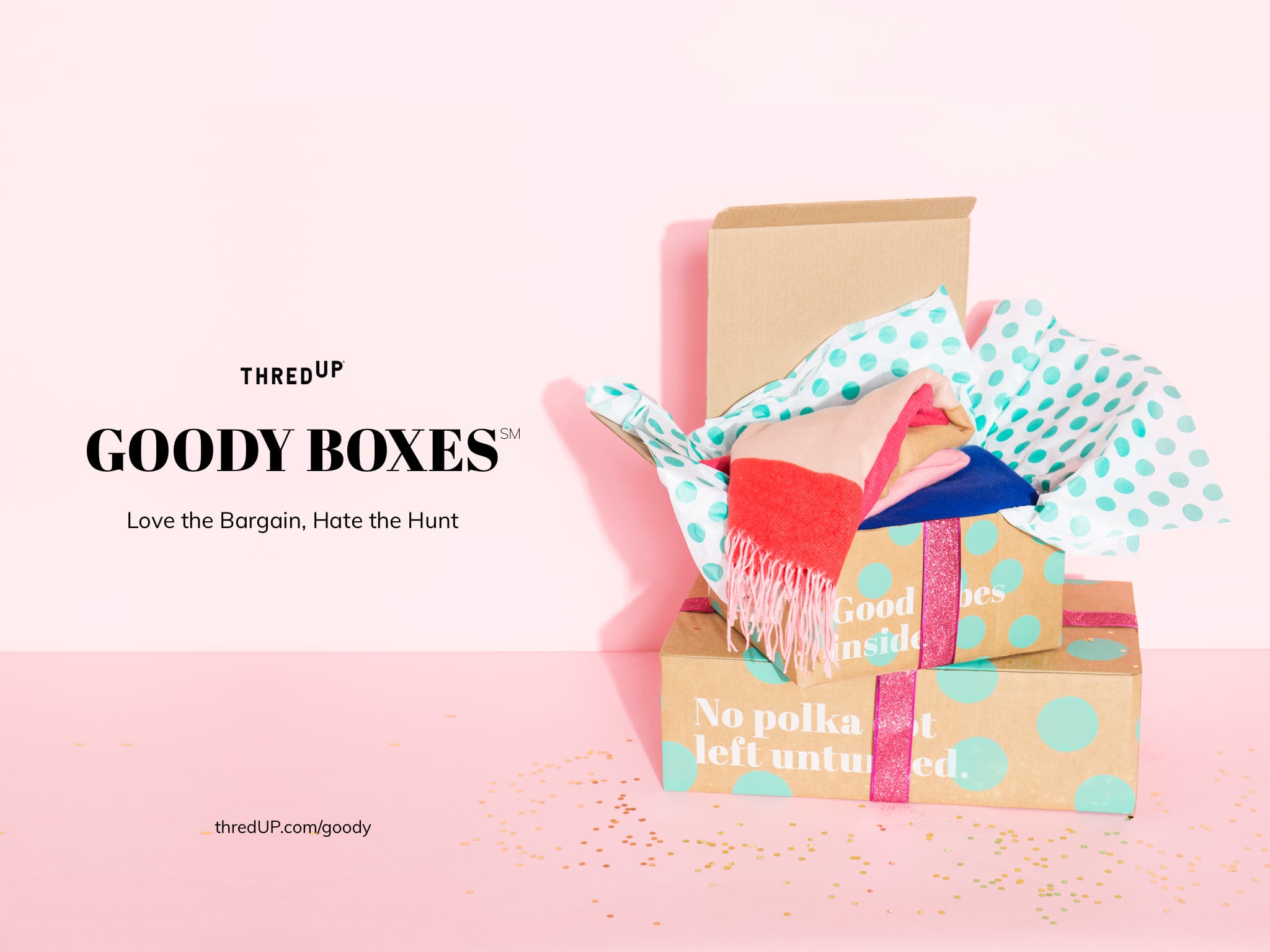 Technology can be one hell of a glorious thing. Thanks to the supersavvy innovations of the last few decades, some of the most aggravating, time-consuming tasks faced by modern womankind have been transformed into a recurring iPhone reminder and a few simple clicks of a mouse. And now one of the biggest time sucks in history joins the ranks of "things made way easier by technology": thrift shopping.
On Dec. 12, online thrift-and-consignment giant ThredUp launched Goody Boxes, a streamlined way to make firsthand style out of secondhand goods. Here's how it works: You take a quick quiz about your personal style and the brands you love, which is then processed through an algorithm that scans 35,000 brands and over 2 million items to come up with the pieces that fit you best. Then you choose how many items you want to include in your box (10 to 20, all of which get up to an 80 percent discount), and the in-house ThredUp stylists sign off on the items that they think you'll love the most. It's worth noting here, too, that you can choose the type of box you want — from "work wear" to "fancy," it's all covered in individual boxes available for purchase.
Once you've completed that process, the box is then shipped straight to you for final approval — and you have seven days to decide what you love and must have, and what you can absolutely live without. The best part? The whole process costs $20! That includes the initial shipping, the return shipping of the items you don't want (with an easy-to-use prepaid label), and a $20 credit that goes against the total price of the items that you ultimately decide to keep.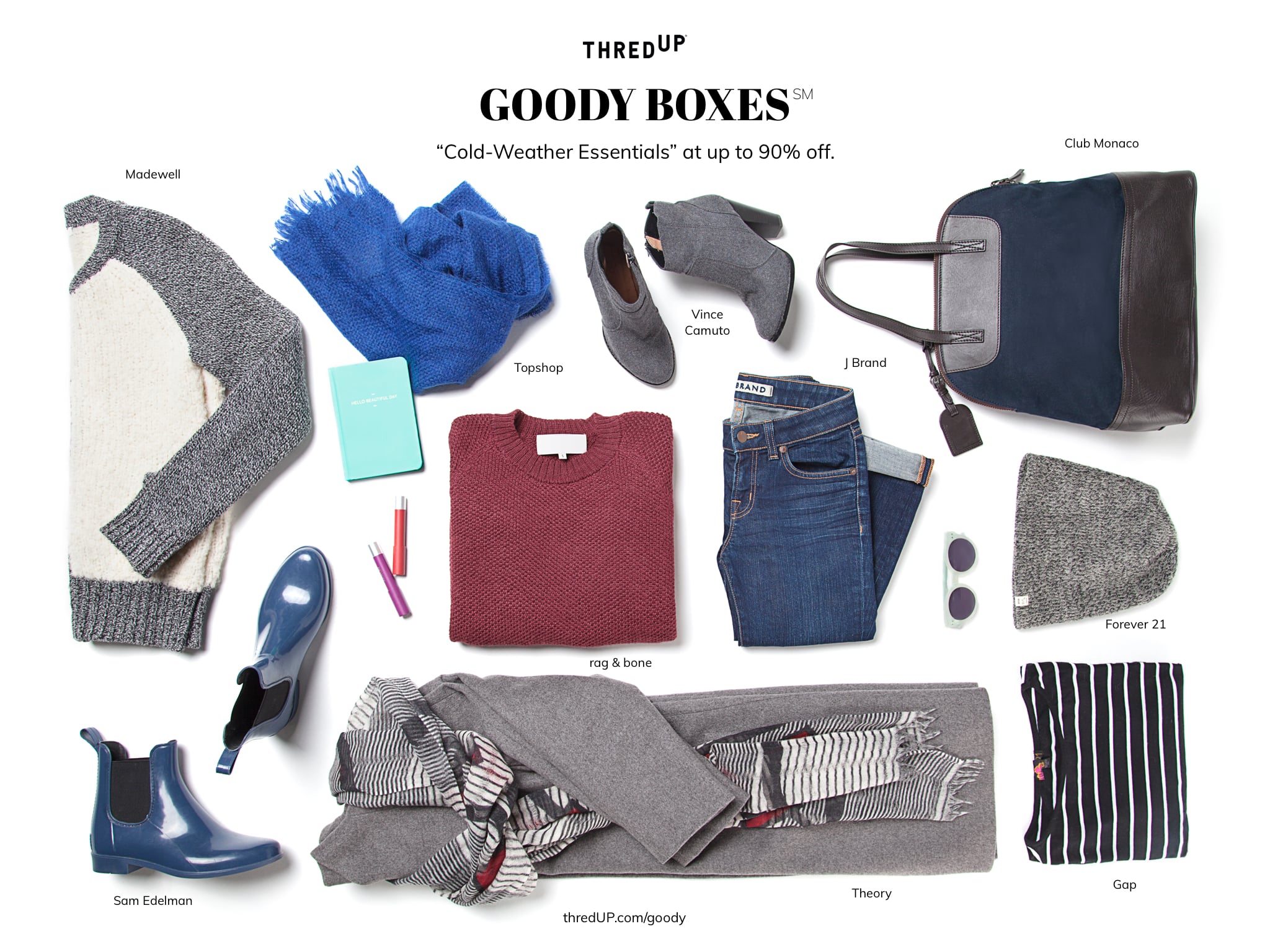 In the lead-up to the Goody Boxes launch, I gave the "work wear" box a spin. It was delivered in just one day, straight to my office and chock full of amazing thrift-store finds that would have taken hours — if not days — to find in stores or online. Inside the packaging, I found a mix of brands: an Alice + Olivia blouse, a funky French jumpsuit, a little black dress from J. Crew, and a pair of sensible Cole Haan flats alongside a Kate Spade purse. In other words: it was the perfect combination for a mini in-home fashion show before it was time to make real decisions.
While half of the items I received were not the right fit for me — although maybe in my dreams! — everything was reasonably priced and in perfect condition, and I wound up keeping quite a lot of what was sent in the box. Most importantly, though, the whole process was thrilling — one that I would recommend to anyone who loves to shop the secondhand circuit but just can't find the time. My tl;dr? The concept had me sold from the get-go, but the fact that I was sent a like-new version of my favorite Michael Kors coat that I had desperately been trying to replace was the real clincher.
Ultimately, not knowing what you're going to get makes it exciting, but giving the information that can best tailor the products to you makes it a thoroughly enjoyable experience. And for just $20, what do you have to lose? You, too, might find exactly what you're looking for — and it's all just a few clicks away.
Image Source: ThredUp