What Do Spotify's Purple Ads Mean?
It's Official: You Can Finally Stream Prince's Music on Spotify and Apple Music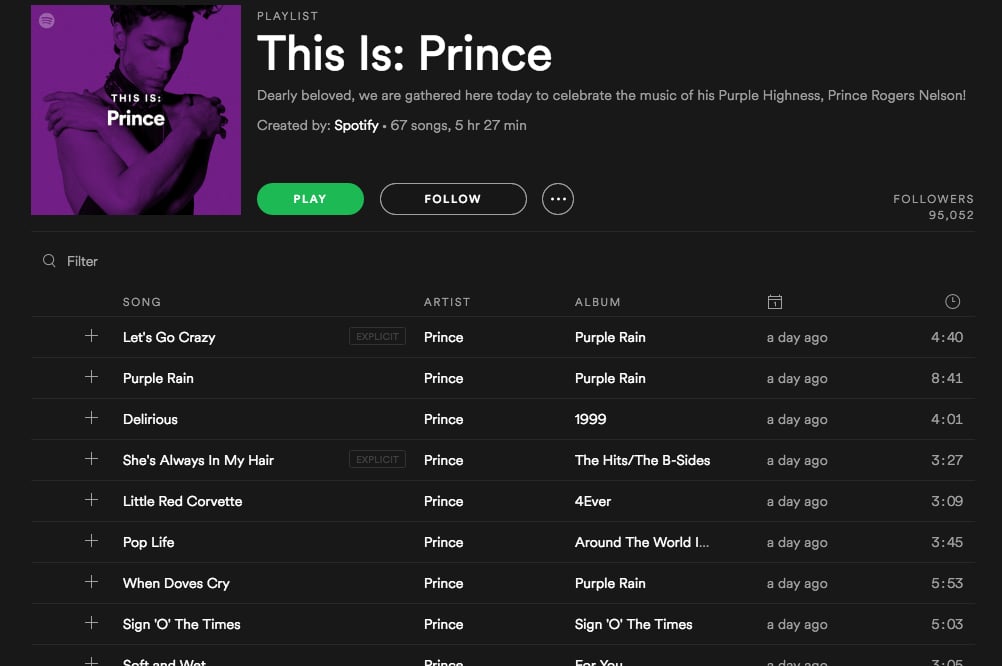 Update:
It's official. After weeks of speculation about those purple Spotify ads, it's been confirmed that Prince's discography is now available on the streaming service. It's also available on Apple Music.
Original story:
If you've encountered one of Spotify's advertisements within the last week, chances are you scratched your head and assumed they were unfinished. The ads feature a bright purple hue with no words except the streaming service's logo in the corner. They've recently flooded cities like New York and London, leaving people wondering: What's the deal? What on earth is this even promoting?
An intriguing purple @Spotify banner has appeared at London's Spitalfields Market @Goodstuffers @TalonOOH @InfinityOutdoor ??? pic.twitter.com/DXaBsth59z

— Roy (@_iR0Y) January 30, 2017
It turns out they might be alluding to the music service nabbing the streaming rights to Prince's jams. This isn't the first time we've heard buzz about the late singer's music being released to streaming services; Billboard reports that Spotify's ads are likely hinting at his music becoming available by the time of his Grammys tribute on Feb. 12, 2017. Prince and the color purple go together like peanut butter and jelly, so these ads really couldn't be making it any more obvious.
We reached out to a Spotify representative for comment but have not received confirmation on the speculations yet. While we await their response, we're crossing our fingers that we can soon jam to "Little Red Corvette" on our morning commute.
Image Source: Giphy