What Is Oculus Rift?
"It's Like Teleporting" — Facebook Buys Virtual-Reality Maker Oculus
Facebook announced Tuesday it would acquire virtual-reality innovator Oculus VR, creator of the Oculus Rift headset, for $2 billion, broken down as $400 million in cash and 23.1 million Facebook shares. Oculus is arguably the strongest company currently in virtual-reality technology, with the Oculus Rift having tallied over 75,000 orders for development kits from those interested in creating applications for the headset.
The purchase of Oculus comes just a month after Facebook purchased messaging app WhatsApp for $19 billion. What makes the world of augmented reality something the social network would be interested in? "Oculus has the chance to create the most social platform ever, and change the way we work, play and communicate," Facebook CEO Mark Zuckerberg said in the company's press release.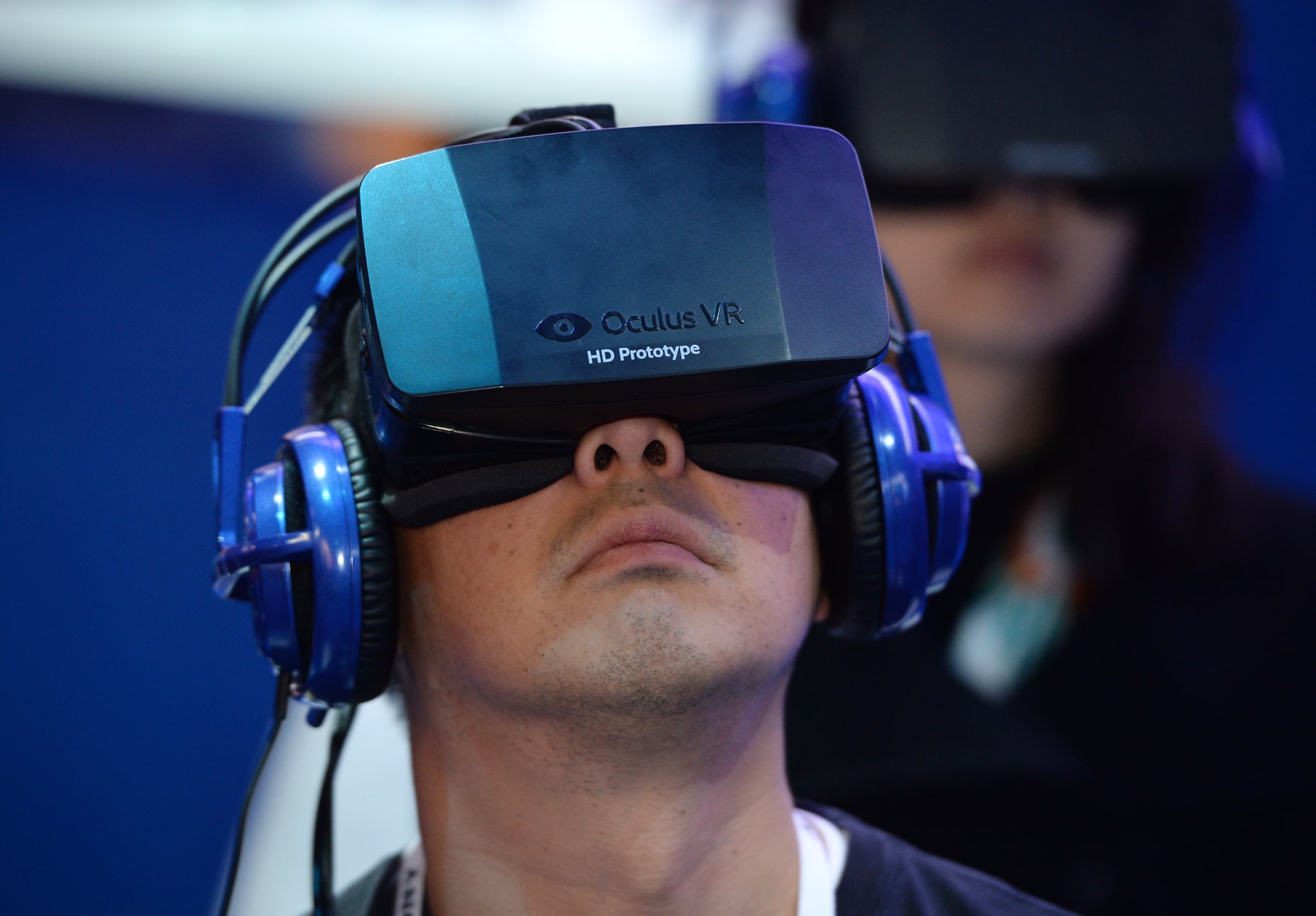 Source: Getty / Robyn Beck
If this is the first you've heard of Oculus Rift, get the who, what, and where on what Zuckerberg calls "the next generation in computing platforms" below.
How Rift Works
The Oculus Rift headset creates a stereoscopic 3D experience with a 110-degree field of view, so you don't see the screen, even though it's only inches from your eyes. Currently available for PC only, the Rift headset has developed something of a cult following in the gaming community thanks to a better augmented-reality experience compared to earlier similar technologies. The Rift has improved the lag between head movement and screen movement that causes nausea in some users. Rift's known for its superfast visual updates even as you move your head from one direction to the other, allowing for queasiness-free play.
How Will Facebook Use Oculus?
Until Facebook's announcement, the Oculus Rift had been primarily thought of as a video game device. But, in a statement on his Facebook page, Zuckerberg said he envisions the technology having future uses far beyond gaming. "Imagine enjoying a court side seat at a game, studying in a classroom of students and teachers all over the world or consulting with a doctor face-to-face — just by putting on goggles in your home," he wrote. Facebook on Oculus Rift could one day be a communications platform, where instead of telling you a friend got engaged over the weekend, it virtually brings friends into the celebratory toast that happened just moments after the proposal.
During a conference call shortly after the acquisition was announced, Zuckerberg said the technology was like teleporting, an idea the team at Oculus also seems to believe in. "Our ambition for consumers is total immersion, a world where you almost can't tell the difference" between virtual and reality.
The Founders
Meet Palmer Luckey, the 21-year-old inventor of Oculus Rift, who told Business Insider last year that he dropped out of the journalism program at California State University, Long Beach to invent the virtual-reality headset out of his garage. Luckey had already been taking math classes at a local community college (when he was 14!) and worked as an engineer at the University of Southern California, all before the age of 21.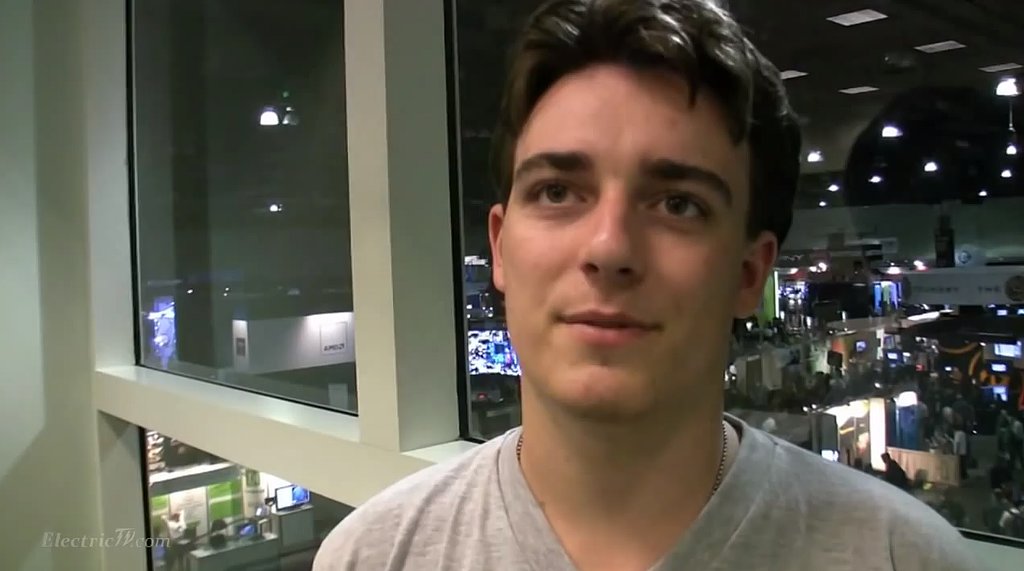 Source: YouTube user electrictv
Oculus counts its cofounders as Brendan Iribe and Michael Antonov, also cofounders of Scaleform, a gaming software developer; as well as Nate Mitchell, currently VP of product for the company. A San Francisco office is on the way for Oculus, but its headquarters is located in Irvine, CA, with a satellite office in Dallas.
Kickstarter Success Story
In 2012, Oculus made a buzz online, raising $2.4 million on Kickstarter for Rift, with $1 million of that coming in the first 36 hours of the campaign. Early backers received the headset for $300, while the current developers kit costs $350.
Competitors
Just last week at the Game Developers Conference in San Francisco, Sony announced its answer to the virtual-reality headset, Project Morpheus. It's made specifically for the PlayStation 4 and has an HD 1080p LCD display that utilizes its own sensors, plus the PlayStation Camera, to track head movement. Unlike the Oculus Rift, Morpheus can pair with the PlayStation Move, a handheld motion controller, which would let the player physically wield a weapon and swashbuckle during gameplay.
At CES this year, we saw another VR headset debut: the Mark IV from GameFace Labs. Unlike the Rift, Mark IV works independently of other devices, for a wireless experience. But some users who experienced the GameFace Labs handset in person noted feelings of nausea, a side effect rarely reported on Rift.
So What Can We Do With Rift Now?
Well, for one, you can tour Jerry Seinfeld's apartment. You can also use Rift to control a Lunar Lander via cockpit and play a superimmersive version of Half Life 2. The company recently upgraded its hardware with a new OLED that reduces motion blur and judder, since that gives most wearers motion sickness. The 960-by-1080-per-eye display now has improved clarity, color, and contrast. Oculus's new development kit (DK2) can be preordered for $350.
We visited Oculus Rift's Game of Thrones experience at SXSW earlier this month, which was a virtual-reality journey to the edge of the show's famed (and terrifying) Wall. Watch below for a look at Oculus Rift in action.
— Additional reporting by Nicole Nguyen