Zombie Yourself
How to Look Like a Zombie Without Ever Putting on a Costume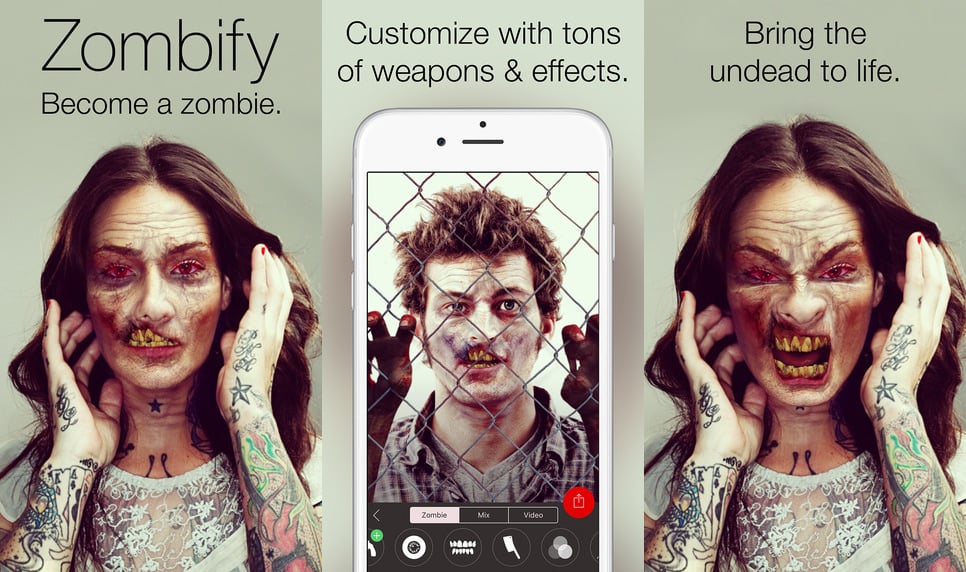 No makeup, costume change, or full moon is necessary to transform yourself into a terrifying werewolf or a stomach-churning zombie. Thanks to a little tech magic, you can incite fear in your friends with chilling photo effects that look a little too real, and then take their photos to zomb-ify them, too! Have a blast this Halloween with these six creepy photo apps for iOS, Android, and the web.
iOS Apps
Zombify (free) — Enter this photo booth as human, exit as zombie. Play with different effects like adding a weapon or different photo effects and even make the image animated.
Monster Booth HD ($1) — Turn photos into vintage horror film-style, sepia-toned images of zombies, werewolves, vampires, hunchbacks, aquatic beasts, or Frankensteins. The terrifying creatures are set against different eerie, mythical backgrounds, as frightening as the monsters themselves.
Android Apps
Zombify (free) — Take a photo or add one from your camera roll — then zombify! Send your gruesome portrait to friends and family, or share it on Facebook, Instagram, and other apps.
Monster Booth Lite (free) — Let the app's auto setting monsterfy photos or do it manually with photo distortion tools that scrunch, blow up, or warp parts of your face, rendering a headshot unrecognizable.
Websites
Make Me Zombie (free) — From the makers of MakeMeBabies and In20Years comes the latest in photo manipulation web technology: Make Me Zombie! Upload a photo and the site turns it into a green grotesque, bloody monster that you can then cheerfully share with friends.
PhotoFunia: Zombie (free) — If you don't want to deal with picking and choosing effects, this website will do it for you. Just upload a photo and you're set to look like a zombie, complete with a head bandage.