POPSUGAR Photography | Renee Rodriguez
POPSUGAR Photography | Renee Rodriguez
As POPSUGAR editors, we independently select and write about stuff we love and think you'll like too. If you buy a product we have recommended, we may receive affiliate commission, which in turn supports our work.
The first time I saw the Apple AirPods Max Headphones, I was scrolling through TikTok binge-watching videos late on a Thursday. One of my favorite fashion influencers was wearing them while strolling on a "hot girl walk," and I was immediately intrigued. Over the next few weeks, I started seeing more and more of my favorite influencers wearing the headphones, and even models Bella Hadid and Hailey Bieber were seen sporting them in paparazzi photos. When my boyfriend purchased a pair, I knew I had to get them; so I hit "add to cart," and the rest is history.
I won't lie to you: I wanted these headphones purely for aesthetics. I usually prefer earbuds that sit in my ears, and I've never been a huge fan of over-the-ear headphones; however, this product definitely changed that.
The Apple AirPods Max are over-ear headphones made with a stainless-steel frame wrapped in a mesh-textile cushioning and a knit-mesh canopy that sits over your head. The ear cushions themselves are made with acoustically engineered memory foam, which is what seals the headphones to your ear and allows for great sound. All of this sounded great, and of course I knew they looked great, but were they actually great? Keep reading for my unfiltered opinion.
What I Like About the AirPods Max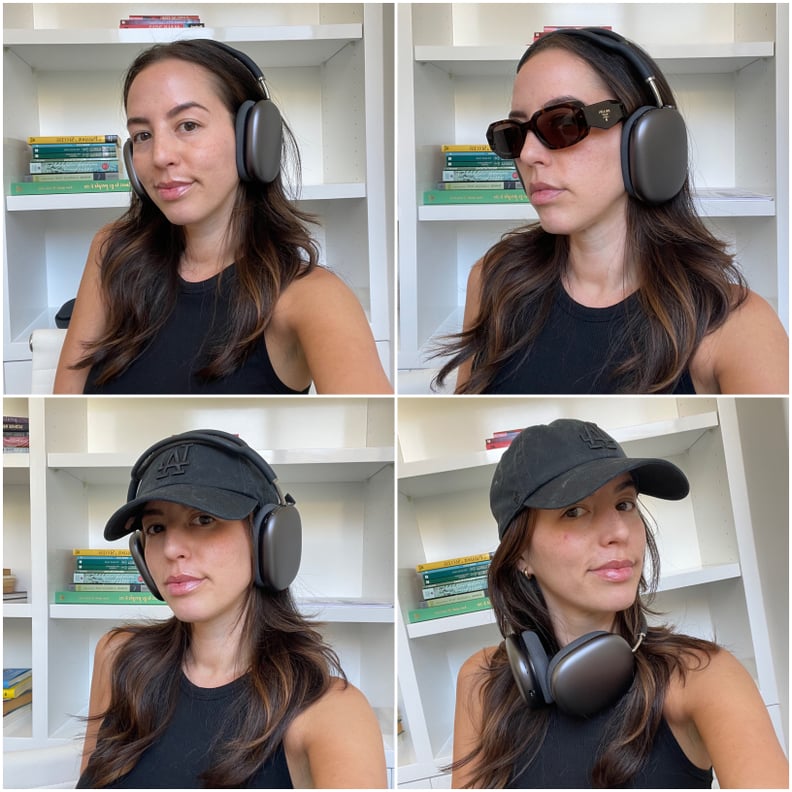 We've already covered the fact that I purchased these solely for the aesthetics, so let's get to the other things I love about them since these headphones have a lot to write home about. First and foremost: the sound. The sound on the AirPods Max is extremely clear — I've never had any issues with music sounding far away or "tinny." I can hear every single word of Death Cab For Cutie's "Title and Registration" as if Ben Gibbard himself were singing into my ears. The headphones also have a "Digital Crown" button where you can control the volume, answer phone calls, skip music, and use Siri. I love that I don't have to pick up my phone every time I want to turn up the volume.
Another thing I don't have to pick up my phone for? Messages. The headphones have a feature that allows Siri to read your text messages to you, and you can even respond back with voice activation. I love this feature because it allows me to be completely hands-free while I'm on a walk or working out.
I also wear these headphones a lot while I'm working, so the fact that they have noise cancellation is definitely key. The feature can easily be switched on and off with the press of a button that sits on the ear cups. For further proof that the noise cancellation works, please see the below screenshot of a text conversation between my boyfriend and me.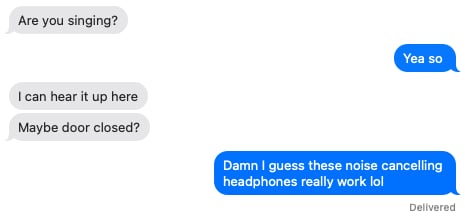 Plus, the battery lasts forever. Granted, I'm not using these headphones nonstop throughout the day, but I use them at least once a day for a few hours, and I only find myself needing to charge them once or twice a week, which makes sense since Apple promises 20 hours of listening.
What's Worth Noting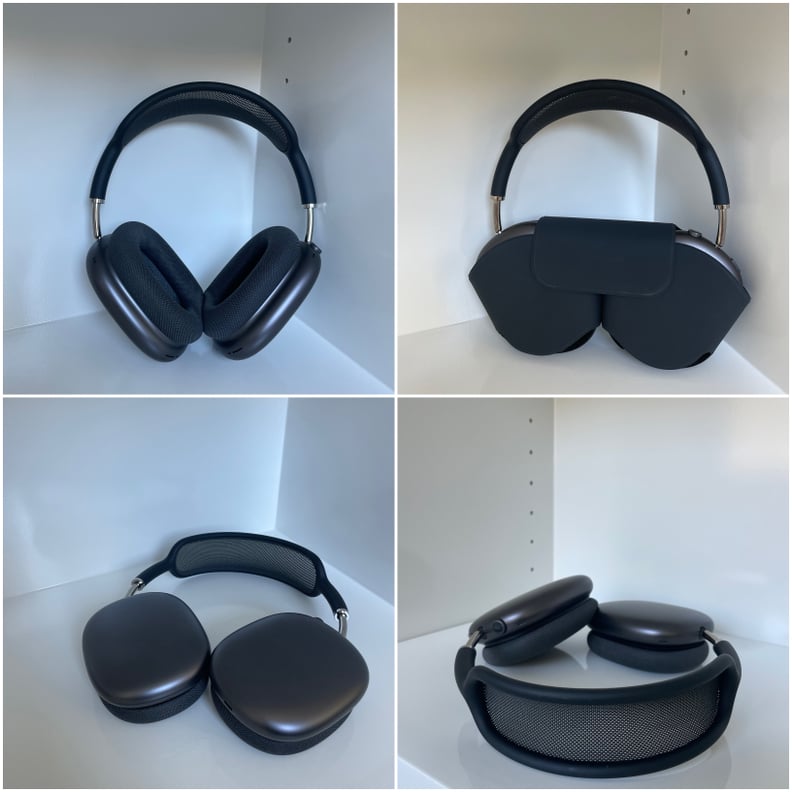 These headphones come with a hefty $549 price tag, so I wouldn't recommend purchasing them purely for aesthetic value (although they are really cute). If you plan on wearing them a lot, the cost per wear definitely makes them splurge-worthy. However, besides the exorbitant price, there are a few other things worth taking note of before you whip out your credit card.
I'm someone who occasionally likes to listen to music very loud, and the max volume on these headphones doesn't go as high as I would like. Although Apple has that feature in place to protect our hearing, I would appreciate if the volume went up one or two notches higher.
The headphones are available in five colors: silver, black, blue, red, and green. I own the black, and I haven't had any issues with staining or my headphones getting dirty, but I have seen other reviewers note that the lighter colors tend to get dirty quickly.
And lastly, these are definitely "full-coverage" headphones. They cover the entire ear and a lot of the space around it, which means that wearing larger earrings or sunglasses with these headphones — while possible — isn't entirely comfortable.
Who Are the AirPods Max Best For?
I would recommend these to anyone who cares about sound quality and aesthetics and is looking for a product with tons of features. The headphones are gorgeous, and the sleek design is miles better than any other headphones I've seen on the market recently. Plus, if you're someone who likes to go hands-free often, these headphones allow you to listen to music, respond to text messages, and be on the phone all while your iPhone is in the next room over.
Are the AirPods Max Worth the Splurge?
If you have the budget and you're looking for a product that seamlessly marries functionality and looks, then yes, these headphones are worth the splurge. The sound quality truly can't be beaten, and the headphones are extremely user friendly. The headphones have a lot of key features I haven't seen on similar products, so if you're looking for a pair with all the bells and whistles, these are definitely it.
Where Are the AirPods Max Available?
You can purchase the AirPods Max from Amazon ($479), Best Buy ($479), Target ($479) or directly from Apple ($549).
Rating
★★★★☆