As POPSUGAR editors, we independently select and write about stuff we love and think you'll like too. If you buy a product we have recommended, we may receive affiliate commission, which in turn supports our work.
I know I'm not the only person who bought things since the pandemic started I wouldn't have even thought of purchasing before (from that rechargeable hand warmer to dine outside in 40-degree weather to a new comfy cushion for my not-so-comfy desk chair). Now, most of these things still serve their original purpose, but there's one item I picked for a very specific situation . . . that I now regularly use for something else entirely.

Let me back up to last summer when I was renting a Spin bike from a Manhattan cycling studio. As cute as it was to stack boxes on my counter and balance my laptop on top, it wasn't the most permanent — or stable — hack. Then, while shopping for a keyboard lift, I noticed a gooseneck tablet stand under related products on Amazon, ordered one, and used it to mount my iPad for those Zoom fitness classes. Instead of tossing this after I upgraded to Peloton, I started using it for an activity that happened to require the exact opposite amount of exertion: watching TV while lying in bed.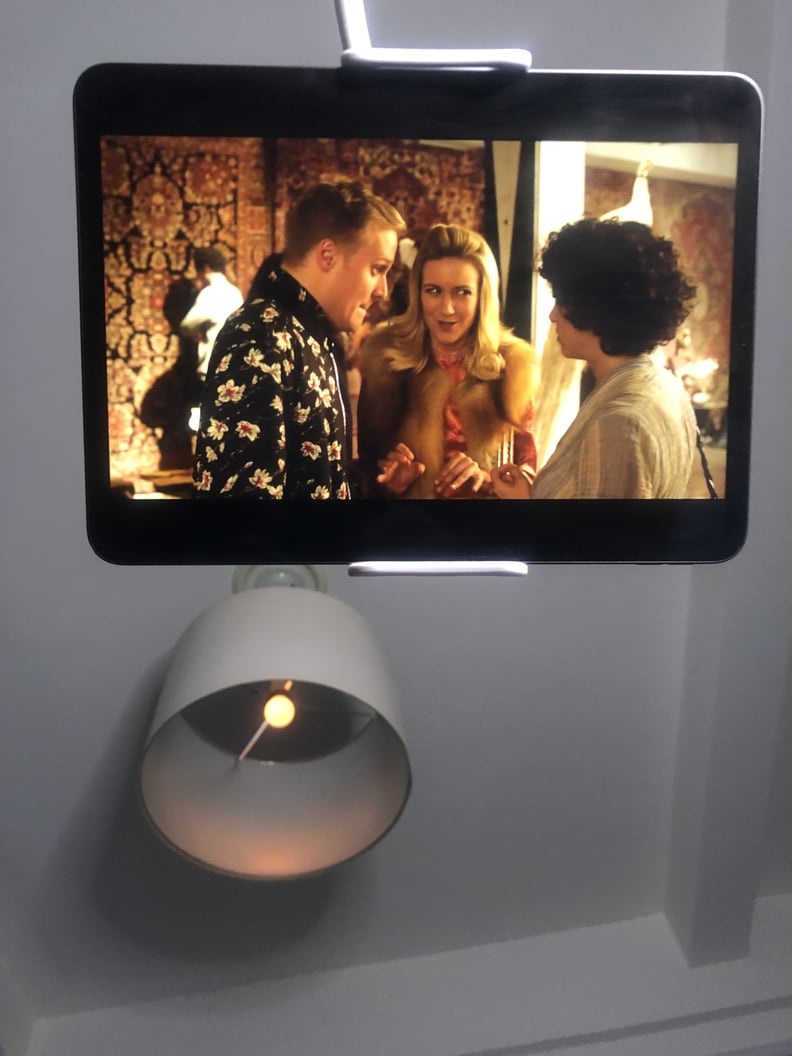 Streaming, Cooking, and More Ways to Use This Tablet/Phone Stand
I don't have a television in my bedroom . . . but there are definitely times when I want to be watching TV while lying down. And, even though I love my little couch, it can get pretty uncomfortable by episode three, and is still nowhere as cozy as a bed.

That's where a Tryone Gooseneck Mount comes in. This stand has a clamp that expands up to three inches, so it easily slips and tightens onto my headboard, and I love positioning this right above my head so I can lie on my back to stream to my heart's content. Plus, it fits both my iPhone and iPad Pro (and would fit any other device with a diagonal dimension from four to 10.6 inches).

But, how else can it be used?! I originally thought most people wouldn't use it for exercising, but I saw reviews mentioning cardio workouts and even clamping it to a treadmill, too. I've also personally used it while baking, so I could see a recipe without worrying about flour — or liquid — getting onto my device.

This product could also be attached to a restaurant table for small children, or for gamers who want to play a Nintendo Switch without holding the whole console. Plus, it could extend a screen on your desk, or be used to easily record TikToks and video-chat with friends, too. The possibilities are virtually endless — as long as the object you're mounting it to is skinnier than three inches, of course.

The exact one I have comes in white or black, or there's one with an even longer arm for just a couple dollars more, all ahead.
Tryone Gooseneck Mount Holder/Stand Compatible with Tablets and Phones — Black (27.5-inch)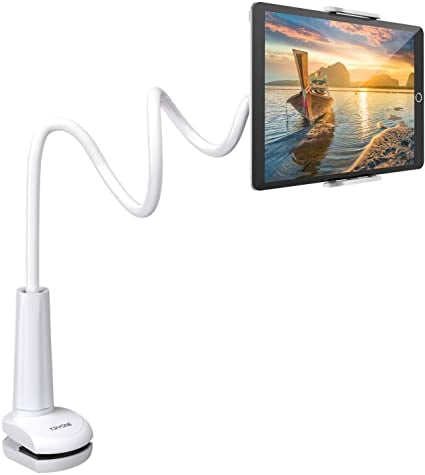 Tryone Gooseneck Mount Holder/Stand Compatible with Tablets and Phones — White (27.5-inch)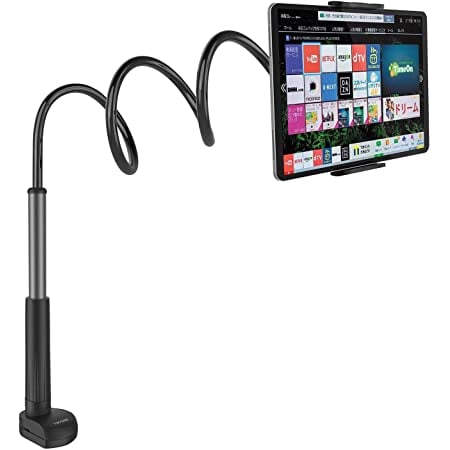 Tryone Gooseneck Long Mount Holder/Stand Compatible with Tablets and Phones — Black (37.3-inch)