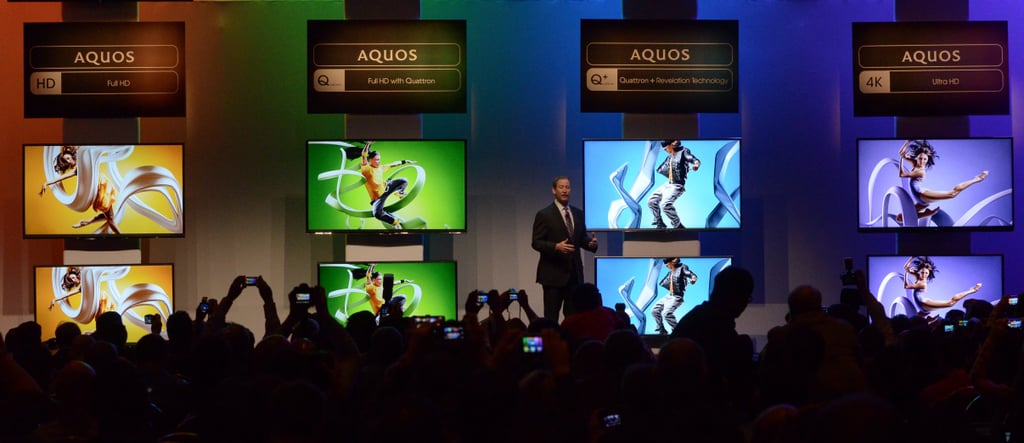 According to Sharp, the company has placed over 2 million big-screen (60 inches and larger) TVs in living rooms over the last six years. Each of the below LED TVs come equipped with Sharp's SmartCentral platform, which puts cable, satellite, and streaming services in one hub. Users can also watch TV and use the web at the same time in a split-screen mode. While the Quattron line of TVs isn't 4K, the company says its proprietary Quattron technology allows it to be among the highest HD resolution available today.
AQUOS 4K Ultra HD Series — This 4K resolution television process 2160p video on 60- and 70-inch screen sizes from a silver-brushed solid aluminum exterior bezel. Each unit is 3D-ready with two Bluetooth 3D glasses in the box. It's all about those extra pixels with this TV, as it's four HDMI inputs are 4K and HDMI 2.0 compliant. The two screen sizes are $5,000 and $6,0000 (get saving!).
AQUOS Quattron+ (Q+) Series — Sharp says the Q+ series televisions are the highest resolution full HDTV currently on the market and are created future-ready to broadcast the 4K content most other current HDTV models are unable to handle. All Q+ TVs are packed with four 4K-ready HDMI inputs and two USB ports for any entertainment peripherals. They're 3D-ready and come packaged with two Bluetooth 3D glasses.
UQ Line — With titanium-brushed aluminum bezels on the 60-, 70-, and 80-inch screen sizes, the "U" in the UQ Q+ line definitely does not stand for "understated." Shipping in March 2014, the UQ line — which has THX certification — will range in price from $3,000-$6,000.
SQ Line — The SQ line of the Q+ series has a silver-brushed plastic bezel available in two screen sizes: 60- and 70-inch. Shipping in February, they're expected to cost $2,300-$3,100.
AQUOS Q Series — Available in two screen sizes, 60- and 70-inch, the black-plastic-bezeled Q Series is the entry point of Sharp's Ultra HD TVs, priced between $1,700 and 2,700.
AQUOS HD — Sharp's 1080p HD line comes in some jaw-dropping sizes starting in Spring 2014; 60-, 70-, 80-, and 90-inch screens will vary in price from $1,300-$9,000. The 90-inch screen is 3D capable with glasses.