Women Rescued by US Navy After 5 Months Lost at Sea
Watch the Emotional Moment 2 Women Were Rescued After 5 Months Lost at Sea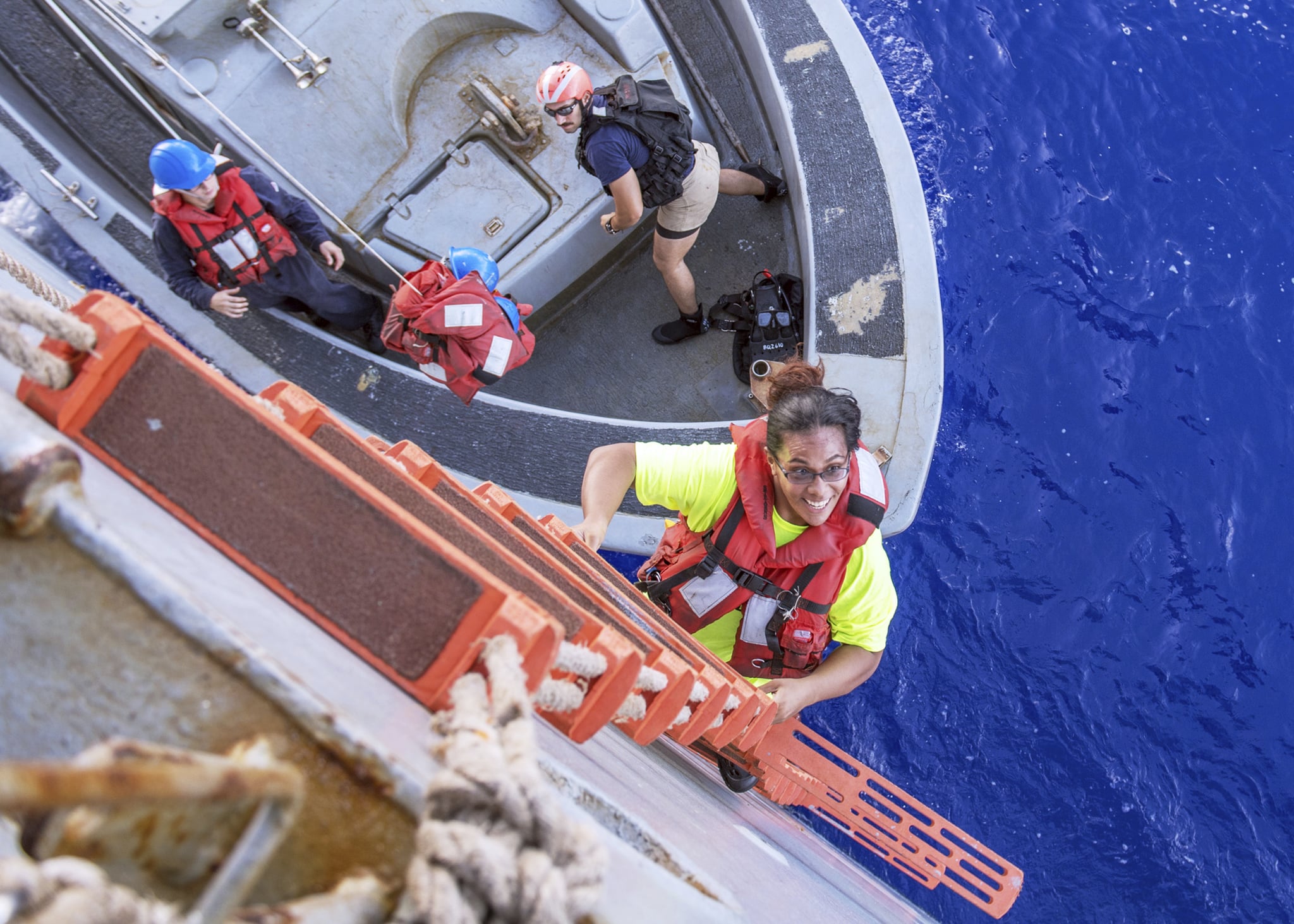 Back in May, two women set off on the 2,600-mile journey from Oahu to Tahiti, accompanied by their two dogs, Zeus and Valentine. In preparation for the trip, the vessel was stocked with a water purifier and enough dry foods to last them a year. On Oct. 25, Jennifer Appel and Tasha Fuiava were rescued by the US Navy after surviving two horrifying shark attacks and a staggering five months being completely lost at sea.
In the early days of the trip, bad weather caused the boat to lose its engine — and things only got worse from there. The women attempted to use the boat's sails after the engine was lost but were soon left to drift in the open ocean once the boat's mast also broke. And as if being stranded at sea wasn't terrifying enough, the sailors also faced multiple attacks by tiger sharks during the treacherous five-month period
Speaking to Today, Appel described the chilling moment she hid her dogs from encroaching sharks. "I went downstairs with the boys and we basically laid huddled on the floor and I told them not to bark because the sharks could hear us breathing. They could smell us," Appel recounted. She says she credits the boat's strong hull with their ultimate survival.
After they sent distress calls for 99 consecutive days without response, a Taiwanese fishing boat finally spotted Appel and Fuiava. Following an unsuccessful attempt at towing their badly damaged vessel, the Taiwanese crew contacted the Coast Guard in Guam, who came to the rescue. You can watch the emotional moment the USS Ashland successfully rescued the women and their dogs below.
📺🔊: #USSAshland rescues two mariners and their dogs stranded in Pacific Ocean for months - https://t.co/u4ntPRLtHL via @Amphib7FLT pic.twitter.com/t7e50EwTjt

— U.S. Navy (@USNavy) October 26, 2017
When asked whether the harrowing ordeal has dampened her love for sailing, Appel gave an inspiring response. "Well, you gotta die sometime," she said, adding wisely that "you may as well be doing something you enjoy when you're doing it."