Easy Cream-Less Asparagus Soup Recipe
Soup's On: Asparagus Soup
Like us on Facebook
Spring is just around the corner, and I don't know about you, but I can't wait! I got so excited when I saw asparagus at my local grocery store that I instantly grabbed some. However, the weather here in San Francisco is pretty chilly, and instead of making a salad, I decided to use the asparagus in a brilliantly colored soup.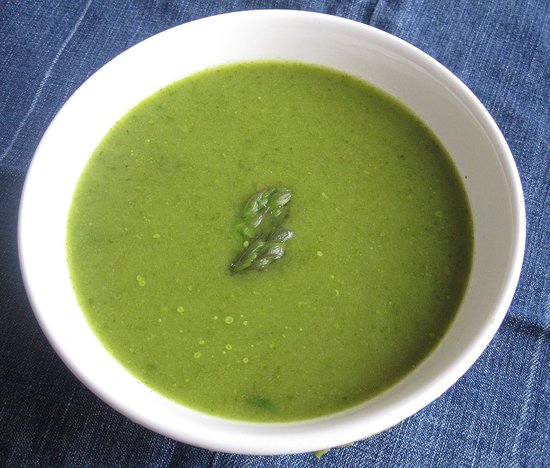 The simple recipe highlights the pure, clean flavor of asparagus. There's no cream, so it's a pretty thin and relatively healthy soup. The addition of red pepper flakes gives it just the right amount of heat. It's the perfect soup to serve at a St. Patrick's Day-themed dinner! Get the recipe and
.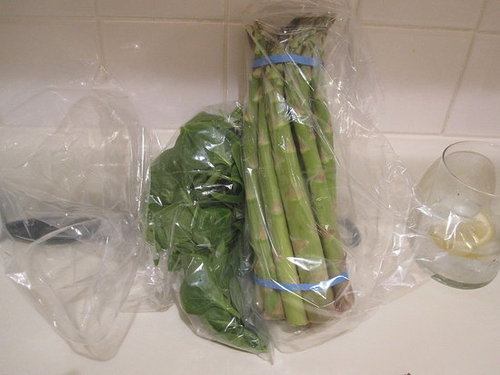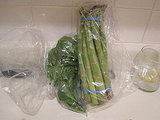 Ingredients
1/4 cup extra-virgin olive oil
1 large shallot, thinly sliced lengthwise
Pinch of crushed red pepper flakes
Coarse salt
1 pound asparagus, trimmed, chopped, tips reserved
4 cups homemade chicken stock or store-bought low-sodium canned chicken broth
1 cup loosely packed spinach leaves
Directions
In a medium saucepan, heat 2 tablespoons oil over medium-high heat. Add shallot, red pepper flakes, and a pinch of salt. Cook, stirring occasionally, until shallots are tender and just beginning to brown, about 5 minutes.
Add chopped asparagus, and cook for 1 minute. Stir in broth and 1 cup water; bring to a boil. Reduce heat to a simmer; continue cooking until asparagus is tender, about 15 minutes.
Meanwhile, prepare an ice-water bath. Fill a medium saucepot with water and bring to a boil. Add salt, return to a boil, and add asparagus tips. Cook until just tender. Transfer asparagus tips to ice-water bath; let cool about 1 minute. Drain and set aside.
Remove from heat; add spinach.
Using an immersion blender, puree soup while drizzling in remaining 2 tablespoons oil. Return to heat and cook until heated through; season with salt. Divide soup evenly between 4 bowls, garnish with asparagus tips, and serve immediately.
Serves 4.
Information
Category

Stock/Broth, Soups/Stews

Cuisine

North American