Emeril's Best Spinach Artichoke Dip Recipe
My Quest For the Best Spinach Artichoke Dip
In 2003, I attended a Super Bowl party where I had an amazing and different spinach artichoke dip. It was super creamy, rich, and flavorful, and I suspected that the spinach was fresh instead of frozen. It was the best spinach artichoke dip I've ever tasted. I ate far too much of it and asked the host for the recipe. He said he found it on Food Network.

However, there are 38 spinach artichoke dip recipes on Food Network, and I had no clue which one the host used. So I started to make spinach artichoke dips and hoped my tastebuds would lead me to the correct recipe.

It took me six years and 10 spinach artichokes dip recipes, but I finally found it. One bite of this chunky melted dip and I knew instantly: this is the dip I've been waiting for! Turns out it's an Emeril Lagasse recipe, and the secret ingredients are brie and bacon. It you want to kick your classic spinach artichoke dip up a notch, I highly recommend you make this variation.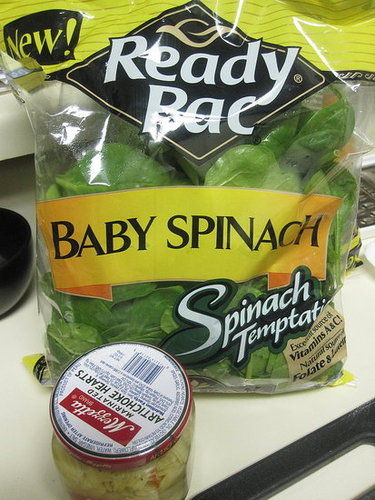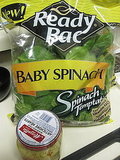 Ingredients
2 (10-ounce) packages fresh spinach, well rinsed and stems trimmed
4 tablespoons unsalted butter
1 cup chopped yellow onions
1 tablespoon minced garlic
1 teaspoon salt
1/2 teaspoon ground black pepper
1/4 teaspoon cayenne
1/4 cup all-purpose flour
1 cup milk
1 cup heavy cream
2 teaspoons fresh lemon juice
1 cup 1/2-inch cubes rindless Brie
1 cup grated Monterey Jack
1 (6 1/2-ounce) jar marinated artichoke hearts, drained and chopped
4 strips bacon, fried crisp, drained and chopped
1/4 cup grated Parmesan
Assorted chips for dipping (pita chips, tortilla chips, bagel chips)
Directions
Preheat the oven to 350 degrees F. Lightly grease a 9-inch round chafing dish and set aside.
Bring a medium pot of water to a boil. Add the spinach in batches and cook until wilted, 2 to 3 minutes. Remove and refresh under cold running water. Squeeze to remove all excess water and chop. Set aside.
In a medium pot, melt the butter over medium-high heat. Add the onions and cook, stirring, for 3 minutes. Add the garlic, salt, pepper, and cayenne, and cook, stirring, for 1 minute.
Add the flour and cook, stirring constantly, to make a light roux, about 2 minutes. Add the milk and cream in a steady stream, and cook, stirring constantly, until thick and creamy, 2 to 3 minutes.
Add the cooked spinach and lemon juice, and stir to incorporate. Add the cubed and grated cheeses, artichoke hearts, and bacon, and stir well.
Remove from the heat and pour into the prepared dish. Top with the Parmesan and bake until bubbly, about 10 minutes. Remove from the oven and serve hot with chips.
Serves 6-8.
Information
Category

Appetizers, Dips

Cuisine

North American