Homemade Thin Mints
12 Days of Edible Gifts: Homemade Thin Mints
We are so excited to kick off our fourth annual 12 Days of Edible Gifts series, where we'll share delicious ideas for holiday gift giving. Stay tuned over the next 12 days for lots of tasty recipes and pretty packaging!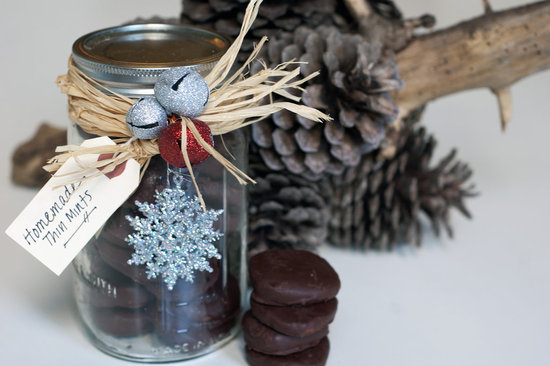 What's the second most wonderful time of the year? I'd argue that it has to be Girl Scout cookie season. This year, gift your friends with homemade Girl Scout cookies. Thin Mints were always one of my favorites from the Girl Scout cookie collection. This recipe for homemade Thin Mints is a tasty take on the packaged cookie version, and the best part is that they are a cinch to whip up! Package them in a mason jar with pretty, wintry details, or in a cellophane bag, tied with a big bow. Find the recipe when you keep reading!
Ingredients
For cookies:
2 1/4 cups all-purpose flour
1/4 cup cornstarch
6 tablespoons unsweetened cocoa powder
1/2 teaspoon salt
1 cup sugar
1/2 cup butter, room temperature
1/3 cup milk (any kind)
1/2 teaspoon vanilla extract
3/4 teaspoon peppermint extract
For chocolate coating:
10 ounces dark or semisweet chocolate
1/2 cup butter, room temperature
Directions
If you can't locate peppermint extract, peppermint flavor will work well, too.
Make cookies: In a small bowl, whisk together the flour, cornstarch, cocoa powder, and salt.
In a large bowl, cream together the butter and sugar. With the mixer on low speed, add in the milk and extracts. The mixture will look curdled. Gradually, add in the flour mixture until fully incorporated.
Shape dough into two logs, each about 1 1/2 inches in diameter. Wrap in plastic wrap and freeze for at least 1–2 hours, until dough is very firm.
Preheat the oven to 375ºF.
Slice the dough into rounds not more than 1/4 inch thick — if they are too thick, they will not be as crisp — and place on a parchment-lined baking sheet. The cookies will not spread very much, so you can put them quite close together.
Bake for 13–15 minutes, until the cookies are firm at the edges. Cool cookies completely on a wire rack before dipping in chocolate.
Make chocolate coating: In a microwave safe bowl, combine chocolate and butter.
Melt on high power in the microwave, stirring every 45–60 seconds, until chocolate is smooth. Chocolate should have a consistency somewhere between chocolate syrup and fudge for a thin coating.
Put it all together: Dip each cookie in melted chocolate, turn with a fork to coat, then transfer to a piece of parchment paper or wax paper to set for at least 30 minutes, or until the chocolate is cool and firm.
Reheat the chocolate as needed to keep it smooth and easy to dip into.
Makes 3 1/2 to 4 dozen cookies.
Information
Category

Cookies, Desserts