Slow Cooker Carnitas Recipe
Get Excited For Cinco de Mayo With Slow-Cooked Carnitas
Like us on Facebook
When it comes to Mexican cuisine, there's nothing quite as satisfying and succulent as carnitas. Delicious in everything from soft tacos to nachos to quesadillas, the juicy pulled pork dish is one of my absolute favorites.

A traditional carnitas recipe consists of pork shoulder that's simmered in lard for a long period of time; the resulting meat is shredded and literally melts in your mouth. With my new found love for the slow cooker and Cinco de Mayo around the corner, I recently decided to make carnitas. This variation is seasoned with chipotle chiles, orange juice, and beer.

I served the savory pork as an appetizer on top of mini soft corn tacos, but feel free to enjoy it however you want. The leftovers made an amazing quesadilla. Learn the super easy technique — seriously, you dump the ingredients in a slow cooker and that's it! — when you

.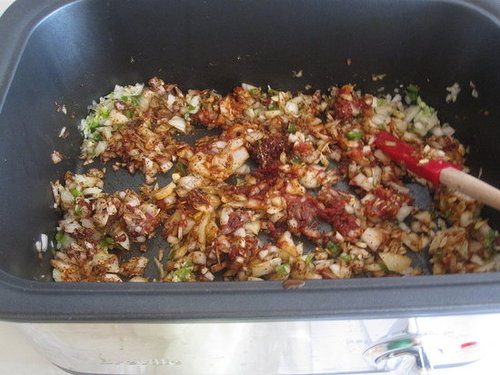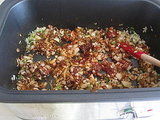 Ingredients
1 onion, diced
4 cloves of garlic, minced
2 tablespoons chopped chipotles in adobo
1 fresh jalapeño chiles, seeded and diced
1 teaspoon ground cumin
1/2 teaspoon dried oregano or Sazon Mexican seasoning
2 to 3 lb. boned pork butt or shoulder, cut into chunks
1 can (12 ounce) light beer
1/4 cup fresh-squeezed orange juice
1 cup beef broth
Salt and pepper
Directions
Combine the onion, garlic, chipotles, jalapeños, and seasonings in a crockpot. Stir well.
Add the pork and toss with the vegetables and spices. Pour in the liquids. Season the entire mixture generously with salt and pepper.
Cover and cook on high for 6 hours.
Remove roast from slow cooker and let cool. Shred pork, using two forks to pull meat apart. Return pulled pork to slow cooker and stir to combine with veggies, chipotles and juices.
Serves 10.
Information
Category

Pork, Main Dishes

Cuisine

Mexican