Taco Bell [1] rolled out its all-new breakfast menu this morning, debuting items like the AM Crunchwrap, the waffle taco, breakfast tacos, breakfast burritos, and Cinnabon Delights. Though it took three trips to various Taco Bell locations (for the record, Taco Bell Express and KFC/Taco Bell are not participating), I finally made my way across the Bay Bridge to an Oakland location to snap, scrutinize, and share what the real Taco Bell breakfast menu looks and tastes like.
One of Everything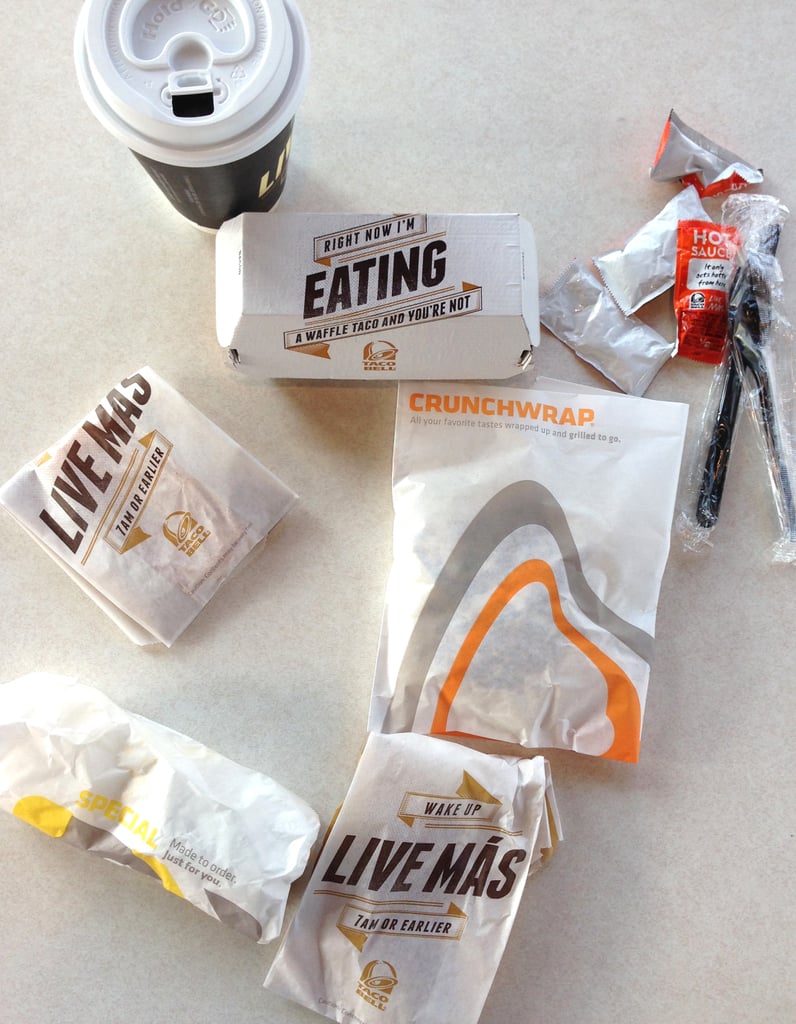 Outside the Taco Bell, inviting wafts of Cinnabon floated in the air. Inside, it was completely empty. For being the nearest Taco Bell in the San Francisco Bay area, this surprised me. Where are all the die-hard fans? I approached the cashier and ordered one of every item on the menu. Despite this seeming excessive, the kind Taco Bell employee barely blinked an eye. Six food items and a coffee cost a grand total of $12.15 plus $1.09 in tax. You can feast like a king for pennies!
As I waited for my items, I attempted to sip on the coffee ($1.49). As a coffee drinker, I enjoy a McDonald's coffee once in a while and expected Taco Bell to follow suit. Like McDonald's, Taco Bell will ask how you take your coffee, with cream or sugar. I said no to both, but what a mistake that was! The coffee is boiling hot and smells burnt. And, sure enough, when it cooled to a drinkable temperature, it tasted like tar. I should have just gone for a 9 a.m. Coke. What was I thinking?!
The AM Crunchwrap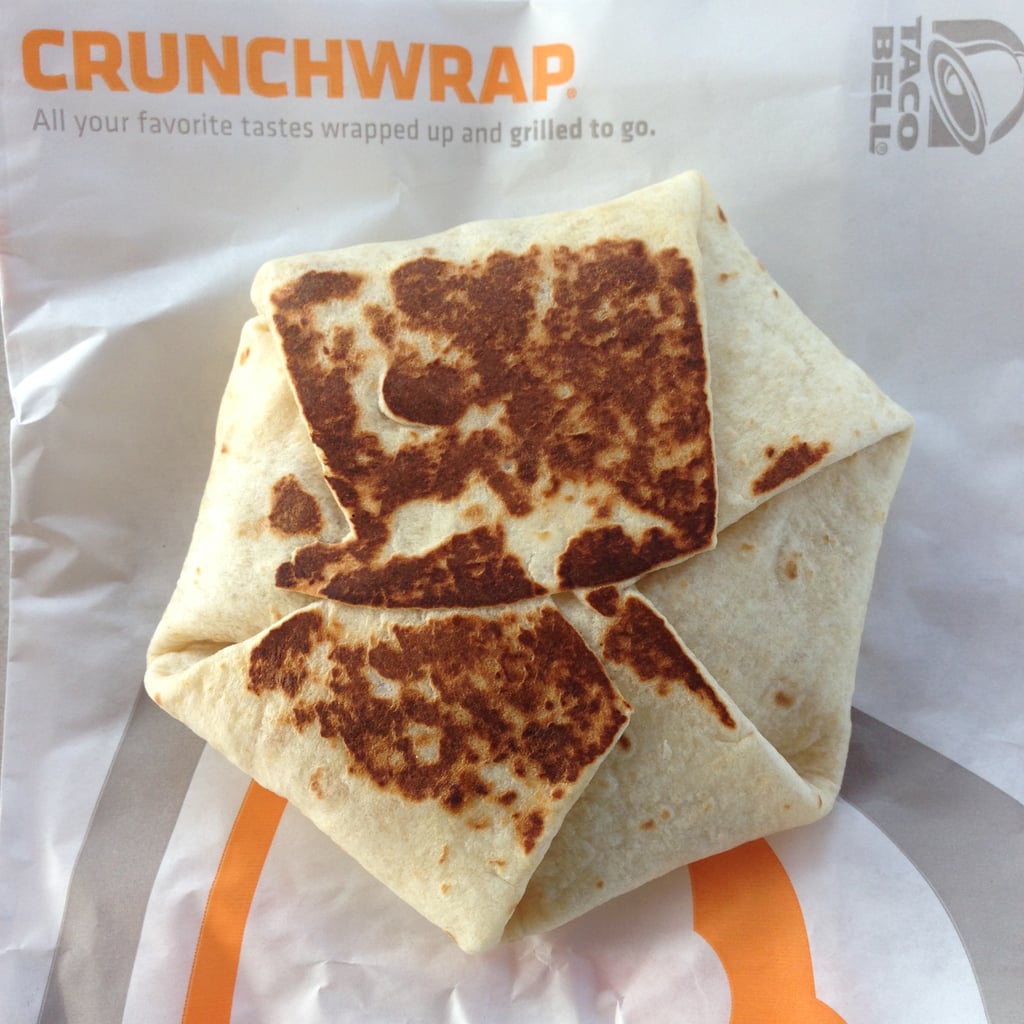 The AM Crunchwrap ($2.59) comes in bacon, sausage, or steak.
Bacon AM Crunchwrap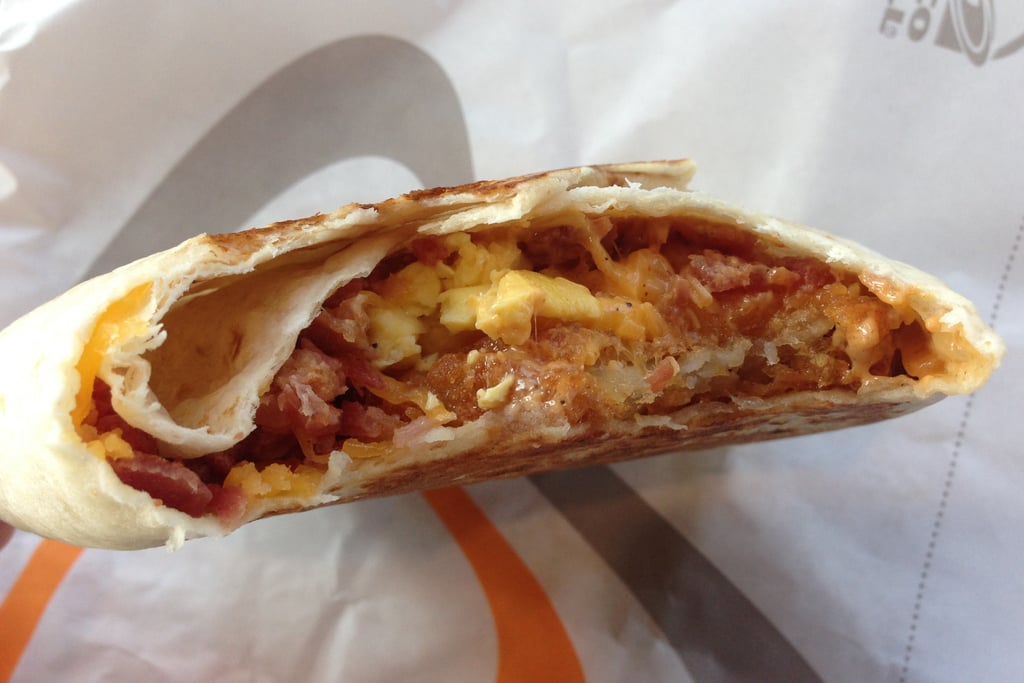 I opted for bacon. A grilled tortilla envelope paved the way to fluffy, fresh-tasting scrambled eggs, a crunchy hash-brown bottom, salty bacon bits, melty cheese, and a mysterious spicy cream sauce. In other words, the most perfect hangover cure. Though the bacon is more like beef jerky shards, the Crunchwrap is undoubtably delicious. I ate the whole thing and considered ordering a second.
Waffle Taco
The waffle taco ($1.99) comes in bacon or sausage and an envy-inducing box to promote social sharing [2].
Waffle Taco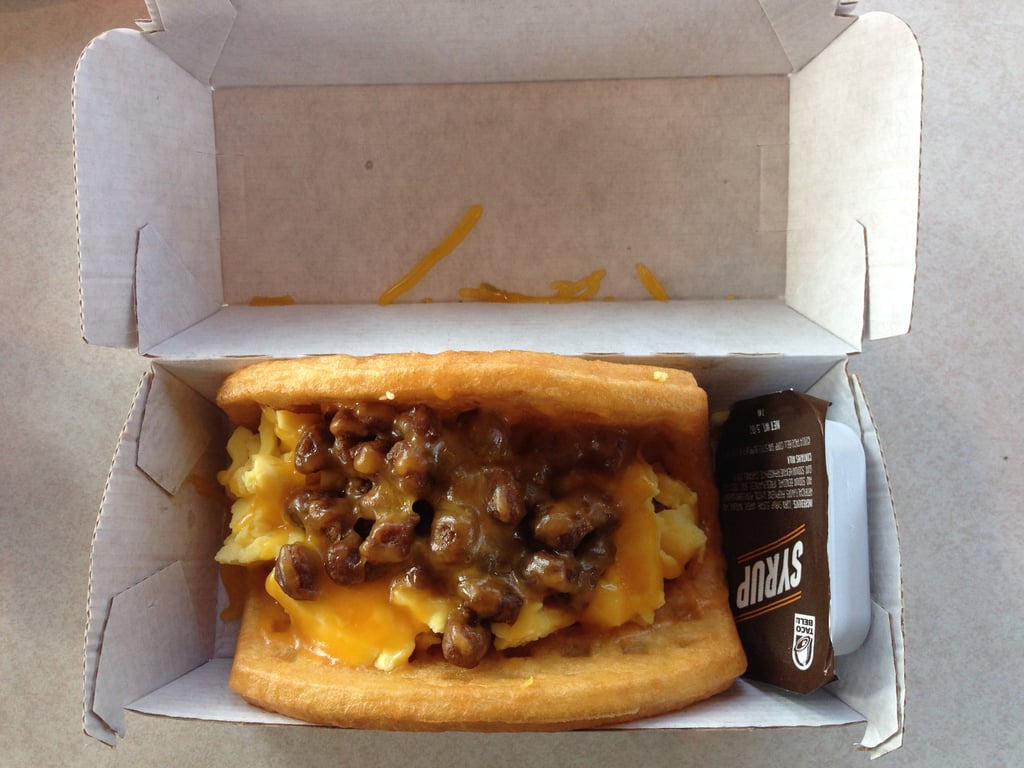 I ordered the sausage. Instead of the sausage wrapped up alongside the waffle as promoted in all the advertisements [3], little bean-looking sausage bits are sprinkled on the top, which, frankly, does not look very appetizing. And the taste doesn't deliver either. It's like a greasier Eggo waffle packed with chewy sausage. The eggs and cheddar are completely overshadowed. The waffle taco alone tastes more sweet than salty, and adding the syrup is unnecessary. If you are expecting a McGriddle, don't order this. Go across the street to the McDonald's drive-through instead.
Breakfast Burrito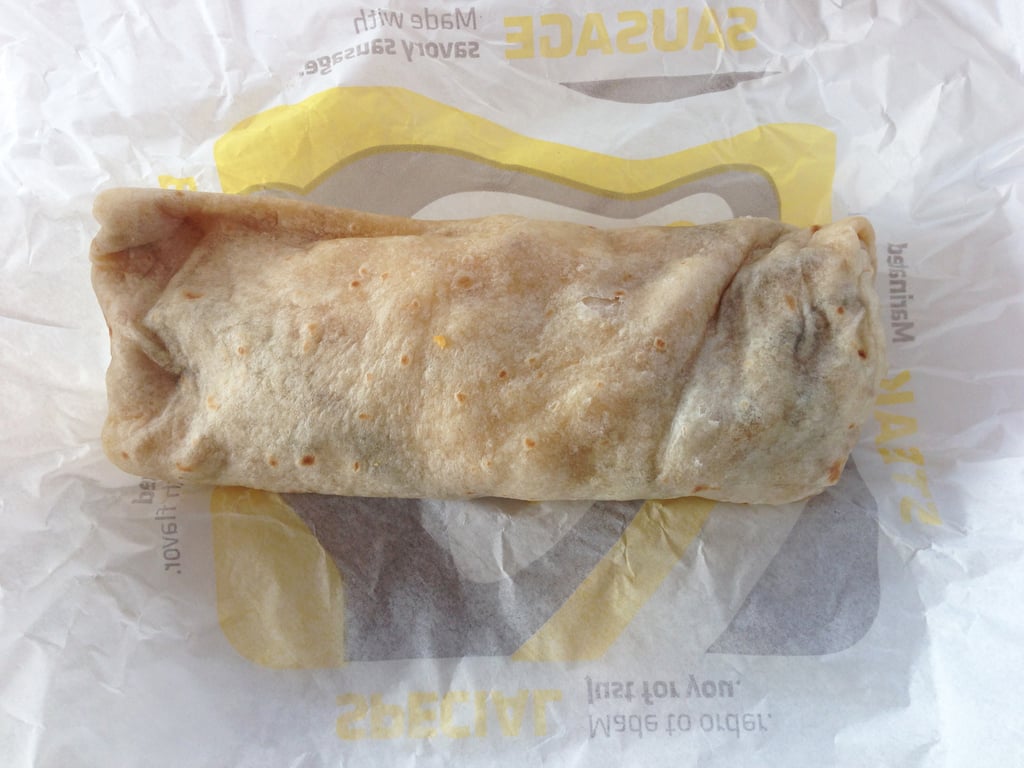 The breakfast burrito ($2.50) comes in bacon, sausage, or steak.
Steak and Eggs Breakfast Burrito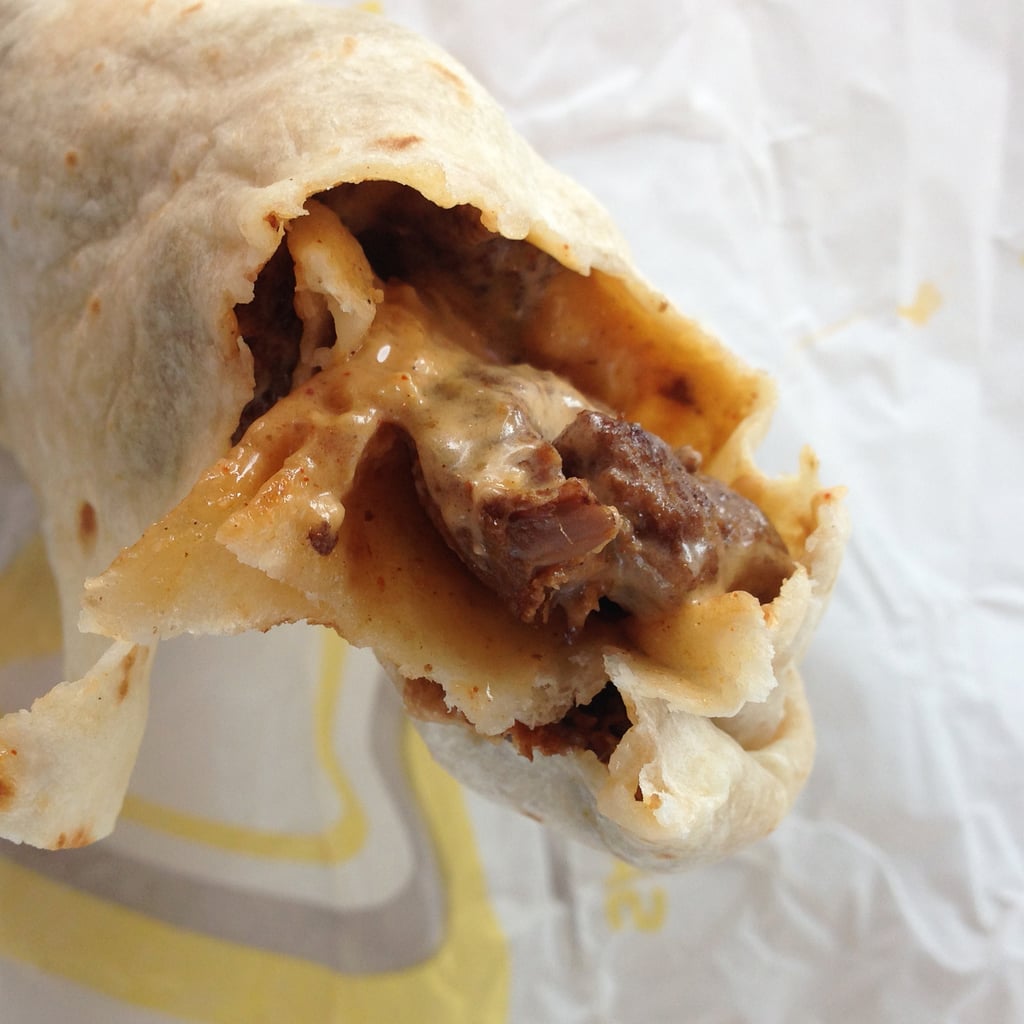 After having the bacon, sausage, and steak, the bacon is the best, the sausage is so-so, but the steak is unpalatable. Wrapped in a soggy flour tortilla, the gristly chunks of meat make this burrito extradifficult to swallow. The tortilla needs to be grilled!
Hash Brown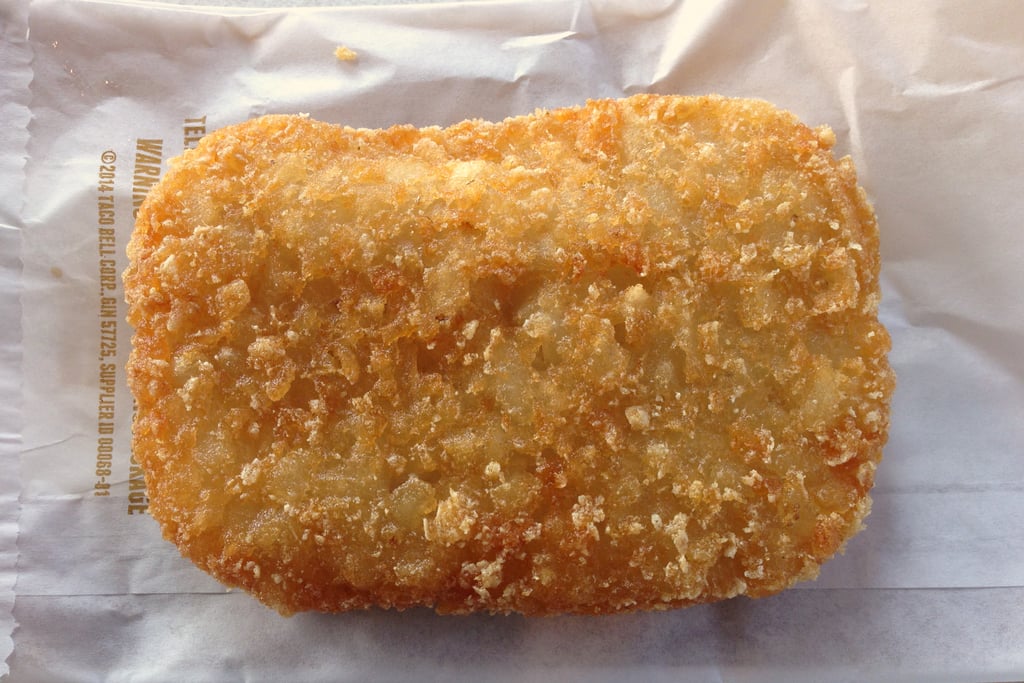 The hash brown ($1) comes in hash brown. No sauces are included. This is where Taco Bell needs to consider bringing in sriracha ketchup or providing that mystery spicy cream sauce on the side. Sure, the hash brown is crunchy and potato-y, but so what? Everyone knows the potatoes are just the vehicle for the condiment.
AM Grilled Taco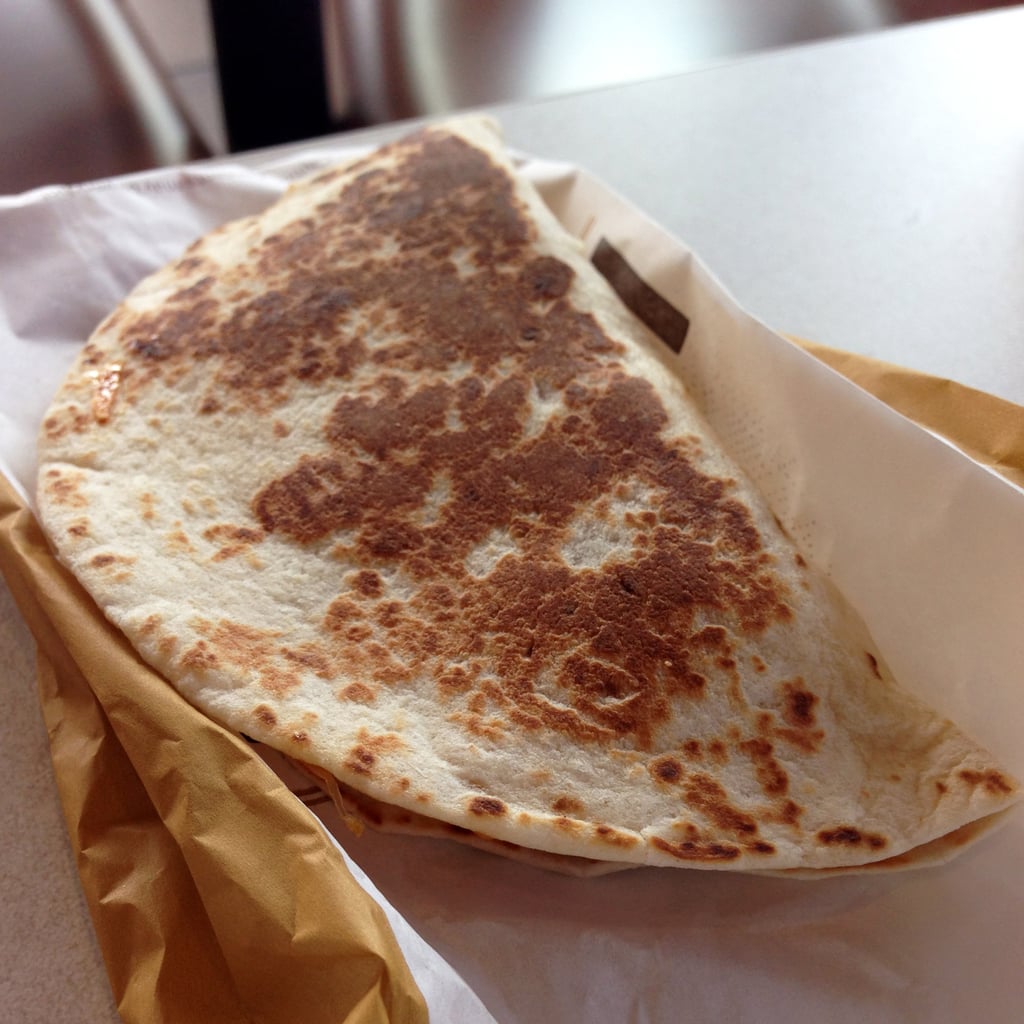 The AM grilled taco ($1), fancy for breakfast taco, comes in bacon, sausage, or steak.
AM Grilled Bacon Taco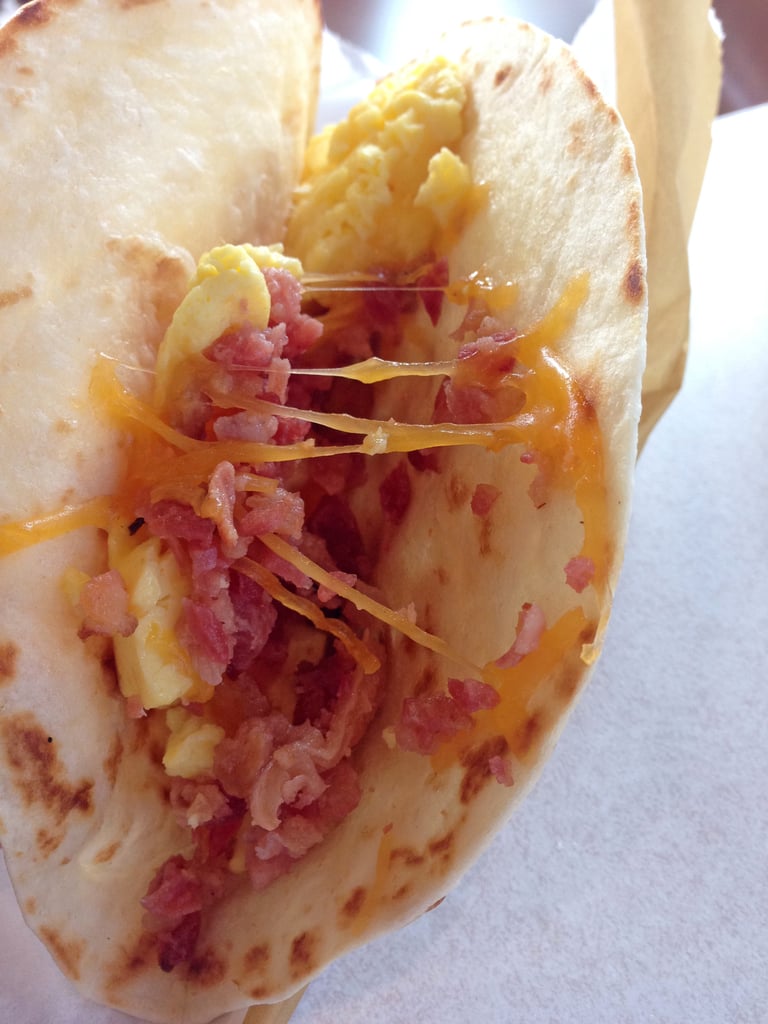 OK, this breakfast taco isn't as good as the Crunchwrap, but it's pretty decent and awesomely cheap. Taco Bell has changed the game with those fluffy scrambled eggs. And behold the spiderwebs of melty cheddar cheese! And the bacon? Well, it's your best option. All it needs is a drizzle of Taco Bell salsa.
Cinnabon Delights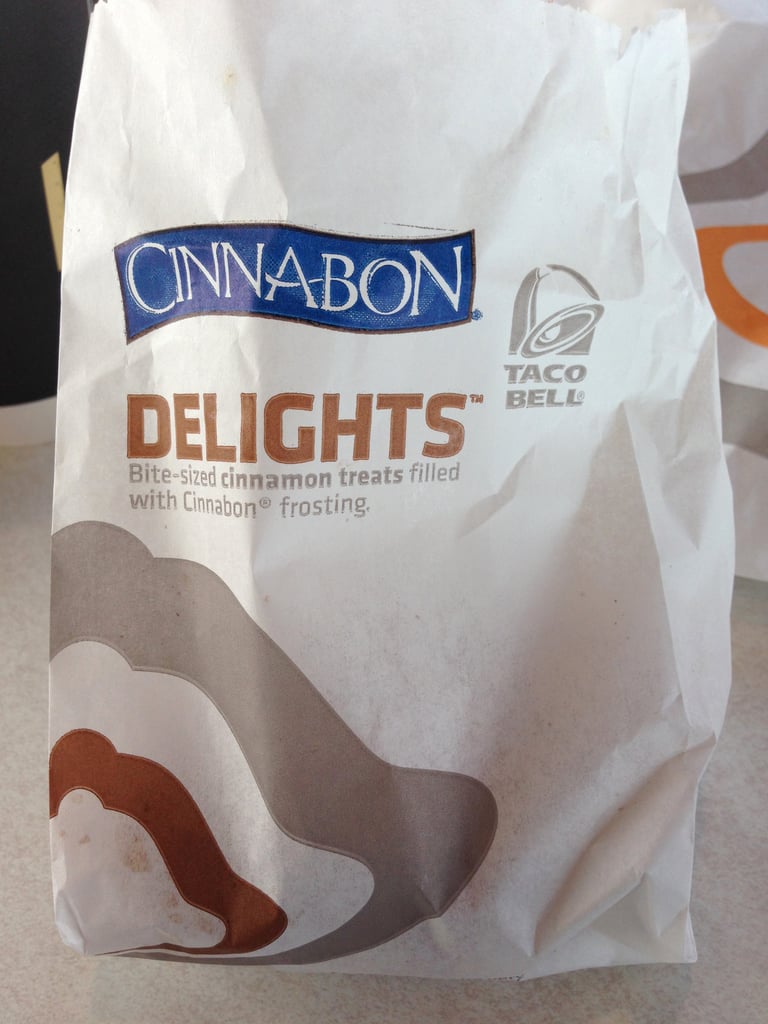 Breakfast is complete after a four-pack of Cinnabon Delights ($1.59).
Cinnabon Delights
These little morsels are basically doughnut holes coated in cinnamon sugar and filled with cinnamon-roll icing.
Cinnabon Delights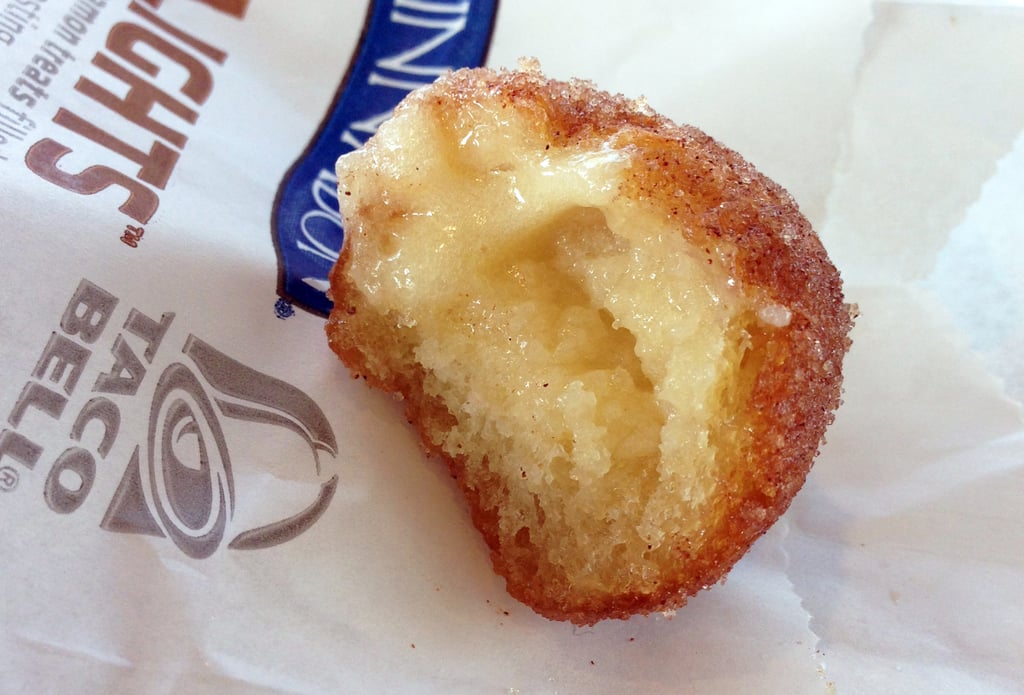 These balls of grease are delicious . . . as long as they are piping hot. The Delights are like an inverted cinnamon roll, and after the salt bomb I had just consumed, they were a much-needed treat. Definitely order a side of these with your Crunchwrap. However, do beware of the molten filling, which will squirt out with each bite.
Still Want to Feast on Taco Bell Breakfast?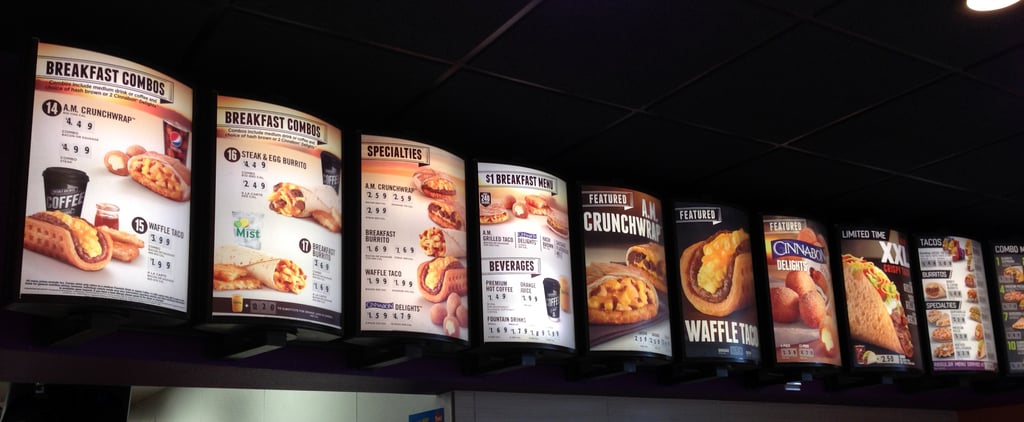 All in all, Taco Bell has come out with two great new breakfast items. Its eggs are unparalleled to any fast food I've ever eaten.
Sadly, the waffle taco was such a letdown. The coffee? Hello, at least get the coffee right! Even instant Nescafé would be preferred to a fresh, burned brew. McDonald's makes a great sausage, and Taco Bell should work on replacing those nibbles for a real patty.
Now you know.