DIY Peppermint Whipped Soap
DIY Peppermint Whipped Soap
From Mona Zavosh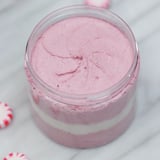 Ingredients
3 ounces castile bar soap
1 cup filtered water
1/2 cup cocoa butter, melted
1/4 cup coconut oil
1 teaspoon vegetable glycerin
30-40 drops peppermint essential oil
1 teaspoon natural red food coloring
Directions
Grate 3 ounces of castile soap, combine with filtered water into a bowl, and set over a pot of simmering water. Simmer until the soap is melted, then remove from heat.
In a separate bowl, mix the the cocoa butter and coconut oil. Place bowl into the fridge for 5 minutes to cool. Once cool, remove from the fridge and whip with an electric mixer until you have soft peaks, for about 5 minutes. Add the peppermint oil and vegetable glycerin and whip to combine.
Slowly pour in the soap mixture and whip until the mixture resembles whipped cream. Remove half of the soap and place into one side of a disposable pastry bag. Add the natural food coloring to the remaining soap and whip to combine.
Transfer the red soap into the other side of the pastry bag. Cut off the tip of the pastry bag and pipe into the prepared mason jars. Seal the jars and tie with a ribbon if giving as a gift.
Information
Yield

2 16-ounce jars

Total Time

59 minutes, 59 seconds