Amy Nadine Eye Shadow Palette
Your New Favorite Lauren Conrad-Inspired Eye Shadow Is Available at Costco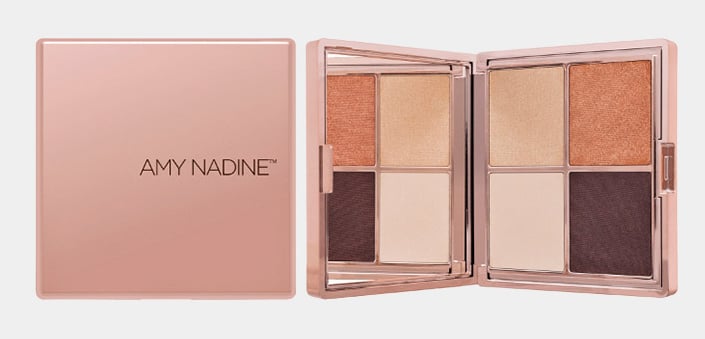 We broke the news during New York Fashion Week that Lauren Conrad's go-to makeup artist Amy Nadine would be launching her first-ever eponymous palette this Fall. And the much-anticipated neutral eye shadow essential is finally here — online ($40) or at Costco stores in October.
The Renewing Nude Eyeshadow Palette — which was used on the models at Lauren's premiere NYFW show — features a quad of flattering shades that can be layered to create a golden smoky eye. But these aren't your average powders. They are actually infused with skin care ingredients, including bamboo silk, bilberry seed oil, clover flower extract, and red raspberry seed oil. Expect these natural remedies to do everything from offer antioxidants to hydrate the lids (much needed as the temperate drops).
Nadine isn't stopping at just one product. She told Allure that in 2016 there will be more launches — three additional eye shadow quads in rose gold, lilac/plum, and silver/pewter; a face oil; and eyeliners made with hyaluronic acid and peptides.
"Five years from now, I'm hoping that all makeup will have a skin-care component," she told the magazine, "like blush will have lipids in it, and lipsticks will have collagen or peptides. An eyeliner with hyaluronic acid would do something good for your lids instead of [just] settling into fine lines."
She also gave a trick to mastering Lauren's classic cat eye: "First, sweep an off-white shade all over the lid to brighten it up. Next, trace your lash line with a black kohl pencil, and then follow the angle of the bottom lash line to determine the flick. Trace back over it with black liquid liner. Once you get really good at it like Lauren, you can go straight for the liquid liner."