The Best Eye Creams
Help This Reader Find an Eye Cream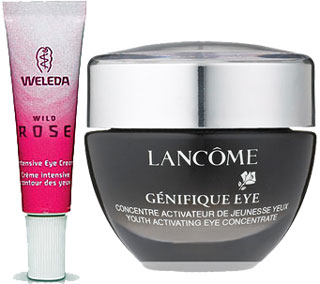 The other day I received an email from a reader looking for a good eye cream, and I thought that instead of just giving her a couple of options I like, I'd open up the floor to all of the eye-stuff experts reading the site. Want to help her out? Then here's what she has to say:
"I'm 25 years old, and I've decided I'd like to finally delve into the world of eye creams (I hope I'm not too late!). However, I don't really know where to start! Makeup counters have advice, but it all seems biased. I'm looking for something meant for a girl my age that'll offer SPF while combating puffiness and dark circles. Does this product exist? I'm a little worried that using the wrong cream could be detrimental—no need to load up on unnecessary chemicals, right?"
In my own experience, on the high end I'd recommend something like a Lancome Genefique Eye ($59), and for a cheaper, more natural option, a product like Weleda's Wild Rose Eye Cream ($22.75). What are your thoughts?