Cara Delevingne Instagram Posts About Beauty Standards
Cara Delevingne: It's "Exhausting" to Deal With Society's Beauty Standards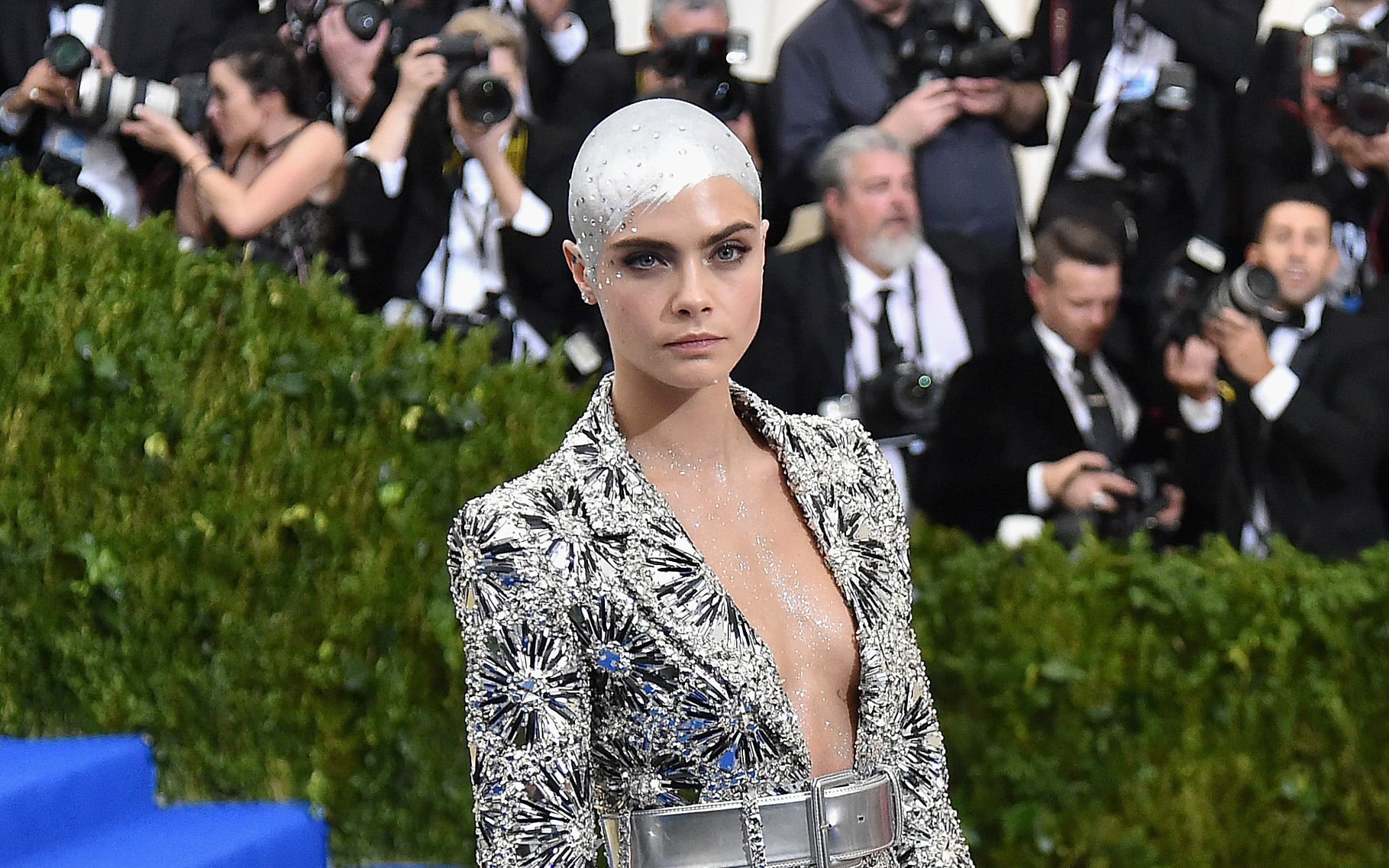 ICYMI, Cara Delevingne debuted a drastic hair change on the Met Gala red carpet this year: a shaved (and silver!) head. And now that the Gala hype has settled, she's using her new 'do as a platform to address society's outdated standards for beauty.
Over the past few weeks, the model-actress has been snipping her strands little by little to prepare for her role in the upcoming film Life in a Year. But when she arrived at the Costume Institute Gala on May 1, our jaws dropped at her bald head, which she bedazzled and painted silver to match her sexy pantsuit. And damn, did she rock it!
To elaborate on her new appearance, Cara recently took to Instagram to post two powerful photos; in the first, she's all dolled up in head-to-toe silver, and in the second, she's makeup-less and wearing a sweatshirt. Though the stark contrast between the two photos is certainly noticeable, it's her captions that really speak volumes, as she perfectly sums up exactly why society's definition for beauty is so darn f*cked up.
In the first snapshot, she speaks of how empowering it is to find beauty from within, writing, "The more we embrace who we are as people and rely less on our physical attributes, the more empowered we become." She then explained how there's no singular definition for beauty, which we couldn't agree more with. "Beauty shouldn't be so easily defined. It is limitless," she wrote.
In her second post, Cara got real and opened up about how it's "exhausting to be told what beauty should look like." Again, she challenged readers to look inwardly, not outwardly, to find true beauty. "Strip away the clothes, Wipe Off the make up, cut off the hair. Remove all the material possessions. Who are we? How are we defining beauty? What do we see as beautiful?" she wrote in the photo's caption. We thought it wasn't possible to love Cara anymore than we already do, but these eloquent words of wisdom just made our obsession grow even more.
Image Source: Getty / Mike Coppola