How Long Does It Take to Fix Damaged Hair
What You Have to Stop Doing to Damaged Hair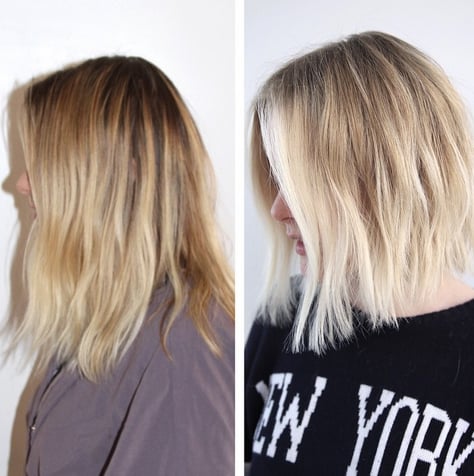 The wrong hair color or damaged, dry hair can prematurely age you. No bueno. So if your mane is starting to look haggard, what should you do to fix it? And how can you keep coloring it without causing more damage?
Celebrity hair colorist Johnny Ramirez of Ramirez-Tran Salon wants you to give in to a haircut and skip using products with protein.
"If someone has severely damaged or bleached hair, I always recommend that she get a hair cut and take one to two inches off. Then I have her do a conditioning treatment once a week," Ramirez said.
And he warns you to take caution when you're replenishing your strands, specifically when it comes to protein found in a variety of at-home masks and treatments. Many believe saturating your cuticle with protein will help it to grow stronger, but it's actually causing more harm than good.
"A lot of people think if they put protein on their every day, it's good," he noted. "But it's worse than bleach! It will eat up the hair. I only recommend it once a week." (He prefers the Inphenom conditioning salon treatment.) Once you've snipped a few inches and used a mask the right way, you'll need to be patient — shocking, we know, but transformations don't happen overnight. Expect to wait four to six months before your hair is in its best shape again.
For clients who can't go six months growing their roots out, Johnny focuses on perfectly placing highlights to avoid damaging the entire head of hair with color. "I have clients come in once a month, and I highlight around the face," he said. This technique also gives the illusion that you're lighter and brighter all over. Since the focus is the front of the head, it tricks the eye to thinking the rest of the hair is blonde, but gives the hair the opportunity to grow without the damaging effects of bleach.
He knows all too well that people can get antsy and will want to give up on the growth stage. "If you look in the mirror [and you're not as blond as you want to be], you're going to give up on this 'hair rehab,'" he explained. "So, if you really, really want [color], I highlight around the face."
We know — it might sound brutal to chop some length and keep your color low-key for half a year, but ultimately it will help the strength of your mane.