How to Tweeze Your Eyebrows
Beauty Refresher: How to Shape and Tweeze Your Brows
As POPSUGAR editors, we independently select and write about stuff we love and think you'll like too. POPSUGAR has affiliate and advertising partnerships so we get revenue from sharing this content and from your purchase.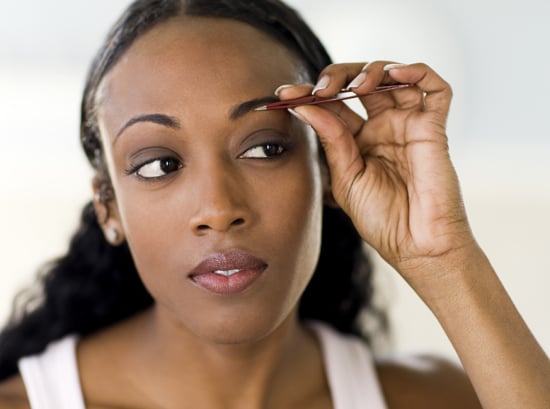 Your eyebrows are an important part of your look: they frame your face and give it dimension. If you're sick of shelling out money for waxing and threading, though, it's time to take matters into your own hands. Perfectly manicured brows at home are just a few steps away. Say so long to pencil-thin brows when you keep reading for more.
Preparation: Collect Your Tools and Prep Your Brows
Shaping your brows takes more than a trusty pair of tweezers. You're also going to need a pair of cuticle scissors to trim hairs, like Sally Hansen Nail and Cuticle Scissors ($11). Also, pick yourself up a brow and lash brush for additional trimming.
Be sure to avoid retinoids before going through with any procedure that has to do with your brows. They can make already-delicate skin in that area more burn- and tear-prone. And if your skin tends to get irritated and inflamed (or you just want to try and numb the pain of tweezing), rub an ice cube over your brows for a minute or two before you start.
Pull Off the Look:
First, you need to map your brow shape. Grab an eyeliner and your brow brush. Position the brush bristle side-down against your nostril and point it straight up towards your eyebrow. Where the brush lines up with your eyebrow (even if there's a slight space) is where the hair should start. Mark it with the eyeliner.
Tilt the brush so the bottom portion is still at your nostril, but the handle crosses over your pupil. Where the brow crosses the handle is where your brow's arch should reach its highest point. Mark it with your eyeliner.
Finally, tilt the brush one last time (keeping the bottom portion at your nostril) so that the handle crosses along the side of your eye and toward the end of your brow. Where the hair and the brush intersect (even if there's a slight space in between) is where your brow should end.
Begin tweezing the errant hairs only along the outer parts of the marks you've just made on both the top and underside of your brows. Be cautious not to remove too much hair, however. And to reduce pain, hold the skin taught and pull hairs out in the direction they grow.
When you've finished tweezing, grab your brush again and place it at your brow. Wiggle the hair up into the teeth and then trim the longer and more scraggly hairs only. Repeat the process by brushing hair down. Again, a little trimming goes a long way, so be slight of hand during this step.
After you're done trimming, brush all the hair in its natural direction and check to see if you've missed anything. Then, simply wash your face, pat dry, and dust off any excess hairs with a powder brush.