How Yara Shahidi Keeps Her Nails Healthy
A Celebrity Manicurist Reveals How Yara Shahidi Keeps Her Nails Healthy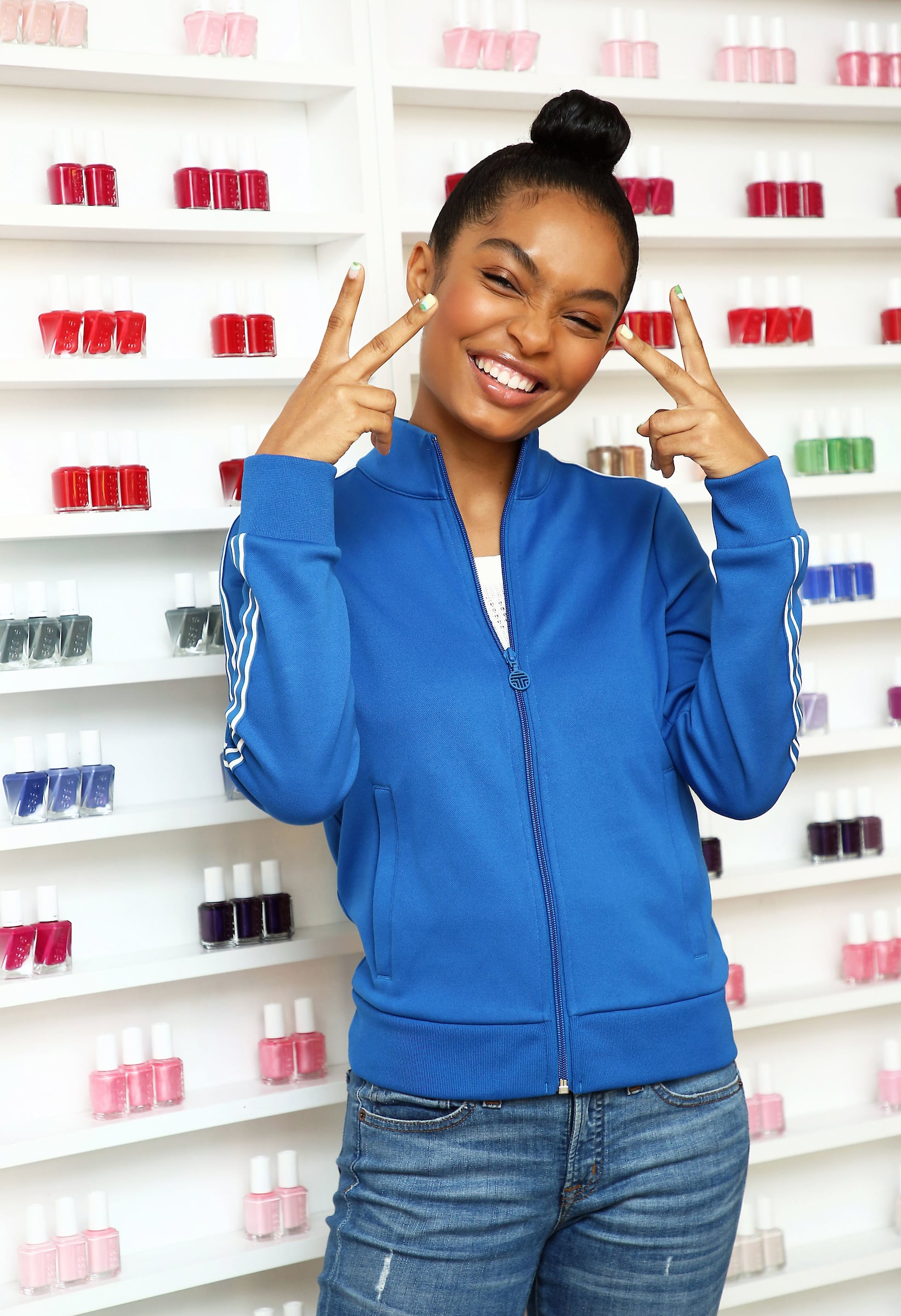 Some inarguable facts: the sun rises in the East, nothing good ever comes out of a 2 a.m. "U up?" text, and Yara Shahidi always looks fabulous on the red carpet. The beauty chameleon often switches up her look, at times channeling Diana Ross with voluminous natural hair or throwing it back to the 1920s with vintage finger waves.
But you're doing yourself a disservice by only zeroing in on her flawless hair and makeup. As it turns out, Yara wears impressive manicures that are totally worth clicking command + for. Her nail art usually comes courtesy of celebrity manicurist and Essie ambassador Emi Kudo, who also counts Angelina Jolie and Janet Jackson as clients.
In honor of National Nail Polish Day (who knew that was a thing?), Kudo gave Yara a mint mani with negative space. She was also kind enough to reveal Yara's tips for healthy nails, her favorite getting-ready song, and her "happy color."
How to Get Clear Nails
Since this half moon-inspired mani shows off some naked nails (save for a clear topcoat), I wanted to know how Yara keeps her nails in tip-top shape. "Yara doesn't obsess over any particular nail care, but whenever she notices a difference, she definitely pays attention to it makes sure to take care of it," Kudo said. The manicurist went on to say that when she first met Yara, her nails were very weak from her habit of getting gels. Fortunately, "she's since given them enough of a break and doesn't get gels as often now, so her nails are growing back healthy."
According to Kudo, healthy eating and getting a good night's rest lead to prettier nails, and Yara does both in spades. "Yara says she can fall asleep wherever she wants," Kudo revealed, which is just another talent the impressively versatile star can add to her résumé. (Right up there with getting into Harvard and starring on both Blackish and its collegiate spinoff, Grownish).
If you want to get clear, streak-free color, Kudo recommends zeroing in on "detailed cuticle work and a good buffing job." She suggests removing ridges from your nails with a fine nail buffer. You can pick up a whole pack of 10 for just $11 on Amazon.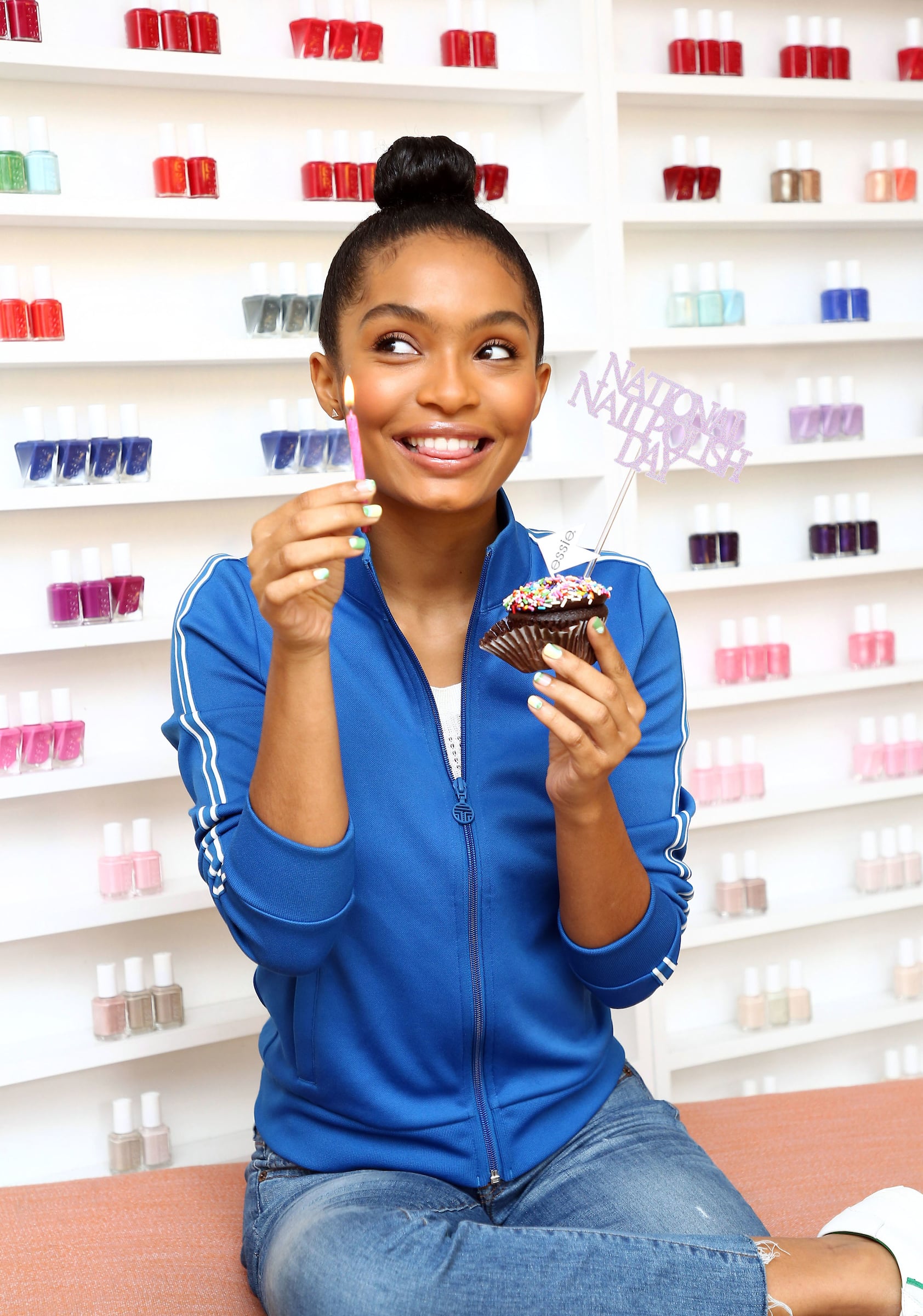 How to Pick a Color at the Salon Like Yara
Yara's go-to is yellow. "It's her happy color."
Never am I filled with equal parts stress and joy than when faced with a gigantic polish wall at the salon. It takes me approximately 500 years to pick a color. According to Kudo, Yara has a bit more focus than I do. The manicurist said, "Yara loves bright yellow, metallic blue, and skin-tone colors." Rarely will you see her opt for a magenta or ballet slipper option — the actress isn't a huge fan of pink nails.
Two colors in particular that really do it for Yara? "Essie Mint Candy Apple ($9) is her absolute favorite green shade!" the nail artist said. When she's not channeling a juicy Granny Smith, Yara's go-to is yellow. "It's her happy color."
How to Get Ready Like Yara
Step one: put on Frank Ocean Spotify radio. Kudo calls it one of Yara's "go-to playlists," adding that the 18-year-old is a master of virtual mixtape making. Don't be afraid to speak up — Kudo says Yara is also a "true collaborator" with her manicurist and adds that "she wants to be part of the process from start to finish."
What's more, Kudo credits Yara for helping her "think more positively." The two enjoy dishing on the books they've read or Yara's podcast obsession du jour. "She is a bit younger than I am, but I love that I find myself learning from her — she really inspires me with her intelligence and curiosity," Kudo said. One thing she's learned from her client? "Be vibrant, curious, and enjoy every moment of life." (OK, that's three things — all equally important).
Get up close and personal with Yara at POPSUGAR Play/Ground! On Saturday, June 9, the actor and activist will be taking the stage! Get your POPSUGAR Play/Ground tickets now.
Image Source: Essie