Kim Kardashian Beauty Blogger Competition 2016
Kim Kardashian's New Reality Show Is All About Beauty Blogging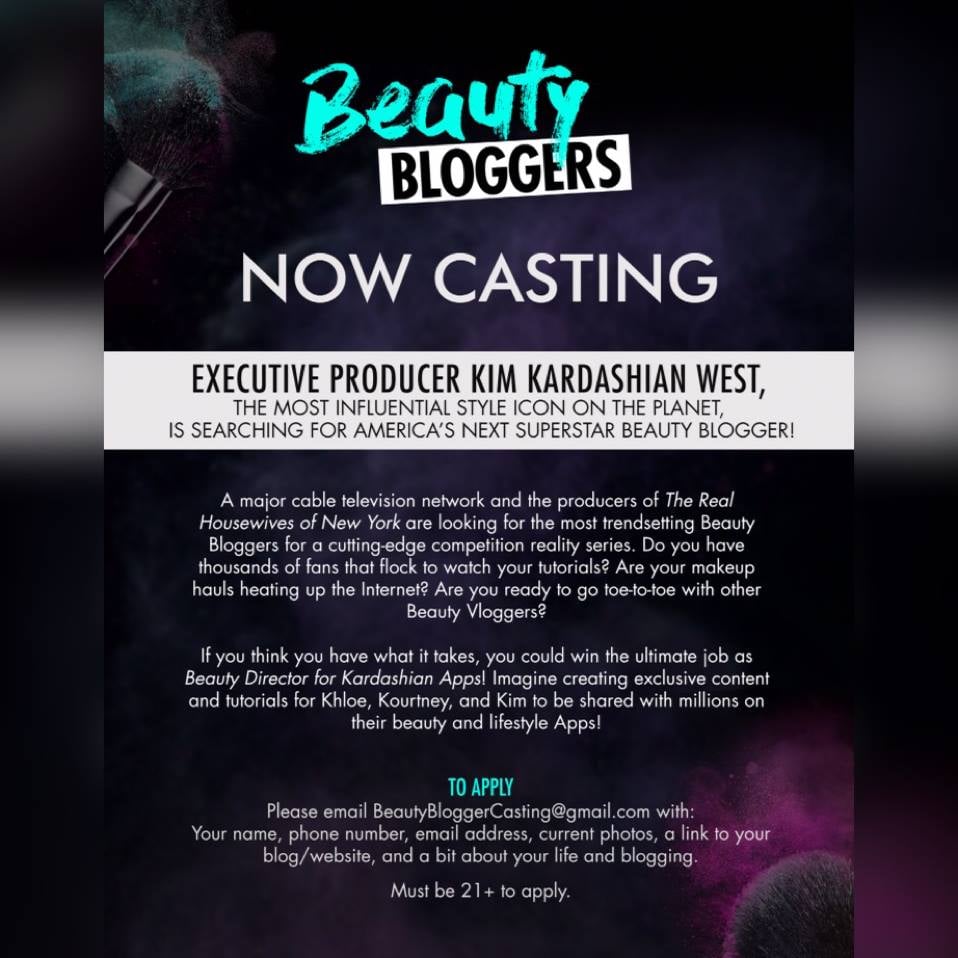 Another day, another Kardashian TV show. Keeping Up with the Kardashians has hit its 12th season, with a variety of spinoffs in the unscripted television realm. Now, Kim is getting into the reality competition world — and if it's anything like her recent revelations about Taylor Swift on Snapchat, there is bound to be a whole lot of drama . . . and a whole lot of contouring.
We found a casting notice for the show and it doesn't disclose a working title, simply that Kim, a "major cable television network," and the producers of The Real Housewives of New York City are looking for beauty bloggers to compete against each other in a variety of assignments to win. We tracked down the casting director for the program, who told us they're looking for people with a "strong following, like the Chrisspy's of the world." The contestants will create videos for each challenge, so having a vlogging or production background will be helpful, as well as serious makeup artistry skills.
The prize? Landing a gig as the Beauty Director of Kardashian Apps. The winner will work with Kim, Khloé, and Kourtney to create beauty content exclusively for their apps. Beauty directors tend to come from an editorial background; many have experience in hair or makeup, but most are journalists. Kim's approach flips the script by looking for strictly artists and vloggers. And since these are the Kardashians, it's likely there will be plenty of opportunities for major exposure on the television show. The show films in late October for four to five weeks.
Are you looking forward to this Kardashian-centric reality competition? Let us know in the comments below.